Added on July 16, 2019
Richard Foss
newsletter
Mindful craft [restaurant review]
Hermosa's newest gastropub features ambitious menu, novel brews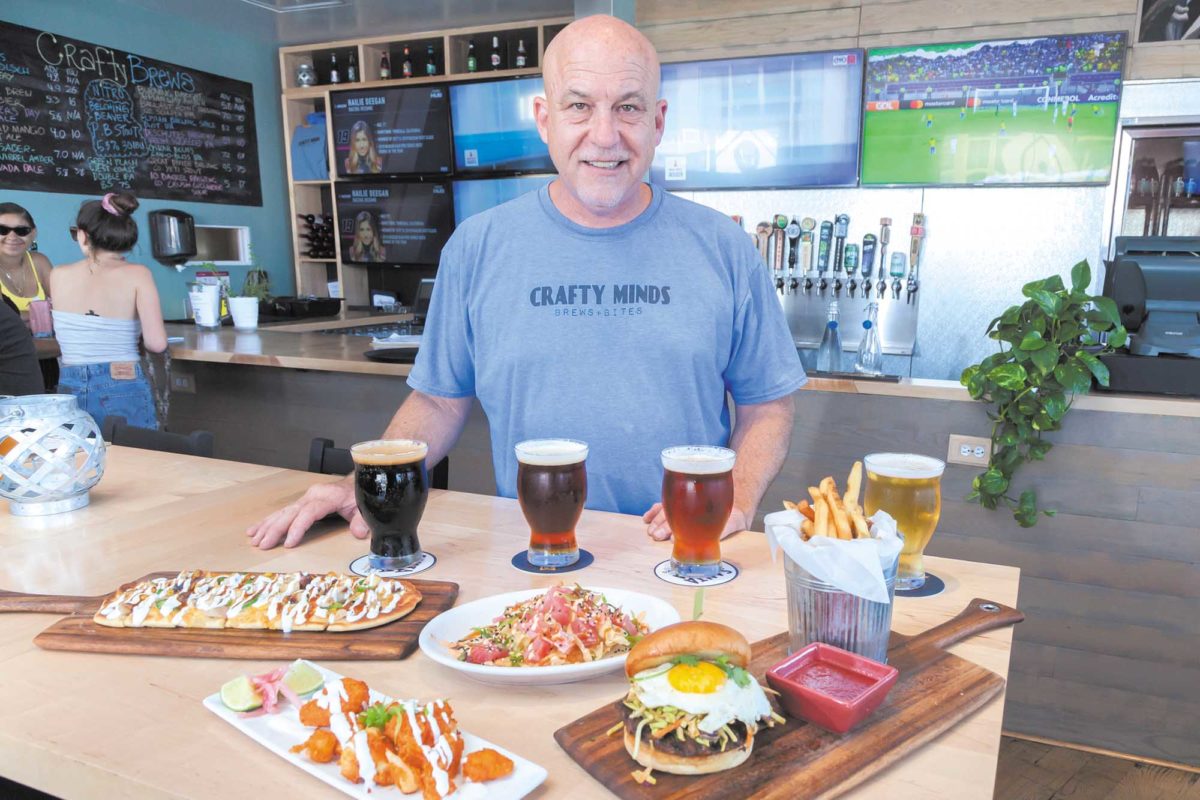 Before I stopped in at Crafty Minds Brews + Bites for the first time, I tried to look up their menu online. I couldn't find one, so I called. The fellow who answered the phone said they didn't have an online presence, but volunteered that they serve what he called "California pub food." It's a good description of what they do, which is more in tune then the previous concept that was here.
This space was formerly Boardwalk Burgers, which faithfully recreated a classic East Coast seaside fast food joint. The venture flopped because few South Bay residents are nostalgic for that environment, or were impressed by the relatively unadorned burgers they served. Crafty Minds doesn't have any particular design theme except for a handsome sculpture of an octopus on the exterior, so if they pull in locals it's for something other than the decor. That would be their version of California pub food, which in this context means eclectic appetizers, salads, burgers, and flatbreads, with tomato or chicken tortilla soup for those on a liquid diet. (Oddly enough they don't serve octopus, perhaps as a mark of respect for their totem animal.) I didn't try either soup on any of my three visits, but sampled the other categories and found much to like.
From the small plates list, whimsically called "runts," we tried the "crispy yardbird zingers," crispy brussels sprouts, fish and spuds (which were also crispy, and I see a pattern developing here), and deep-fried cauliflower, which you may not be surprised to find was also crispy. They do stuff that isn't battered and deep fried, and I may try that sometime, but they're so good with a fryer here that I'll be tempted to hit that section of the menu again. The yardbird zingers were chicken tenders served with your choice of sauces, and on request they bring all three: Carolina reaper, Korean barbecue, and Mexican roja. The reaper was right at the point where you find yourself asking if the pain is worth the flavor, which is where such sauces are supposed to reside, and the rojo had a complex flavor with moderate chili heat. I'd forego the sweet and mild Korean sauce next time, because the other two were so much better. For a dollar more you can get wings instead of tenders, so those who prefer the primal experience of gnawing meat from the bone may choose accordingly.
Local Offers
(800) 570-5562
more from spybase - 5 hours ago
The Brussels sprouts, which were tossed with lemon gremolata and topped with crumbly goat cheese and a balsamic drizzle, are well made and a fine antidote to the hot stuff, and the fish and chips were stellar. We liked these so much that we almost ordered more after our first taste, but didn't because we had more items coming. I'd happily get this as a main course with one other starter and call it a meal, and at seven bucks for two filets and some fries, it would be a modestly priced meal. The only item that I wouldn't order again is the cauliflower, and that's not because we didn't like it but because the portion was tiny compared to the other starters. The five small pieces of fried vegetable had a nice hit of Syrian spices and were artistically arranged over way too much citrus crème sauce, and the wasted sauce emphasized how out-of-balance this was compared to the other items.
From the "runt salads" section we picked a poke salad that featured a sesame ginger vinaigrette that is heavy on the spicy ginger. The combination of cooling fish and Asian slaw contrasted with the spice heat. I found it delightful, but one person at our table found it almost too hot. Approach with caution if you don't like robust flavors, embrace it if you do.
Among the burgers we tried one anointed with short rib meat and balsamic onion jam and another that included pork belly, caramelized onion, cheddar cheese, and barbecue sauce. I asked them to cut back on that sauce because I was wearing a nice shirt, and that was a good move because it was a tasty mess. Both burgers hit the sweet spot when it comes to flavor, the various toppings accenting but not overwhelming the flavor of smoky beef patties. You can get any of their burgers made with sous vide chicken instead, which I think might be best with the version with dried tomatoes and goat cheese or the amusingly named banh moo that has Asian slaw, a fried egg, and teriyaki sauce.
Of the flatbreads we tried the beefcake and the "smokin' pig" with pork belly, caramelized onions, ghost pepper jack, and sweet barbecue sauce. I'm not usually a fan of anything with ghost pepper but this was the rare exception because the sweet sauce and onions were a good counterpoint and the balance was so good that my spice wimp wife ate several pieces. The beefcake had a horseradish cream sauce with short rib, pickled onions, Swiss cheese, and crisped Brussels, and I'm going to want pickled onions on pizzas and flatbreads all the time now. I should note that the crust here is not a conventional pizza crust with a crisp base, and it comes out more like a hot and soft pita bread. They can keep it in the oven a bit longer on request, but you might try the first one the way they usually serve it to see whether you like it.
The beer selection is very good and changes on a regular basis, so those who enjoy brews should study the chalkboard menu carefully. (They don't make this easy because it's at an odd angle where it can't be seen from much of the room, and there is no list at the table.) We tried a remarkable cucumber sour from 10 Barrel brewing that was like nothing we've ever had before. They also have a decent wine list and a surprisingly large selection of kombucha and craft soft drinks, so no matter what beverage you enjoy they'll have something for you.
You'll be able to afford repeat visits to work your way through the food and drink lists, because Crafty Minds is relatively inexpensive for downtown Hermosa. Starters are all $8 or less and the burgers and flatbreads top out at $14. A few lucky people a night won't even have to pay for parking (the lot is small). Crafty Minds is offering good value for good food near the beach, and that's a crafty strategy that deserves to succeed.
Crafty Minds is at 1031 Hermosa Avenue. Sun. — Thur. 11 a.m. to 10 p.m. Fri. — Sat. 'til 11 p.m. Beerand wine served, wheelchair access good, patio dining. No online presence. 310-372-3978. B
Comments:
comments so far. Comments posted to EasyReaderNews.com may be reprinted in the Easy Reader print edition, which is published each Thursday.