Student short film festival in Hermosa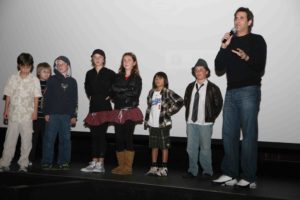 On Monday evening the A6 Academy presented the Hermosa Valley School "Short Film Festival" in the Hermosa Beach Playhouse. All seven films were written, directed, and filmed by students, five of them in the fourth grade. They arrived (fashionably late, I should add) by limo, and after the screening were introduced by Craig Greely (the tall guy with the microphone). The filmmakers, l-r: Quinn Satow, Nicholas Fraley, Ryan Hollreiser, Natasha Preiss, Theresa Rudavsky, Joshua Marer, and Kohlton Arnold.
A6 Academy of the Arts offers after school enrichment programs at Hermosa Valley School. Directors and founders Suzanne and Craig Greely also have a musical theater company – Family Theatre, Inc. – which presents four shows a year at the Hermosa Beach Playhouse. Currently they're rehearsing "Bye, Bye Birdie," to be staged April 30, May 1, and May 2. Here's the entire Greely clan at Monday's "Short Film Festival": Dalton and Suzanne, Granger and Craig, with Dashiell and Clementine out front. Photos .
comments so far. Comments posted to EasyReaderNews.com may be reprinted in the Easy Reader print edition, which is published each Thursday.
Be an Easy Reader Free Press supporter!
Yes, we know Easy Reader and EasyReaderNews.com are free. But they are not free to produce. The advertiser model that traditionally supported newspapers is fading away. This is our way of transitioning to a future where newspapers are supported by their readers. Which is as it should be. We hope you'll support us. — Kevin Cody, Publisher