Trace Bundy and Sungha Jung at Live At The Lounge.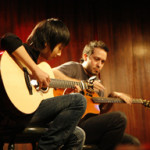 by Fred Milani
The budding South Bay acoustic music scene got another bolt of lightning from the sold-out, performances of master fingerstyle guitarists Trace Bundy and Sungha Jung at Live At The Lounge in Hermosa Beach on Saturday night. 

The 13-year-old Sungha opened solo with an appealing chord-melody arrangement of Bon Jovi's "Living On A Prayer."  Self-composed "Farewell," "Hazy Sunshine" and "Waterfall" were imaginative and well-constructed.  "More Than Words" was clever and intriguing, demonstrating a relaxed and confident approach to performing intricate bass, rhythmic and melodic lines simultaneously. The delightful Sungha showed strong potential and has all the right elements to be a popular international recording artist.
The South Korean-based Sungha already has 6,161,492 YouTube channel views.  So why travel 5,956 miles to Hermosa Beach.  Answer: Trace Bundy, The Acoustic Ninja.
"I've got to break out the capos," declared the affable and charming Ninja. He opened with originals "Porch Swing" and "Love Song." Then he urged the crowd to sing along to a delightful oldies medley of "La Bamba," "Pretty Woman," "Here Comes The Sun," "Sweet Caroline," "Staying Alive," "YMCA," "Celebration," "Jack & Diane," "Summer of '65," and "Everybody Dance."  With originals "Missile Bell", "Cloud Forest" and "Hot Capo Stew," Trace demonstrated his full skills as an innovator.
Guitarists often wood-shed for years to perfect a single fingerstyle technique. Trace astutely displays them all in a single composition — pull-ons, pull-offs, capo snap-ons, capo snap-offs, capo cross-fretting, left-hand finger tapping, right-hand finger-tapping, left-hand reverses, rhythmic palming, third bridge capoing, fourth bridge capoing, fifth bridge capoing, behind-the-bridge bowing, string-striking, string-slapping, hammer-ons, pinch harmonics, tap harmonics, rolls, trills, left-hand muting, right-hand muting, double stops, finger vibratos, finger-tapping, alternate picking, cross picking, down picking, pick tapping, sweep-picking, strumming near the bridge, picking near the bridge, strumming above the bridge, picking above the bridge, and several without names.
Bundy also demonstrated his electronics techniques with a backward looping of "Phantom Of The Opera" and an iPhone Metallica riffing with a Pocket Guitar app.
A duets with Sungha was the evening's highlight. Perched next to each other on high-chairs, the performances of Pachelbel's "Canon" and Michael Jackson's "Billie Jean" were a perfect blend of styles, cultures, generations, and artistry. ER
comments so far. Comments posted to EasyReaderNews.com may be reprinted in the Easy Reader print edition, which is published each Thursday.