52nd Anniversary Writing & Photography Contest – Grand Prize Winner (story)
A Conduit (1977)
Darth Vader and Chebacca
serve as mediators
for a distanced family
by Steve Fulton
Photo Credits: Shaffer Fulton
September 1977,
I am 7 years old.
I just started CCD.
After-school Catholic Catechism class.
In two years I will take Holy Communion for the first time.
I need to be consumed with the Holy Spirit.
They give us the Four Gospels to read.
A conduit to salvation.
But instead, I am consumed with Star Wars
I see an advertisement in The Daily Breeze.
It announces Star Wars characters appearing in-person at the local Toys R 'Us in Torrance.
I need to go.
After seeing Star Wars that summer at South Bay General Cinema #1, I thirst for any and all information about the movie, but there is little to find except a few gossip stories I notice on the cover of People and The National Enquirer in the checkout at Lucky's supermarket in Hermosa Beach, while shopping with my mom.
The Star Wars in-person event is on a Sunday.
Sunday morning.
My mom grimaces as we ask her.
We will miss church if we go.
"Ask your dad", she says.
My twin brother and I approach my dad with the newspaper in-hand.
He's on his bed.
He has a migraine.
We never ask him for things like this.
He lets my mom do them.
So he can fix his motorcycles and clean his firearms.
I know he doesn't believe in God.
But I think he likes Star Wars.
He told us it wasn't "phony" after we saw it.
That is high praise from him.
I'm worried he will say that "going to Toy 'R Us to see Star Wars characters is "panty waist".
Anything that is not about shooting guns, fixing cars, racing motorcycles, or lighting firecrackers is "panty waist" to my dad.
I struggle to understand what he means by that phrase, but I know it's not good.
We brave his migraine and his "panty waist" anyway.
Star Wars is too important.
He agrees to take us.
We wake up really early that Sunday morning.
Well, my dad wakes up.
My brother and I never went to sleep the night before.
Jeff and I sit at the kitchen table waiting for my dad to finish his morning routine.
"I wonder how the Star Wars guys will get there?" I say.
"I don't know"
"They will probably arrive in a limousine," my mom says between sips of her coffee.
I've never seen a limousine before.
We slip outside at 8:30 AM to get going.
My dad has his 35mm camera with him.
"The Konica" we call it.
He snaps this photo of us.
I'm the guy on the left looking glum.
My twin brother is on the right.
Our '76 Datsun 710 wagon is just behind us.
When we get to Toys R Us, there is a thick line of people waiting to get inside.
We drive by the store, through a packed parking lot, and find a free space about a quarter mile away in the adjacent lot for the Del Amo Mall.
Then we hike back to the entrance.
My dad is clutching the Konica.
"I wonder who will be here?" I say
"The ad showed Darth Vader, a Stormtrooper and Chewbacca" my brother replies
By the time we make it back from our parking space, people are being let into Toys R Us.
The crowd is packed deep inside the store at the back, on a makeshift pathway down the board game aisle.
We wait about an hour before anything happens.
The time passes quickly.
I feel like I've waited my whole life for this.
Everyone is looking at a doorway to a stockroom.
Without anything better to do, I look in that direction too.
It starts.
Geoffrey Giraffe, the mascot for Toys R Us comes out first.
I stare at Geoffrey.
This is the first time I've ever seen anyone "in-person".
"Geoffrey" was not Star Wars.
I am nervous my dad will think this is "panty waist", and by extension, that *I* am "panty waist".
But dad's eyes are hidden inside the Konica..
He captures the arrival.
After Geoffrey finishes his march, out comes a Storm Trooper, a facist soldier for the Empire.
35 years later I will notice a weird detail in this photo.
The guy on the far top, left, leaning out of the doorway.
I think maybe he is pretending to shoot at the StormTrooper with a "hand laser".
I think maybe my dad would have traded places with that guy.
If he had a real laser blaster he might have ambushed the space Nazis too.
"Payback" for his brother, who was ambushed by a real German sniper in World War II.
I think maybe it's the best photo dad ever captured with the Konica.
Chewbacca arrives next.
Any notion that these characters were *not* "Real" ends right here.
The Chewbacca costume is amazing.
I feel like Chewie is in our presence.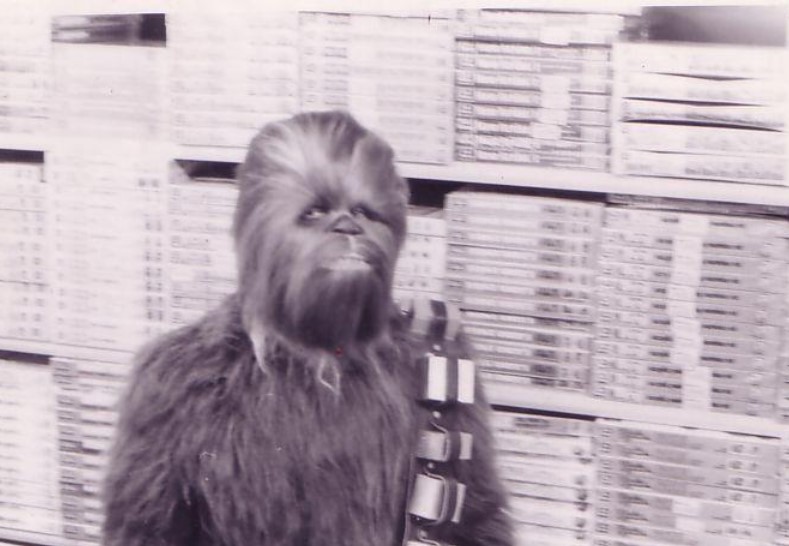 Then, finally, out comes Darth Vader.
The crowd hushes.
I feel a tingling sense of fear and excitement.
The same tingle when I find a great hiding place playing "ditch-em".
This is the guy who magically choked his own people from across the room.
This is the guy who killed Obi Wan Kenobi.
Others are impressed with Darth Vader too.
The proof captured by the Konica.
35 years later I will notice the Rebel in the upper left hand side of the photo again.
I think maybe he is no longer ambushing Storm Troopers.
I think maybe he cowers behind the door.
I think maybe even he knows the limits of a hand-laser against a Dark Lord Of The Sith.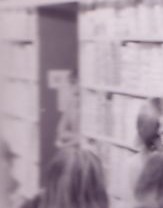 Vader passes by us.
"Whoa." I hear whispered
I'm not sure I actually heard it.
But I decide that I did hear it.
The voice came from behind The Konica..
"Whoa."
I feel a bright spot open in my head.
My dad is having fun.
He might not think this is "panty waist" after all.
"Whoa." means that it was okay for me to like Star Wars.
I feel a sense of relief.
For once my dad and I like the same thing at the same time,
Star Wars is middle ground.
Between the analog of his childhood:
Fire crackers and cherry bombs.
BB guns and real ones.
Terry And The Pirates and Popeye.
Beau Geste
His abusive father.
His desire to run away to join the French Foregn Legion.
The Depression.
The War.
And the digital of ours:
The 6 Million Dollar Man
TV Games
West World
The Old Town Mall Arcade
Wiring batteries to motors and lights.
A growing fascination with computers
It is a link between us.
When the parade is complete, we are ushered down an aisle of posters, stickers and notebooks that have the Star Wars name stamped on them.
I want to see Star Wars again.
I saw it two months ago.
We can't afford to see a movie twice.
I have $1.00 in quarters in my pocket.
$1.00 earned working for my dad.
I want to own something "Star Wars".
Something not "panty waist"..
Something my dad will approve of.
I scan the shelves on the way out and my eye catches a Star War comic book.
I've never read a comic book before.
The Catholic priest at American Martyrs says they are filled with sin.
A conduit to damnation.
But sitting before me is an opportunity.
A portal to the world of Star Wars.
A way to experience it once again.
I picked it up.
I hold the entire universe of Star Wars in my hands.
I look up at my dad.
He nods his approval.
It's not "panty waist".
I pay my $1.00 in quarters and take it home.
My dad pays the tax.
When I should be reading the Four Gospels, I instead, consume the comic book every day for the next year, and then every other day for years to come.
Months later I need to perform the Sacrament of Confession before I get my First Communion.
I hear the priest behind the screen ask about my sins.
I tell him about lying, not listening to my mom, and fighting with my brother.
He says that's worth three Hail Mary's and one Stations Of The Cross.
I forgot to tell him about the Star Wars comic book.
Over the next 30 years,
My dad tries to get my brother and I to shoot guns with him.
We do it, but are not really invested.
We try to get our dad to use computers.
He does it, but he's not really interested.
He discovers God as I discovered disillusionment..
But without fail, we watched the next five George Lucas Star Wars movies in a movie theater together.
Between us, a conduit.
comments so far. Comments posted to EasyReaderNews.com may be reprinted in the Easy Reader print edition, which is published each Thursday.