ALL BALL SPORTS  LeBron, Lakers: Breaking up is hard to do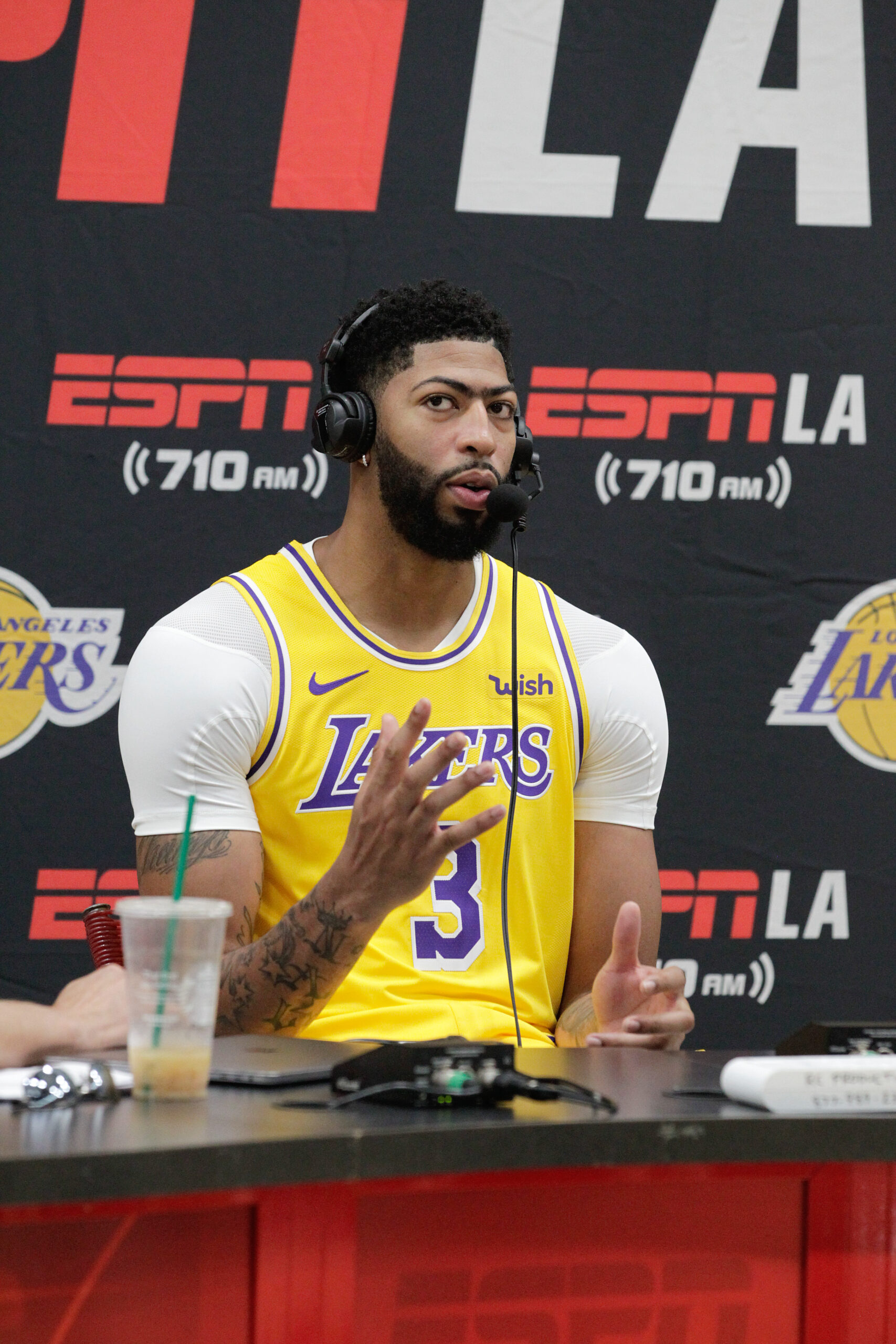 by Paul Teetor
As everyone from Kim K and Kanye to J-Lo, A-Rod and Bennifer can tell you, breaking up is hard to do.
And it's incredibly hard and messy when it happens in public. Especially in the age of Twitter, Instagram and Tik Tok.
But it's REALLY hard to do and REALLY messy when the two ex-lovers are the world's biggest sports superstar and the NBA's most important franchise (sorry Celtics, Bulls and Knicks fans.)
As a public service to bewildered Lakers fans who don't or can't understand what has been happening over the last two weeks between their adopted Kobe-substitute LeBron James and their beloved Lakers, All Ball is going to break it down for you.
The early warning signs of break-up craziness started during the All-Star break last week, when LeBron grabbed the spotlight that he craves by leading his team to victory with a step-back, fall-away buzzer-beating shot that had to be one of the best and most dramatic shots of his long career.
But the real action was off the court, where LeBron gave a series of interviews that made even bigger headlines around the world. The gist of it: he's very unhappy with the Lakers 27-33 record and their ninth place standing in the Western Conference. He's even more unhappy that the Lakers didn't make a single move to try and improve their team before the trade deadline 10 days ago. And that he wouldn't rule out a return to the Cleveland Cavaliers when his Lakers contract expires after next season. Oh, and also that he has very firm plans to play his last season with his son Bronny – wherever Bronny ends up.
Bronny James, who is not even the best player on the Chatsworth Sierra Canyon basketball team, is ranked as the 34th best prospect in the national class of 2023. He is currently in his junior year of high school and would have to attend at least one year of college before being eligible for the NBA draft. That means LeBron intends to spend the 2024-25 NBA season wherever his son ends up playing pro ball.
Should the Lakers plan on drafting Bronny to ensure that LeBron stays in LA? That's not his call, he says. It's up to the management team that runs the Lakers: Owner Jeannie Buss, her forever best friend Linda Rambis, Manhattan Beach's own Kurt Rambis, and somewhere way in the background, General Manager Rob Pelinka.
All of them have dubious qualifications to be running a billion-dollar sports franchise. Buss inherited her role from her legendary father Jerry Buss, Linda Rambis got her role because she has been by Buss's side for 40 years, Kurt Rambis got his role because he is a former Lakers player and failed interim head coach who was kicked aside for Phil Jackson, and Pelinka got his role because he was Kobe Bryant's agent. Not exactly an all-star team of executive talent.
Everyone in the know knows that LeBron is the real Lakers general manager: he tells the Lakers who to get – like Anthony Davis, Carmelo Anthony and Russell Westbrook – and who to get rid of, like all of the team's hot young prospects: Brandon Ingram, Lonzo Ball, Julius Randle, Kyle Kuzma and Josh Hart. Ingram and Randle have since made the All-Star team, and Ball, Kuzma and Hart are all legit NBA starting-caliber players.
No player in Lakers history – not even Kobe, Kareem or Magic – has wielded as much front office muscle as LeBron does. Sure, Kobe gave owner Jerry Buss a stark choice back in 2004: get rid of Shaq or I'm leaving, but that was a one-time-only exception that proves the rule. And it only worked for two reasons: Kobe was an unrestricted free agent who was eight years younger than Shaq. And he had already told friends and family that he intended to move across the hall at Staples Center and join the Clippers. Dr. Buss simply could not allow that nightmare scenario to happen and made the hard business decision to trade Shaq to Miami for Lamar Odom, Caron Butler and a big bag of caramelized popcorn.
So what's really going on here with the Lakers latest aging superstar as he navigates the twilight of his career?
Start with this stunning reality: for the first time in his 18-year NBA career, LeBron may well be traded. Even worse, from his standpoint, he may be traded against his will. For a control freak who lives to control everything around him whether it's on the court or off the court, it's a very real possibility that is driving him – and his management team led by childhood friend Rich Paul, who wouldn't have an NBA career without his lifelong LeBron connection – to do and say all kinds of crazy stuff.
Why in the world would the Lakers trade LeBron? Simple: because their future is bleak and because he and Anthony Davis are the only tradable assets the Lakers have left. Besides trading all their young and improving players to get Davis two years ago, they had to cough up three first round draft picks.
Under league rules governing how many first-round draft picks a team can trade away, that leaves only their 2027 first round pick, which Pelinka refused to part with before the trade deadline despite heavy pressure from LeBron and his agent to do exactly that.
If the Lakers go into an even steeper decline then they are in now, that distant pick suddenly becomes very valuable as the team's best chance to get a young star to rebuild around.
In other words, the Lakers are thinking long-term, while LeBron is only concerned with the short term. Since the 37-year-old physical wonder is still playing like one of the top five players in the league, his desire to win now is understandable. Even though he seems to be the NBA version of Tom Brady – an elite player able to maintain his high level into an advanced athletic age – no NBA player has ever extended his career into his mid-40's, as Brady just did before retiring at 45 last month.
LeBron doesn't have time to wait for the future for the team to get better. It has to happen right now for him. That's the root cause of the Lakers-LeBron friction: like many couples who come to a sad but inevitable parting of the ways, their self-interests no longer overlap.
Previously, whether it was in Cleveland, Miami or Cleveland again, LeBron was the one who wanted to part ways and had to break the bad news to his jilted lover. As anyone can tell you, it's always better to be the dumper rather than the dumpee. It's more psychologically satisfying.
No one enjoys being publicly dumped. Hard-core NBA fans can still hear the anguished wailing and picture the furious burning of LeBron jerseys when he announced in the summer of 2010 that he was leaving Cleveland and taking his talents to Miami.
Cavaliers owner Dan Gilbert publicly released a letter excoriating LeBron and promising Cleveland fans that the Cavaliers would win an NBA title before LeBron did. Gilbert is one of the most pompous and dislikable owners in a pro sports world full of arrogant, nasty, rich-guy owners. He's a guy who made his fortune pushing the so-called Ninja mortgages – no income, no job, no assets – that fueled the 2008 Great Recession. Of course he turned out to be predictably wrong about LeBron, who led the Heat to two NBA titles in his four years there.
Likewise, Heat General Manager Pat Riley and LeBron's BFF/sidekick/wingman Dwayne Wade could barely contain their feelings of anger and betrayal when LeBron announced in the summer of 2014 that he was going back to Cleveland to fulfill his pledge to bring an NBA title home to the mistake by the lake.
Riley at least was classy enough not to publicly trash LeBron, but his friends made it clear to the media that he felt badly treated by the star he had personally convinced to come to Miami.
And in 2018, when LeBron announced he was leaving the Cavaliers for the Lakers, there were similar feelings of abandonment and resentment. This time it was muted as fans had come to expect me-first behavior from King James. Also taking some of the sting out of it: he had fulfilled his public promise of an NBA title for the Cavs, so why not let him go in peace and end his career in LaLa land?
And of course there was the undeniable reality that sports teams dump players all the time when they are no longer useful to them. Why shouldn't players have the same power when teams are no longer useful to them and their career goals?
But the relevant point here is what happened to those franchises after he bolted. Cleveland went straight to the bottom of the NBA and stayed there for four long years, collecting top draft pick after top draft pick as a reward for stinking so badly. The same thing happened in Miami, and repeated itself in Cleveland over the last four years.
But now, for the first time in his long career, LeBron doesn't control his own destiny. Once he played out his four-year rookie contract with the Cavaliers, LeBron assured he would have control, not only of his own career, but control over the direction of whatever franchise he was playing for, by signing a series of short-term contracts, where the second and/or third years were player options.
In other words, if he decided to stay where he was and liked the moves the team was making, the team was obligated to pay him whatever the huge contract called for. And if he decided to leave for greener pastures (literally), well then he could leave and his ex-team would just have to suck it up, and start all over without him. That gave him tremendous leverage over a team's front office and made him the shadow GM of all three teams.
The result: after he left Cleveland in 2010, they spent four years wandering in the wilderness, piling up high draft choices thanks to constant losing. One of those draft picks, Kyrie Irving, became a superstar while he was gone.
When his Miami sidekick, Dwayne Wade, started showing signs of decline, LeBron opted for a younger, hotter model and came back to Cleveland. Once there, he forced management to trade their brand-new top pick, Andrew Wiggins, for Kevin Love, a battle-tested All Star whom LeBron felt could help him win another title to go with the two he won in Miami.
It worked for one title, and then it didn't work again when Irving started acting like a knucklehead, and Love suffered a series of bad injuries.
Next stop: LA in 2018.
LeBron's first year here was a nightmare. The kids he was put in charge of – Ingram, Randle, Ball, Hart and Kuzma – were talented but still developing. And when LeBron suffered the first serious injury of his career and had to miss 27 games, the 2018-19 season – and all the great expectations that accompanied him here – were wasted, as far as LeBron was concerned.
Thus, in the summer of 2019, LeBron told Pelinka he couldn't wait for the kids to develop. Nor could he wait one more year for Anthony Davis, his would-be wingman, to become an unrestricted free agent. They had to pry Davis away from the New Orleans Pelicans now, no matter what the damage to the Lakers long-term prospects. Pelinka, who knew LeBron could leave after that season, had no choice but to follow orders.
It worked, for one season – the 2019-20 pandemic-shortened, bubble playoff season that no one outside of LA cared about because they were too busy trying to avoid catching the plague. A little noticed fact at the time: when LeBron signed his 2-year, $85 million extension in December 2020, the final year was not a player option. No one knows why he agreed to this except the obvious explanation: having just won a title, he expected to win a couple more in the next few years. The Lakers expected the same thing. It was going to be clear sailing ahead for both of them.
Then came last season, when both the brittle Davis and the aging LeBron missed long stretches with serious injuries. The Lakers were bounced in the first round of the playoffs, and a new rallying cry was heard: wait till next year, when we get a third superstar to go with LeBron and AD.
That third superstar turned out to be a fading, overpaid, petulant Russell Westbrook, who came here in a deal brokered by LeBron. It was a deal that forced the Lakers to let fan favorite Alex Caruso go and forced them to rebuff Demar DeRozan, who desperately wanted to come home and play in LA. Westbrook's $44 million annual salary (not a misprint) and the $47 million he is owed next season meant that there was no money left over to pay DeRozan, Caruso, or Sacramento sharpshooter Buddy Hield, who also wanted to come here.
Oh, and it also forced the Lakers to trade three valuable role players – undersized board beast Montrezl Harrell, lockdown defender Kentavious Caldwell-Pope, and instant-offense guy Kyle Kuzma – to get Westbrook from the Washington Wizards.
The predictable result: Westbrook, a chronic ball hog and one of the worst shooters in the league, has been a complete disaster – something every hoops expert predicted – playing alongside LeBron, who also is a ball dominant player. Meanwhile DeRozan has been one of the top five players in the league, averaging 29 points a game.
So now the blame game starts over who is responsible for the failed season. And that is just the beginning of the acrimony. Next comes the hard part: will they part ways or will they patch it up? To clear-eyed observers, the verdict is in: there's no saving this marriage of convenience.
Thus the previously unthinkable for the Lakers has entered the realm of the very plausible: why not trade LeBron for some valuable assets – good young players or a couple of first round draft picks – before they lose him when he inevitably leaves in the summer of 2023?
Anyone who has been through a protracted, painful split recognizes the dynamics at work here: who's going to step up and do the dumping, who's going to be a victim, and who's going to end up in better shape, financially and emotionally, after the breakup?
The internal turmoil got so intense over the last 10 days that LeBron's agent Paul held a clear-the-air meeting with Lakers execs last Tuesday. Afterwards, when news of the top-secret meeting somehow "leaked," he told the media that he just wanted to make it clear that LeBron did not want Pelinka fired. And that he's confident the Lakers will do something big to improve the team this summer when they not only have the 2027 first-round draft pick to trade but also their 2029 draft pick, which under league rules will then be eligible to be traded away.
But Pelinka, Buss, and the Rambis clan had nothing to say about their eagerness to trade away even more of their future to placate LeBron, leaving it very much in doubt.
It all came to a head Friday night when the season resumed, and the Lakers lost 105-102 to the Clippers, a game where LeBron missed a last-second shot that could have won the game.
In the post-game press conference, no one in the media wanted to ask about the game just played. The main topic: did LeBron have a future with the Lakers?
Now in full damage-control mode after his wild weekend of rebellious, provocative quotes, LeBron tried to deflect any blame coming his way for the Lakers' aging, mis-matched roster. While he couldn't credibly deny that he had input on the team's moves, he insisted management makes the final decisions.
"The Lakers ask for my opinion, and I voice my opinion and what I believe. But I don't press any buttons," he said. "That's what our front office is for and that's what our leadership group is for."
Asked if he is confident the Lakers can build another championship team around him, he replied with a word salad that is still being dissected and digested three days later.
"I'm very confident. They've done it. They've shown me that," he said. "Ever since I got here, the front office of Jeanie, Linda, Kurt, everybody has welcomed me with open arms and has given me an opportunity to play for a historical franchise and welcomed my family in. And I just try to give back my part of the game and inspire kids, and inspire people that want to follow the Lakers and put them back at a level that they're accustomed to being. And that's always been my focus."
He defended his agent, Paul, who recently became engaged to the big-time singer Adele, when he presented her with a diamond ring the size of a Randy's Donut. He insisted everything is cool between himself, his agent, and the Lakers.
"I think it's important that it always stays transparent between us, and we don't really care about the outside noise," James said. "I think a lot of people are, to be honest, just jealous of the relationship that Rich has with the front office and with this team and with the relationship that I have, that I've grown over the last four years. I mean, that's what I think it boils down to."
And his comments a few days earlier about not closing the door on a third stint with Cleveland, or going anywhere his son played for the chance to play with him? Totally twisted by the media, he claimed.
You judge for yourself. During All-Star weekend he said this: "Wherever Bronny is at, that's where I'll be. I would do whatever it takes to play with my son for one year. It's not about the money at that point."
But now? Now he tweaked those comments to imply that he hoped Bronny would wind up with the Lakers.
"I see myself being with the purple and gold as long as I can play," he said. "But I also have a goal that if it's possible – I don't even know if it's possible – that if I can play with my son, I would love to do that. Is that, like, something that any man shouldn't want? That's like the coolest thing that could possibly happen. That doesn't mean I don't want to be with this franchise."
His move-along-please-nothing-to-see-here performance wasn't very convincing, especially not to the media, his teammates or the Lakers increasingly frustrated fans.
Two days after they lost to the Clippers for the sixth straight time, the Lakers played the Pelicans, who feature former Laker Brandon Ingram as their best player. Ingram led the Pelicans to a 123-95 rout over the Lakers, and LeBron was showered with boos, starting in the third quarter when the Lakers fell behind by 32 points and looked as if they had quit on Coach Frank Vogel. It got so bad that owner Jeannie Buss very conspicuously walked out of the Crypt long before the game ended.
The booing and heckling by fans directly behind the Lakers bench got so loud and insulting that LeBron directly engaged with one particularly vocal fan.
"What do you know about basketball other than did the ball go in or not?" LeBron yelled back. "Shut yo ass up."
Teammate Trevor Ariza joined in the clap back: "I don't give a (F-word) what you are. You a bitch. How about that?"
As LeBron left the court after the game, he was booed off the court – something that had never happened before in his four years in LA.
You could almost hear the fans saying that old ex-lover's lament: I don't even know who you are anymore.
After the game, Westbrook – who hit on only 5 of his 15 shots and turned the ball over an astounding 7 times — was asked about the unprecedented booing.
"If they boo, they can take their ass home," he said. "I ain't worried about that. It doesn't bother me none."
On August 4, LeBron becomes eligible to sign a 2-year $97 million extension. That will be the moment of truth for this will-they-or-won't-they impending break-up. The guess here is that he would rather stay in LA than return to Cleveland or go elsewhere, but only if the Lakers provide him with enough help to win another title.
Since that seems impossible given their current bare cupboard of tradable assets, their other option is to trade him while he still has one year left on his contract and get some assets – young players and/or draft picks — to start another long rebuild.
Buckle up your seat belts: It's going to be a rocky next six months in Laker land.
Contact: teetor.paul@gmail.com. Follow: @paulteetor
comments so far. Comments posted to EasyReaderNews.com may be reprinted in the Easy Reader print edition, which is published each Thursday.