Best of the Beach 2019 – Health
Optometrist / Eyewear
Stein Optometric Center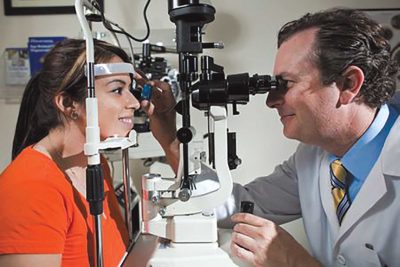 Yelp isn't the most trustworthy source when it comes to retail experiences, for which word of mouth rules the day. But let's make an exception for Stein Optometric, the 59-year-old, family-owned practice operated in Manhattan Beach by father and son doctors Howard and Jonathan Stein, because in this case, Yelp reviewers were specific and extraordinary in their praise. One said that he now lives in Northern California but makes trips south specifically for Stein Optometric, where he's found his eyewear needs well met for 20 years (he also gave a shout out to Dr. Tracy Kawamura, who is known not only for her professionalism but also a gift for quips, and it's her photography which graces the MB store). Another reviewer, this one a visitor from Brooklyn, was to the point: "Stein Optometric Center just provided me with the best optometry experience I've had. Not only is their center equipped with the highest-end equipment, Dr. Stein was thorough about explaining to me all the tests we did and the results." Stein stocks 3,000 to 5,000 eyeglass frames, including popular and hard-to-find designer frames, and more than 600 sunglass choices. The practice makes its own lenses onsite, often in one hour, and offers same-day service on most contact lenses, using state-of-the-art equipment.
Stein Optometric Center
3200 N. Sepulveda Blvd., E-4, Manhattan Beach
(310) 546-5568
https://steinoptometriccenter.com/
Runner-up: Manhattan Beach Vision Group
946 Manhattan Beach Blvd., Manhattan Beach
(310) 545-4585
visionsource-manhattanbeach.com
Pediatrician
Dr. Vivian Liu
Dr. Liu has run an old-fashioned, independent practice in Manhattan Beach since 1998. "We're the only mom and pop shop left in the South Bay," she said. "For families looking for that intimate care they are comfortable with, my business partner [Dr. Amin Bavari] and I provide that." Dr. Liu, a mother of two, is quick to count her professional blessings. "I love what I do because it's about the kids. I'm blessed and fortunate to have this job.
Dr. Vivian Liu, MD
1200 Rosecrans Ave., Manhattan Beach
(310) 335-1411
Runner-up: Dr. James Flores, MD
827 Deep Valley Dr., Rolling Hills Estates
(310) 544-0828
Best Dentist
Dr. Robyn Fung
Pediatric dentist Robyn Fung earned our readers' nod for her skill with the kids, which makes a visit to the dentist's office actually enjoyable. Viviana B of Culver City told Yelp, "The first time I took my daughter, they were so nice and patient with her. The second time she went in by herself and was totally fine. She even had a cavity filled. Now I take my 3-year-old as well. They came out happy as can be and with a goody bag." JC of San Pedro says Dr. Fung "has a way of connecting with the kids that is genuine. Not only does she explain procedures and other items to parents, she does so with the kid patients too. And my daughter remembers everything the doctor tells her."
Dr. Robyn Fung, DDS
973 Manhattan Beach Blvd., Manhattan Beach
(310) 545-4549
manhattanbeachpediatricdentists.com
Runner-up: Dr. Janelle Holden, DDS
451 Manhattan Beach Blvd., Suite D226, Manhattan Beach
(310) 545-5757
Cosmetic Surgeon
Christine Petti
Our readers honored Dr. Petti for the training, experience, and expertise that she uses to create life-changing experiences for her clients. She trained at the University of Chicago, one of the nation's top schools for cosmetic surgery, and has spent 28 years specializing in aesthetic plastic surgery. "I'm a great listener," she said. "I help to set goals and customize the surgery so that it is a life-changing experience, something they could not have achieved without my expertise. I help them 'stay forever young,' to preserve their skin and their contours, in a way that is natural, and doesn't look like it's overdone." Spa Bella also is a Best Of winner in the medical spa category.
Dr. Christine Petti, MD, FACS
3400 Lomita Blvd., Suite 305, Torrance
(310) 961-2530
Runner-up: Dr. Ronald Russo MD
3400 Lomita Blvd., Suite 306, Torrance
(310) 326-3636
Dermatologist
Dr. Ashley Magovern
Board-certified dermatologist Dr. Ashley Magovern, with her home and her practice in Manhattan Beach, boasts a previous background as a chief resident at the University of Illinois, and a fellow at Children's Memorial Hospital in Chicago, where she worked with a leader in pediatric dermatology. She also has worked alongside world-renowned dermatologist Howard Murad at the Murad Inclusive Health Medical Group. She is the author of numerous peer-reviewed journal articles, and her driving passion is to help people feel confident in their skin. A wide range of state-of-the-art dermatology and esthetician services make her intimate but modern office the place "where you go to glow."
Dr. Ashley Mcgovern
400 S. Sepulveda Blvd., Suite 205, Manhattan Beach
(310) 546-1188
Runner-up: Dr. John Nylund MD
14650 S. Aviation Blvd., #235, Hawthorne
(310) 643-9333
Family physician
Dr. David Austin
Our readers' choice has more than two decades' experience, is affiliated with several area hospitals, speaks multiple languages, including Spanish, and is one of 151 doctors at UCLA Medical Center and one of 90 at UCLA Medical Center-Santa Monica who specializes in family medicine.
Dr. David L. Austin, MD
2501 N. Sepulveda Blvd., Manhattan Beach
(310) 546-4599
https://www.uclahealth.org/david-austin
Runner-up: Dr. Jennifer Baars, M.D.
855 Manhattan Beach Blvd., Manhattan Beach
(310) 939-7858
Orthodontist
Summer Orthodontics
Dr. Summer Blake, or "Dr. Summer" to her patients, has the technical expertise, personalized attention, and command of the latest advances in her field to help achieve "the smile you've always dreamed of." She offers metal braces, clear braces and hidden braces, as well as the Invisalign and Invisalign Teen systems, which allow patients to straighten their teeth without braces. Patients rave about everything from the efficient, well-organized office to the convenient and thorough care. Summer Orthodontics was one of the first to earn a prestigious LEEDS certification for environmentally friendly practices. And Dr. Summer is a true local. The California native married her husband at American Martyrs Church, and they are raising two daughters and a son in the South Bay.
Summer Orthodontics
451 Manhattan Beach Blvd., D, Manhattan Beach
(310) 545-0770
Runner-up: Gimlen Orthodontics
973 Manhattan Beach Blvd., C, Manhattan Beach
(310) 545-6525
512 Main St., Suite #, El Segundo
(310) 322-3880
Medical Spa
Spa Bella
Founded by the noted Dr. Christine Petti – who also won our readers' nod for Best Cosmetic Surgeon – the 21-year-old Spa Bella in-house medical day spa offers laser treatments, fillers, Botox, skin tightening and rejuvenation treatments in a trusted and pampering setting. Dr. Petti boasts the finest training and 28 years specializing in aesthetic plastic surgery, helping her patients stay "forever young" by preserving their skin and contours in a natural way that never looks overdone. RF BoB
Spa Bella Medical Day Spa
3400 Lomita Blvd., Torrance
(310) 961-2547
Runner-up: Marcus Medical Spa
1815 Via El Prado #102, Redondo Beach
(424) 634-7044
Chiropractor
Dr. Derek V. Levy, DC
950 Aviation Blvd., Hermosa Beach
(310) 379-0503
Runner-up: Dr. Charlie Harper, D.C.
1800 N. Sepulveda Blvd., #202, Manhattan Beach
(310) 883-4472
Hospital
Torrance Memorial Medical Center
3330 Lomita Blvd., Torrance
(310) 325-9110
Runner-up: Providence Little Company of Mary Medical Center
4101 Torrance Blvd., Torrance
(310) 540-7676
Audiologist
Parker Hearing Institute
4201 Torrance Blvd., #140, Torrance
(310) 540-4327
Runner-up: South Bay Hearing
3734 Sepulveda Blvd., Torrance
(424) 387-3463
comments so far. Comments posted to EasyReaderNews.com may be reprinted in the Easy Reader print edition, which is published each Thursday.