Best of the Beach 2019 – Retail
Best antique shop
Stars Antique Market
The official Playboy Pinball Machine is what those in the interior design business call a conversation piece. The headpiece features a cartoon drawing of magazine founder Hugh Hefner, Bunny on each arm, and it sits near the entrance to Star's Antiques in Hermosa Beach. The looks alone are enough to make it interesting, but spend a few minutes talking with the staff at Stars Antique Market, and you'll learn that the machine comes directly from Hefner's estate. And because of a relationship that Stars has built up over the decades with one of its many dealers, there's more where that came from.
The machine is a large, vibrant highlight in a shop filled with tiny treasures. The atmosphere is cozy and inviting: there's a coffee station up front for those who want to linger over the treasures, while a jar full of Jolly Ranchers gets plenty of attention from the after-school crowd. Head to the back for a selection of vintage political pins (Wendell Willkie was apparently "America's Hope" in the 1940 U.S. presidential contest), or browse curiosities in display cases up front. Some are for decoration only, like a bow celebrating the "Golden Jubilee" of Ulysses, Kan. in 1909. Others are more utilitarian, including a set of Singer Sewing machines that still might have some life left in them.
In a shop with as many surprises as Stars, it doesn't make sense to say that you'll find what you're looking for. But you'll almost certainly be happy you stopped in.
Star Antiques
526 Pier Ave., Hermosa Beach
(310) 318-2800 starsantiquemarket.com
Runner-up: Antique Corral
145 Pacific Coast Hwy., Redondo Beach
(310) 374-0007
Camera store
Paul's Photo
A year ago, Paul's Photo owner Mark Comon was lukewarm on mirrorless cameras. Though smaller and lighter, their focusing speed was slow, their battery life was low and the electronic viewfinders, as he put it, "sucked."
Today, Comon says, "Mirrorless cameras are flying out the door." With his blessing.
The battery life and focusing speed are equal to the traditional Digital SLR cameras. The electronic viewfinders are clear. And prices have come down, by roughly $500 on full sensor Canon, Nikon and Sony mirrorless. A full sensor mirrorless camera is $2,000 to $3,000, which makes them comparable in price to similar quality DSLRs.
Lenses from the DSLRs work on the mirrorless, with an adaptor. But mirrorless lenses won't work on  DSLRs.
To research the differences between mirrorless and DSLR's, a buyer can go on line. But Comon doesn't recommend that.
"The local camera shop is making a comeback. People are tired of being raked over the coals on the internet. They want a friendly face across the counter, who knows what he or she is talking about," he said. — KC BoB
Paul's Photo Inc
23845 Hawthorne Blvd., Torrance
(310) 375-7014 paulsphoto.com
Runner-up: Silvio's Camera & Digital
22409 Hawthorne Blvd., Torrance
(310) 791-7100 silvios.com
Neighborhood Shopping Center
Riviera Village
Redondo Beach's Riviera Village has been named the Best Neighborhood Shopping Center in the Beach Cities year-in and year-out for good reason, according to City Councilman Nils Nehrenheim.
"The village truly represents a place where you can go and do everything: get your hair cut, see your accountant, grab a bite to eat, drink some coffee, have a meeting and then walk home with fresh fruit and vegetables," Nehrenheim said. "Everyone loves the Village."
A sidewalk dining program, approved by the City Council, has led a number of existing restaurants, including Sophie's Place and Gabi James and fresh faces like Rockefeller, to build sidewalk dining enclosures.
Rockefeller and Gabi James are among the headliners in a year that's seen a number of restaurants either move into the village or refresh their concepts. Others include 1892 Grill and Little Sister. Locally-born King Harbor Brewing Company's Catalina Avenue tasting room is also new to the Village.
The Village's Sunday morning Farmers Market has also been a hit, growing steadily since its first days in 2016.
"I go to the Farmer's Market every Sunday I can — I'm down there in one of the restaurants all the time, doing my shopping, and I almost exclusively walk there," Nehrenheim said.
Particular interest should be paid to the future of parking — and parks — in the Village.
"In the short term, we're looking to get more money to place more pavers and benches, bits and pieces of public infrastructure upgrades here and there," Nehrenheim said. "In the long-term, we're looking to a parking garage study in the Triangle, and convert the existing lot into a park with subterranean parking under it."
Among the biggest potential boons to the Village is the lengths to which businesses reinvest in their home. The Riviera Village Business Improvement District has been key to improvements — including new signage and a recently-installed digital directory — and events like the Holiday Stroll, Trick or Treat and Summer Festival.
The RV BID is also interested in backing a South Redondo tradition that is in jeopardy, by sponsoring a Fourth of July fireworks display on a barge just off the coast.
"The continual reinvestment of the businesses and the city is continuing the energy that everyone loves about Riviera Village, making it the jewel that we have for Redondo," Nehrenheim said. "We've been polishing, and we're going to continue to polish it."
Riviera Village
1799 S. Catalina Ave., Redondo Beach
Runner-up: Downtown Manhattan Beach
1142 Highland Ave., Manhattan Beach
(310) 546-3883 downtownmanhattanbeach.com
Best Gift Shop
Gum Tree
Gum Tree is a distinctive gift shop with its flagship in a 1911 craftsman bungalow on a Pier Avenue hillside in Hermosa, and a second, up Manhattan Beach Boulevard from the pier in Manhattan Beach. Whether the gift is jewelry, a vintage-fabric throw pillow, a mermaid bottle opener or translucent aquamarine gemstone soap, the distinctive Gum Tree wrapping (always free) indicates that the article inside was chosen with care. Distinctive cookbooks, special scented candles, gifts for kids – delightful surprises are guaranteed. And of course, the Hermosa location also houses the Gum Tree Café. – RF BoB
Gum Tree Shop
238 Pier Ave., Hermosa Beach
(310) 376-8733
324 Manhattan Beach Blvd., Manhattan Beach
(310) 318-2990
Runner-up: Tabula Rasa Essentials
919 Manhattan Beach Blvd., Manhattan Beach
(310) 318-3385 tabularasaessentials.com
Best jewelry store
Seymour's Jewelers
One of the nice things about being in business for almost 70 years is that your customers tend to do your advertising for you. At Seymour's Jewelers in Hermosa Beach, many of the store's customers are children and grandchildren of those who first began patronizing the shop when it opened, way back in 1950. The store offers shiny finery to be worn on wrists, ears, necks and more, and is happy to help find the right gift for anniversaries, birthdays and other special occasions. But it also has a day-to-day component of cleaning, repairing and customizing the pieces its customers already own. The lure of precious stones and metals is that their luster will endure long enough to be passed on to future generations. And when they need touching up decades down the road, Seymour's plans to be there, handling them with care.
Seymours Jewelers
1212 Hermosa Ave., Hermosa Beach
(310) 379-5401 seymourjewelers.com
Runner-ups: Morgan's Jewelers
22200 CA-107, Torrance
(310) 375-4471 morgansjewelers.com
Flower Shop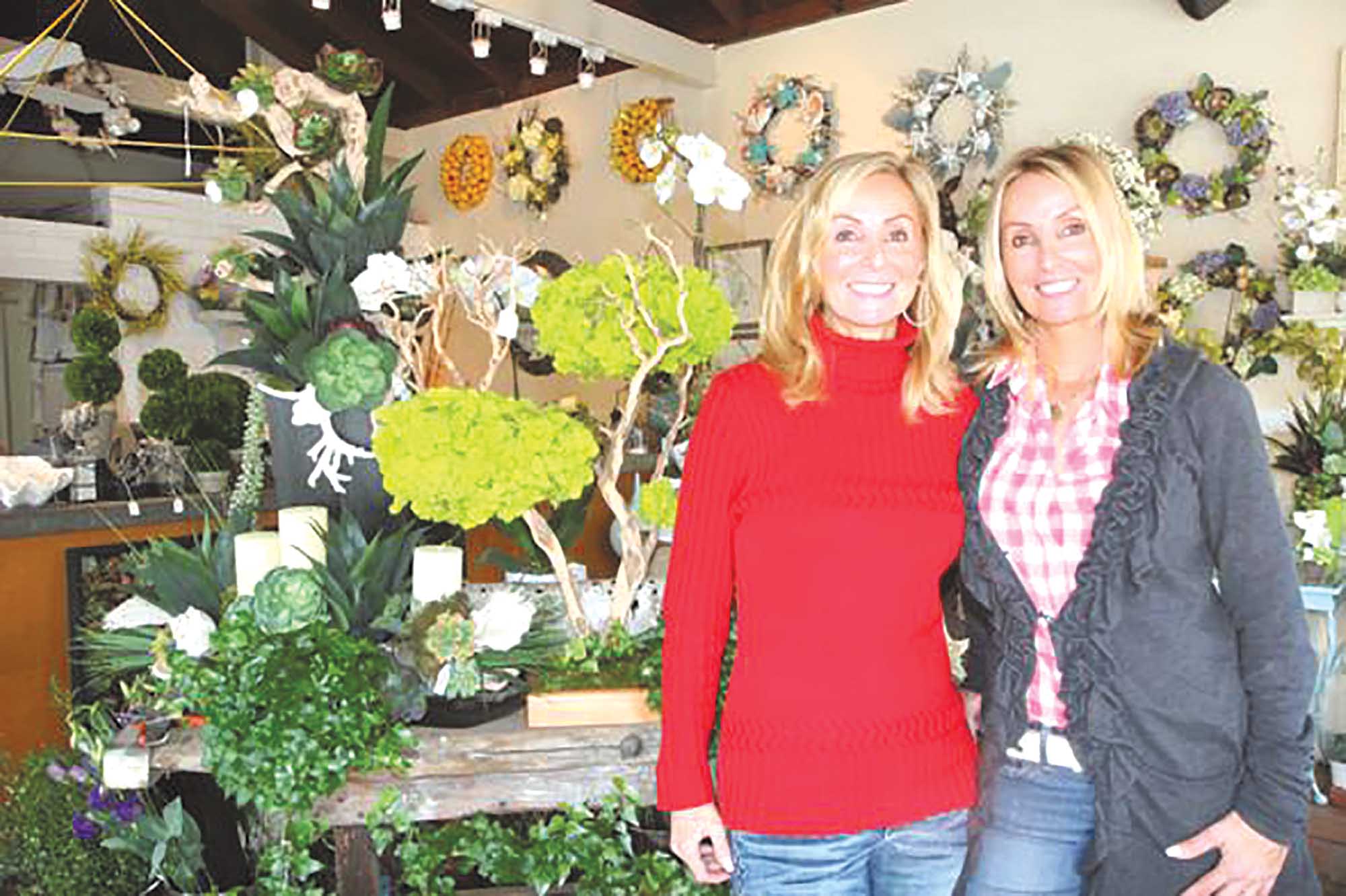 Growing Wild co-owners and twin sisters Lee Hoven-Bakos (left) and Lisa Hoven-Gallien. File photoGrowing Wild
The Growing Wild story has become part of local myth, as has the little shop that has been blooming on the corner of Highland Avenue and 12th Street for the last 28 years. The story begins with two little girls who loved flowers. Twin sisters Lisa Hoven Gaillen and Lee Hoven Bakos grew up in Manhattan Beach and together got a job at a local flower shop while still students at Mira Costa High School, then followed their dream to open up their own shop less than a decade later. That shop is a flowery universe unto itself. Growing Wild is both wonderfully artisan and inventive —  everything is handcrafted, with many designs that use sea shells and wood and other unconventional materials to create uniquely local settings for Growing Wild's arrangements. The shop is also dynamic, both as a go-to service for events, delivery, and as place for innovative home decoration ideas. The twins have lived lives devoted to creating beauty, and they have a crew of folks who share that vision.
"All of our employees have worked here a long time, and we've been here a long time, so we are able to really know our customers and what they like," said Hoven Gallien. "We have a small town feel here, so we really get to know people, and how to take care of them."
Growing Wild
1201 Highland Ave., Manhattan Beach
(310) 545-4432 growingwild.net
Runner-up: Lily Pad Floral Design
901 Hermosa Ave., Hermosa Beach
(310) 376-2539 lilypadfloral.com
Women's Clothing
Wright's
Running a successful boutique store for 30 years is no small feat. Fashions change constantly, and the amount of competition has increased exponentially in those three decades, but Nancy and Dana McFarland have kept their store, Wright's, thriving in the heart of downtown Manhattan Beach by a combination of tirelessness and timeliness. Nancy, in particular, is always on the hunt for new designers or new designs by familiar names. Just last week she took a whirlwind trip to New York and Paris, on the hunt for something new. She has a particular knack for discovering a line of clothing just before everyone else does. Wright's was among the first shops to carry Phillip Lim, for example, as well as Isabel Marant before her work was more widely recognized.
"It's not that we are necessarily the first to carry these lines, but we are among the first who take a chance," says manager Thaissa Voigt, who has been at Wright's 13 years. "Nancy has a gift. She finds unique lines… She just has a great eye for something new. It's always evolving, it's never the same."
Dana has a similar gift for staying in front of men's fashion trends. Meanwhile, the women back at the store provide truly exceptional customer service. They develop long standing relationships with many of the customers, and know when something new arrives who it will be just perfect for; some of their clientele come from far afield, making monthly pilgrimages from Pacific Palisades and even Modesto to see what's waiting for them at Wright's.
"It's about listening, and it's about making people feel at home when they come in the shop," said Voigt, who has a staff of about 15 women. "We really know our customers." MM BofB
Wright's
232 Manhattan Beach Blvd., Manhattan Beach
(310) 376-8553 wrightsmb.com
Runner-up: Anthropologie
Plaza El Segundo
800 S. Sepulveda Blvd., El Segundo
(310) 414-0066 anthropologie.com
Nursery
Deep Roots Garden Center
Jon Bell began working at the sprawling plant nursery at the corner Sepulveda and 2nd Street when he was 15. In 2009, at 28, he bought the business and aptly named it Deep Roots. It's an all-in-one garden center; in addition to several hundred species of plants (with an emphasis on plants native to this area), Deep Roots carries seeds, tools, organic fertilizers, pots of every size, chimes, garden boxes, bulbs, birdhouses, and offers landscaping and floral design services, as well as a full time florist, regular workshops, and educational outreach.
"We try to cover all those bases," Bell said. "Anything we sell, we can install. We get to know people and, over time, get a grasp of what they are looking for. We try not to limit ourselves to any one thing." MM BoB
Deep Roots Garden Center 
207 N. Sepulveda Blvd., Manhattan Beach
(310) 376-0567 floristmanhattanbeachca.com
Runner-up: Sunflower Farms
17609 S. Western Ave., Gardena
(310) 527-8371 sunflowerfarmsnursery.com
New Retail Store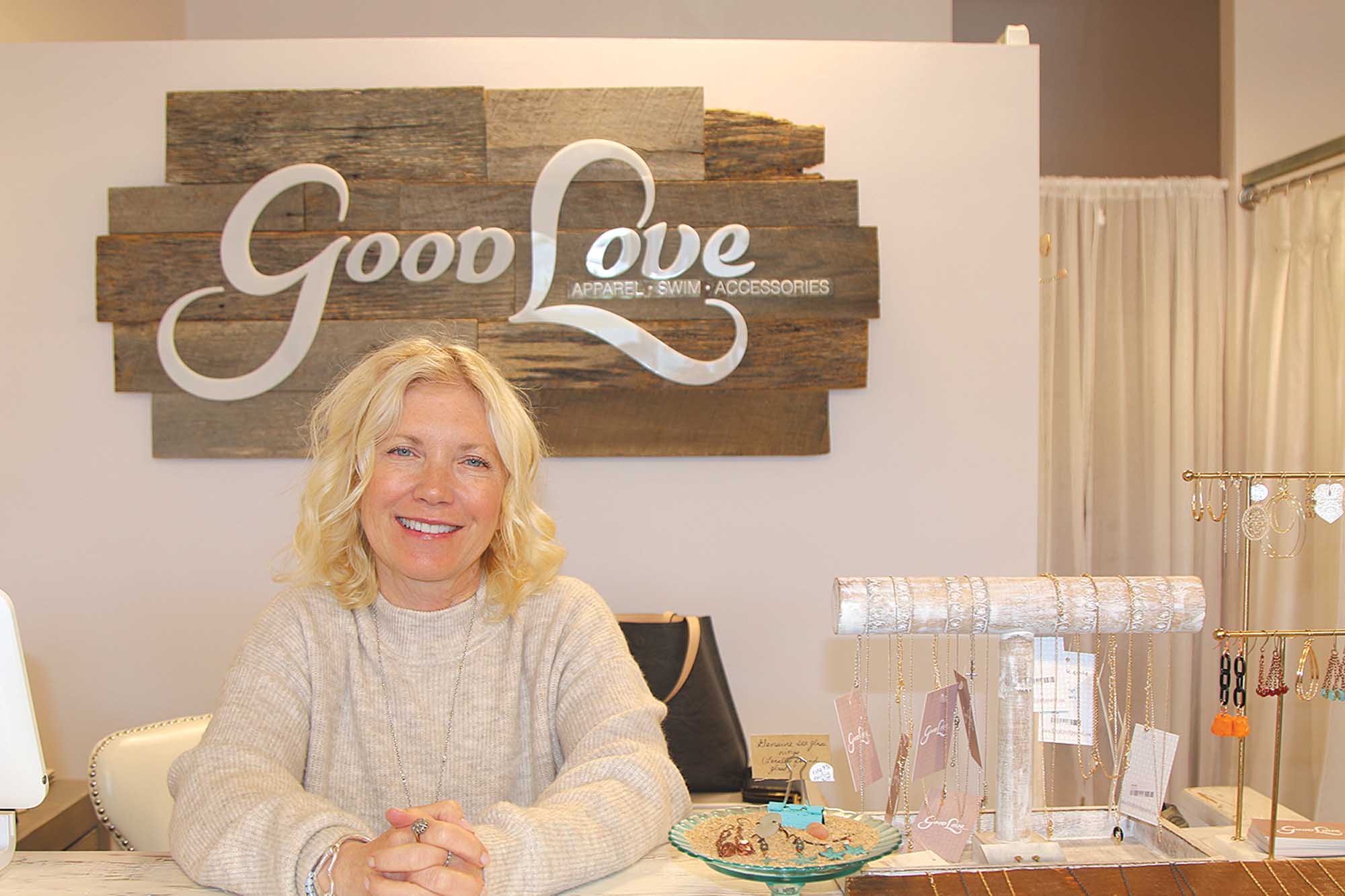 GoodLove
GoodLove was built as the dream of mother-daughter team Kim Love and Claire Goodman, a pair of South Bay locals who decided to fill an open niche they saw in Riviera Village: a store offering laid back clothes and swimwear for the South Bay.
Despite a rocky start, including exterior construction and opening shortly before the holiday shopping season, the shop has pushed through to become a favorite in the Village, continuing a tradition of other beloved, and dearly departed, retailers.
"This was at the time where Jonathan was closing, Le Tete closed. We're not a chain, and people were happy to see it be the kind of business that came in while others were leaving," Goodman said.
The shop isn't on the main drag of Catalina Avenue, but that plays into their strengths: people can stop in with purpose, to treat themselves, but occasionally find a surprise on the way to buy groceries.
"We always knew that we wanted to be in the Village," Goodman said. "Hopefully, this won't be our only store." 
Good Love
257 Avenida Del Norte, Redondo Beach
(310) 316-4850 goodloveapparel.com
Runner-up: STRAND Electric Bikes
1706 Pacific Coast Hwy., Hermosa Beach
(424) 383-1237
Grocery Store (Chain)
Trader Joe's 
Wherever you go in the Beach Cities, you're rarely far from a Trader Joe's. There are four alone in our three cities – two in Manhattan Beach, one each in Redondo and Hermosa-and two more within a stone's throw, in Torrance.
Shopping at Trader Joe's is often an adventure in island kitsch-hibiscus prints, aloha shirts and tikis-but the goods are no gimmick. The stores are laden with quality groceries, quick-prepare foods and fresh produce. Prices are also reasonably wallet-friendly, and better when on takes advantage of the store's ubiquitous flyer, showcasing both sale goods and seasonal specials.
Trader Joe's
1100 Pacific Coast Hwy., HB  (310) 318-1767
1821 Manhattan Beach Blvd., MB  (310) 372-1274
1800 Rosecrans Blvd., MB  (310) 725-9800
1761 S. Elena Ave., RB  (310) 316-1745
Runner-up: Whole Foods
405 N. Pacific Coast Hwy., RB  (310) 376-6931
Plaza El Segundo
760 S. Sepulveda Blvd., ES  (310) 333-1900
Best Meat Department (Chain)
Whole Foods Market
The Whole Foods Market meat department is more than just slabs of cut and trimmed meats — not like that's a surprise, though.Whole Foods' selection of meat and seafood includes many of the staples found in the meat department of other stores, as well as a broad selection of marinated, breaded, kebab-skewered and dry-rubbed cuts to ease prep times for busy home cooks.
But customers are also given the option of various organic, free-range and pasture-raised meat and poultry that can include a 5-stage animal welfare standard rating.
Deli and charcuterie options are also available for customers only a few steps away from the meat counter, along with prepared items including sushi, empanadas and sesame tofu alongside sliced deli meat. 
Whole Foods Market
405 N. Pacific Coast Hwy., Redondo Beach
(310) 376-6931
Plaza El Segundo
760 S. Sepulveda Blvd., El Segundo
(310) 333-1900
Runner-up: Lazy Acres
2510 Pacific Cst. Hwy., Hermosa Beach
(424) 260-1400  lazyacres.com
comments so far. Comments posted to EasyReaderNews.com may be reprinted in the Easy Reader print edition, which is published each Thursday.