Added on April 10, 2019
Mark McDermott
Manhattan Beach , newsletter
MB Shootout result in injured police officer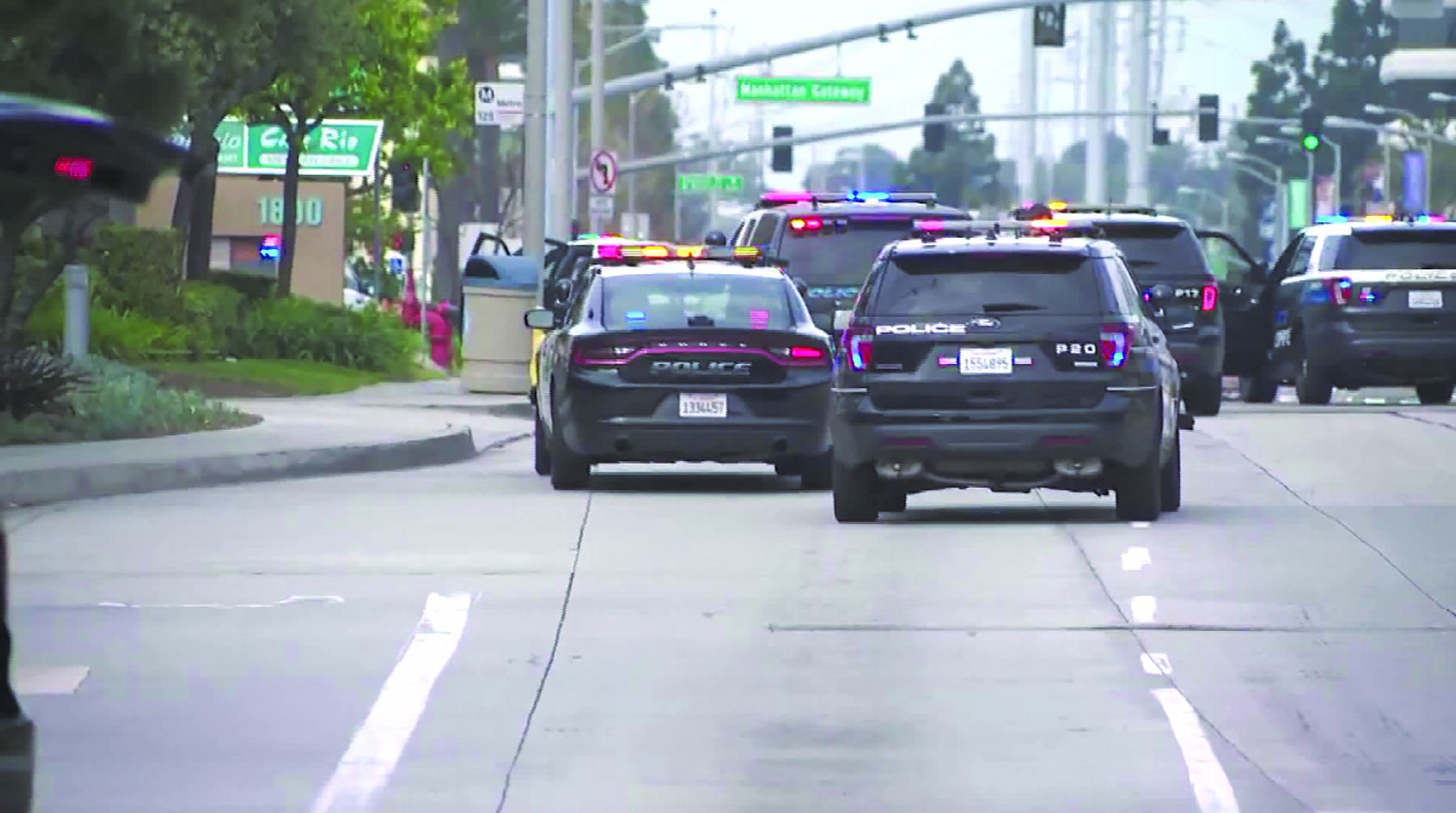 by Mark McDermott
Gunfire erupted on Rosecrans Avenue Sunday morning, sending hundreds of people running and screaming and eventually resulting in a Hawthorne police officer being wounded.
After a massive police response involving all nearby agencies, a male suspect was arrested in what police believe was a domestic dispute that erupted at the SpringHill Suites in Hawthorne, near the border of Manhattan Beach.
"Officer down," the Hawthorne Police Department Tweeted as the incident was unfolding. "We had an officer involved shooting at Rosecrans and Aviation."
Social media immediately was in a frenzy. Photos popped up showing police-operated armored vehicles rolling down Rosecrans.
"I was just sitting outside with my son at Noah's on Rosecrans when gunshots suddenly rang out from across the street," Britany Sheehan, Manhattan Beach resident, wrote on NextDoor. "Everyone began screaming and we barricaded ourselves in the Starbucks next door — the cops sitting next to me at Noah's ran towards the shots. It was absolutely terrifying but everyone there was ok. A woman who had seen the whole shooting ran in crying, but I didn't catch details… I hightailed it out of there as soon as I could. A million cops are now there."
According to Hawthorne police, the incident began at 9:20 a.m. when a domestic dispute was reportedly occurring at the hotel. Witnesses saw a man in military fatigues carrying a firearm chasing a woman. By the time officers arrived, he had fled across Aviation Boulevard into the parking lot of the Manhattan Gateway Shopping Center, near Cafe Rio and REI. A gunfight ensued in which an HPD officer was shot in his leg and the suspect in his torso. After his detainment, police withheld the man's identity but indicated he was a former U.S. Marine.
Manhattan Beach Police Department personnel responded but were not involved in the gunfight.
"We just responded to assist them when we got the call, but none of our officers were involved in any type of gunfire," said MBPD Sgt. Tim Zins. "We were just there to assist Hawthorne."
HPD Chief Michael Ishii, in a press conference later that morning, that the officer's injuries were not life threatening.
"Could have been worse," HPD posted on Twitter. "We are glad our officer will survive."
Less than 10 hours later, just outside the HPD station, things did get worse. A man allegedly fatally shot the mother of his toddler in the midst of a custody exchange. Jacob Munn was arrested three hours later after an extensive, multi-agency manhunt, and charged with the murder of his ex-girlfriend, 28-year-old Brenda Renteria.
"I've never seen anything like this before," Lt. Scott Hoglund, a sheriff's homicide detective, told the LA Daily News.
Comments:
comments so far. Comments posted to EasyReaderNews.com may be reprinted in the Easy Reader print edition, which is published each Thursday.