Added on September 5, 2019
Mark McDermott
Manhattan Beach , newsletter
Noel and Sally Palm celebrate 70 years of marriage and six decades in Manhattan Beach
by Mark McDermott
Local Offers
(800) 570-5562
more from spybase - 6 hours ago
Santa Ana, 1946. "It's a Wonderful Life" and "The Big Sleep" are in the theaters, which are plentiful in this military town, still bustling in the aftermath of WWII. A tall, handsome dark-haired boy named Noel Palm is driving his old Ford Model A, which he bought himself from the money he earned working at the Yost Theater as an usher, but which he can't drive without his mother's permission.
Sally Simpson hears his car before she sees it; she knows the specific racket it makes because she used to go steady with Noel. Sally is in another car with her date, a boy named Timmy, when Noel pulls up alongside them.
"We were sitting out in front of the house and all of a sudden I hear this rattle, bang-bang," Sally recalled. "It's Noel. He pulled up, and I'm thinking, 'Oh, gosh, he's going to get mad I'm dating someone else.'"
But when he spoke, he didn't seem mad at all. In fact, in a kindly voice, he had a request. "I just wanted to ask you," he says, "I have to go home now. Can you smell alcohol on my breath?'"
Timmy leans over across the car. "I don't think so," he says.
"Oh, good," Noel says, shifting back into gear.
"So he rattles off into the night," Sally said. "He didn't care one whit about me or what I was doing."
Sally had first noticed Noel in geometry class at Santa Ana High, where they sat across from one another. She worked for the school newspaper, so she'd seen his name and read about his exploits as an athlete. He was a track and field star who'd won the low hurdles at some big meets. What struck her in class, however, was how good he was at math. It was not, to her, a particularly endearing trait.
"I was very poor at math," she said. "Art and music and stuff like that was what I liked. I hated math. I thought Noel was a brain because he liked it. And I hated it, so I didn't pay too much attention to him. I thought we'd never get along."
"She was the brain," Noel said. "She was a really nice lady."
Sally was a slender beauty, with an unruly mop of brown hair and an easy, lithe gracefulness. She was smart and sassy and liked to laugh. And the more time she spent around Noel, the more he perked her interest.
"She had her eye on me, I think," he said.
"I was the plotter," she said, laughing. "He was a young innocent guy who just went along."
Pretty soon Noel and Sally were an item. She worked at another theater, and he'd pick her up after they both finished their shifts and they'd go out on dates. He gave her a little key chain, a little golden track shoe he'd been awarded, that she wore on a necklace. Then, for no apparent reason, he just stopped calling.
They graduated high school and coincidentally both enrolled the following fall at Santa Ana College. One day one of Sally's friends at school asked her about her necklace.
"You are still wearing Noel's little key chain around your neck," the girl remarked. "Why? You don't date anymore."
"Well, that's true," Sally said. "I shouldn't."
So the next time she saw Noel at the college, she marched up to him and handed him the key chain. "I don't want it back," he said. "Well, we don't date anymore, and I don't want it," she replied, then turned and walked away.
"After that, he started calling again, and we started dating again," Sally said. "I guess he just needed a good nudge."
His mother had also been nudging him. She thought Sally made Noel better. "My mother wasn't too happy with me," he said.
They have rarely been apart since. A few months after graduating, on August 7, 1949, Noel and Sally were married. They honeymooned on Catalina Island and embarked upon what would become the greatest adventure of their lives, their marriage.
The Palms celebrated their 70th anniversary last month at their Manhattan Beach home, a little house on 9th Street they bought in 1960, where they'd raise five kids. All five kids were at the party, as well as most of their ten grandkids and nine great-grandkids. In making it to 70 years, the Palms did something beyond extraordinary. According to the U.S. Census, one-tenth of one percent of marriages make it to a 70th anniversary.
"That is really something," Noel said. "I mean, you have to look at that and know that you were, and are, truly blessed. It's just great."
"I'm pretty amazed by it, too," Sally said. "We didn't kill each other off. We have a dynasty."
The Palms had their first child, a daughter named Marsha, a year after marrying. A school friend of Noel's launched a company called High Fidelity Unlimited, in a burgeoning new industry. For the first time, homes had all-in-one hi-fi systems, with receivers and turntables and speakers all included; High Fidelity also provided PA systems to schools. The Palms moved to Palos Alto and Noel went to work helping sell the new equipment.
"My friend got me into the sound business," said Noel, who still has a pair of the original James B. Lansing speakers in his living room. "Those are 15-inch woofers. That was an interesting time."
Something else new also captured Noel's attention. Throughout his teenage years, he'd been an avid waterman. Growing up in Santa Ana, he and his friends would drive to Corona del Mar to body surf. Noel was so skilled in the water that when his mother, Veta, got a job in the summer of 1945 as a host at Lake Arrowhead Village, he tagged along and worked as a lifeguard (J. Robert Oppenheimer, the so-called "father of the atom bomb," happened to have a cabin there. "We'd see him there sitting on the beach," Noel recalled).
When Noel and Sally moved north in the early '50s, a friend sold him a balsa wood surfboard and Noel became a surfer. Then, in 1952, the first wetsuits hit the market. The suits, produced by Jack O'Neill in his Santa Cruz garage and by Bill and Bob Meistrell in Redondo Beach, changed everything. Noel became a truly dedicated surfer, surfing every chance he got.
"Those first wetsuits were a godsend, believe me," Noel said.
By the mid-'50s, the Palms had two more daughters, Vicky and Karen. Sally was growing a little annoyed that Noel disappeared to Santa Cruz to surf nearly every day off he had. His favorite break was Steamer Lane, a now-famous surf spot below the cliffs near downtown Santa Cruz.
"He used to make me kind of mad because he loved surfing so much," Sally said. "The only day off he had besides Sunday was Wednesday, so every Wednesday he'd go down there to surf, and every Sunday. He used to say, 'Well, you can come down, too.' So once I came down, and took the kids. Santa Cruz had nothing then, no restrooms, nothing, just a cold foggy beach, and the water was too cold for the kids. I only went once. After that I just stayed home and took my [horse] riding lessons at Stanford."
In 1957, they had their first son, Brett. In 1960, Noel took a different job in the sound industry, for a company located in Inglewood called Tape Athon which made tape loop machines to provide background music in stores and public spaces. He came to the South Bay by himself to look for a home; his and Sally's priority was a good school system, and they'd heard bad things about LA Unified. Noel had a sister in Culver City who told him Manhattan Beach was a nice town with good schools, and so he found a little 1,400 square foot house, not far from Manhattan Heights Elementary School, and bought it.
"My heart sank when I saw it because it was so small," Sally said. "Because we had four kids already. I remember we paid $41.50 a month, and that just seemed like so much money. But boy, I tell you, we couldn't afford it now. This town has gotten so expensive."
Sally and the four kids joined Noel in Manhattan Beach, and the next year she was pregnant again.
"Every time we moved we had a few more children, so when we moved back down [to Southern California], I said, 'I'm not moving again,'" she recalled. "We haven't moved since."
Instead, they planted roots. Noel became deeply involved with the Manhattan Beach Elementary School District, and later with the South Bay Union High School District; he'd eventually serve 16 years as a board trustee.
"He did a great job," Sally said. "He was very involved. And he helped the boys with Little League."
"I think I was good at maintaining a sense of decorum," he said. "There was some crazy people, but there were some people who really knew what they were doing. We had a good superintendent, Byron Burgess. He was excellent."
Every life has a handful of instances in which utterly everything can change in one moment. The Palms experienced one such moment in 1967. They had a motorhome in which they'd take the kids on camping trips all throughout their childhoods, heading into the Sierra Nevada and ranging as far as Utah and Arizona. But it was on a little trip to Big Bear that summer when Sally was preparing dinner on a gas stove when one of the kids tripped on the gas nozzle and the entire camper went up in flames. Noel was frantically evacuating the kids from the motorhome, and everyone was accounted for but Brett. The youngest, Tod, had a little tent outside. Noel grabbed a sheet from the tent, soaked it in water, and wrapped it around himself as he prepared to go into the inferno their camper had become. At just the moment he was about to enter, one of the kids, Marsha, screamed — Brett was outside, by a tree. His hair and body had caught fire, but he'd rolled in the dirt to put it out. He suffered burns to his face and hands, but he was okay. The Palms would never forget how lucky they'd been, how easily their charmed family life by the beach could have been irrevocably altered.
"Boy, it really could have," Sally said. "That was awful, but I was so glad Noel didn't have to go in after Brett, because I don't know if either one of them would have survived."
Maybe this sense of gratitude contributed to a chapter in the Palms' history together that would have a lasting impact on the entire South Bay community, one which would take place in the last years of the 1960s as they became key players in the founding of the South Bay Free Clinic. Sally and Noel had always been religious, not in the sense of church-going piety, but in an old fashioned belief that it was their duty to serve others.
In the '60s, they belonged to the South Bay Christian Church congregation, which formed committees aimed at addressing social issues, such as affordable housing and medical care. The idea was hatched, in concert with local civic activists and leaders, to establish a South Bay Free Clinic.
The trouble was finding a site.
"We didn't think that would be a problem," Noel told Easy Reader in 2009. "Well, it was. The reaction was like hell was freezing over."
They raised money with a flea market and found possible homes for the clinic in both Redondo Beach and Hermosa Beach. But there was no room at the inn: both cities turned them down, fearing the kind of people free medical care would attract.
"We had a lot of trouble at first because none of the cities wanted a clinic," Sally said. "They said it would bring a lot of hippies in, and we don't need that type of person. But it wasn't true. It was a free clinic. We just thought it could help a lot of people out."
Ironically, the site that Hermosa Beach rejected for the clinic the following year became the Tender Box.
"Instead of a free clinic, they got a sex store," Noel said, laughing. "That was the trade off."
Finally, Sally found a place only three blocks from the family's home, on Manhattan Beach Boulevard. When the clinic finally opened, Noel was the first chairman of its board, which included 50 diverse members of the community.
"We have a lawyer, salesman, trade association manager, artist, writer, stewardess, engineer, and rabbinical student among our membership," Noel told the LA Times in 1969.
Brooke McIntyre Tuley, the director of outreach and volunteers for the clinic, now known as South Bay Family Health Care and located in Gardena and Carson, recalls the Palms as both a guiding and a steadying force in the effort to found the facility. She was a teenager at the time and considered Noel and Sally mentors.
"They were sort of the community warriors for the underserved," McIntyre Tuley said. "I was a kid when I met them, and it was heady stuff, being around people like that — who had such stature within the community, who were so in tune with the community, and who could see things before anyone else could. They created opportunities and surrounded themselves with people who they know could start to take charge. And they stuck to it. They never backed down. I think maybe it's the same quality they brought to their marriage: we are going to work through this. We are going to find a solution. I was just amazed to see people like that."
The clinic has by now served tens of thousands of people in need. McIntyre Tuley said none of this likely would have occurred were it not for the Palms.
"Our community is safer, stronger and healthier in so many ways because of them and their insights, foresight, integrity and fierceness to support those causes that were not popular at the time," she said. "They are still our champions."
"The free clinic — that was work," Noel said. "But it was amazing how people responded. It was very satisfying."
"I always said, that was one organization of any I've ever been involved in where if you called someone for help, they'd drop whatever they were doing and come help you," Sally said.
Former mayor Jan Dennis, who is also Manhattan Beach's unofficial historian, said that part of what the Palms brought to the table was a straightforwardness and purity of purpose that disarmed even those who may not have agreed with their aims.
"They were great people to work with," Dennis said. "Sincere, and really had the interest of the community at heart. They were just genuine."
In the 1980s, Noel would also prove to be a steadying force for the school district. Former Mira Costa principal Gary Hartzell said that during dire economic times, Noel was an island of calm.
"He was on the SBUHSD board when the school finance crisis hit in the wake of the Serrano-Priest decision, Proposition 13 and the skyrocketing price escalation of property in the beach cities," Hartzell said. "He was on the board during all the tough times involved in making the horribly painful decision that the district needed to close a high school [Aviation] in order to survive. From my perspective, Noel was a beacon of reason and had a calming effect on some hot-button issues and some hot-headed people."
Sally found other ways to impact the community. Always an artist, she became a teacher's aide, teaching art at Washington Elementary in Redondo Beach. She was so popular the school eventually gave her a room of her own to teach in. She was a fixture at the Hometown Fair as an artist, and to this day regularly has work up at the Manhattan Beach Creative Arts Center. For many years, she painted the theater sets for her church, the Manhattan Beach Community Church. She also became a popular muralist throughout the South Bay. She completed two large murals in Redondo Beach's Veteran's Park, including the iconic historical mural that adorned the former bandshell. She said she was paid $400 for the first mural, and when they asked her to do another she had to get tough.
"I said, 'You pay your maintenance people more than that. I'd like $800. And they said 'okay,'" Sally recalled. "I had to climb up scaffolding to do those murals. At first I was terrified, but by the end I was climbing up and down like a monkey."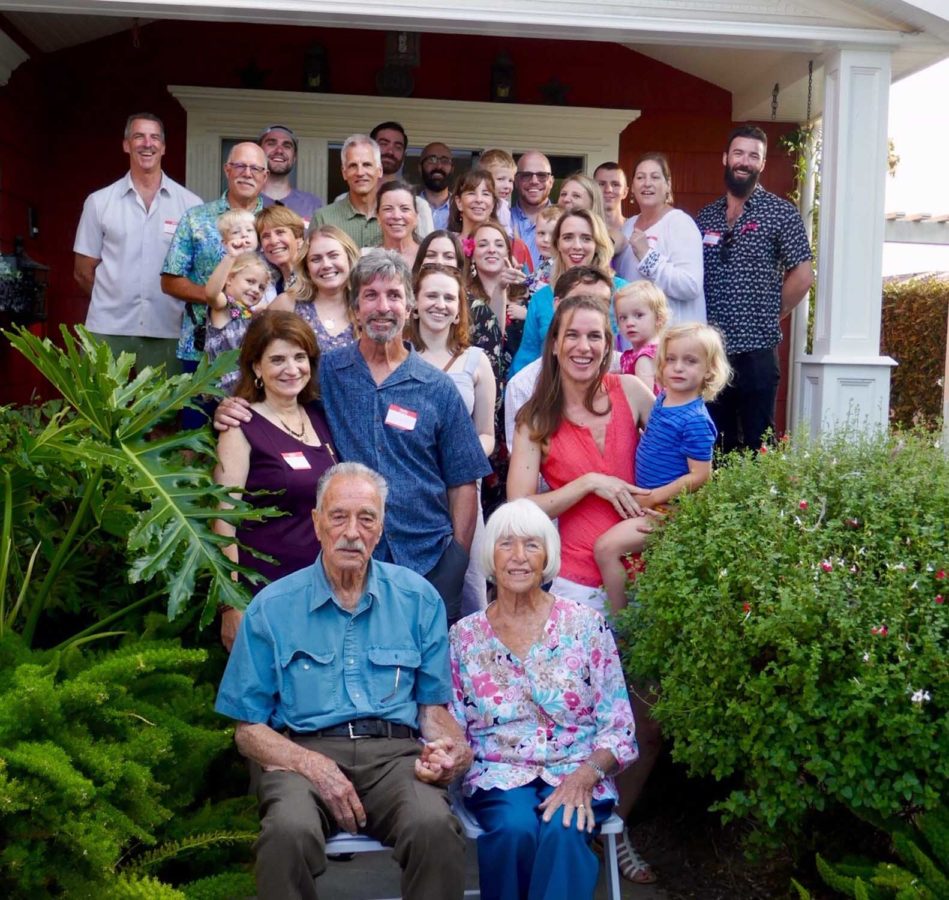 Both Noel and Sally will turn 90 this year, and as they look back on their life together, and what lessons it may impart for those seeking both longevity of life and marriage, both agree it's something simple.
"Try to help," Noel said. "Do something for others."
He said that through helping others, you often help make yourself a better person. "As a human being, if there are things that need to be corrected, you can do it," he said.
Regarding marriage, Noel suggested that developing a ready sense of understanding is key.
"Be very aware of where the one you are with is coming from," he said. "And then figure out how to handle that."
"We put up with each other," Sally said. "Noel and I are very different. He likes math and I don't. But he certainly put forth every effort to support us and do his best for us…He worked his tail off."
For their 70th anniversary, their family compiled a book of the Palms' life together. It's a photo history, teeming with laughing children, family gatherings, parties, and an occasional surfboard. A small photo early in the book shows the couple in swimsuits on Catalina Island, on their honeymoon, joyous and beautiful. In a photo near the end of the book, the couple stands at the gate of a vineyard, gray-haired and considerably more weathered, but somehow more joyous, more beautiful. The final page contains a photo of the newest great-grandchild, born August 2, and a sleeve for future great-grandkid photos. The Palms are a story that continues to grow.
"We've been very, very lucky," Noel said. "Very, very lucky…And I haven't asked her to smell my breath for several years now."
Comments:
comments so far. Comments posted to EasyReaderNews.com may be reprinted in the Easy Reader print edition, which is published each Thursday.