The great bi-annual Manhattan Beach "Pierhenge"
By Jefferson Graham
Evelyn Schmitt stood her ground under the Manhattan Beach Pier on Thursday, Friday and Saturday, to get lead position for that bi-annual event known to local photographers as Pierhenge.
On November 14, in case you missed it, the sun set perfectly in-between the two pillars of the Pier, making for a killer shot that attracted many, many photographers.
And Schmitt wanted to to be there "to see if there was something special," she says. "Because every time it's different."
Schmitt wasn't alone. There were about 15 photographers lined up by her side on Saturday, giving it their best shot as well. The crowd was smaller than in years past, perhaps due to concerns of COVID style super-spreading crowds, she thinks.
Manhattan Beach photographer Pete Halvorsen specifically skipped it due to COVID, but has been photographing the event for years. "I miss the old days when it would just be a few of us," he says.
Social media, and so many people posting and publicizing these events has really changed how we view the world, he adds. "This (the unique November sunset) has been happening for years, but we didn't tell people about it," he says. "It really increased the curiosity of people wanting to get their own shot."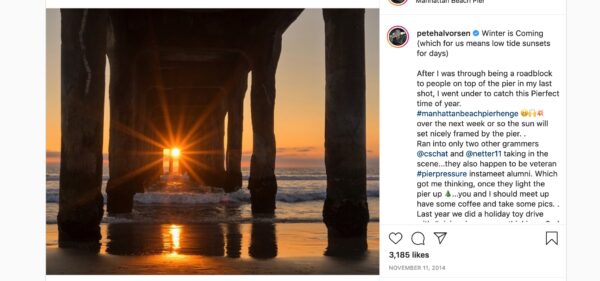 Manhattan Beach Mayor Richard Montgomery on Facebook said Schmitt deserved the honorary title of "Picture of the Week," for her work because it's "unique and I have never seen a picture like it previously."
Schmitt, 81, a former math teacher who has been taking photo classes from Paul's Photo's Creative Photo Academy for 10 years, says the crowd was more polite this year. In 2019, a man stood in front of the 20 or so photographers who had their tripods lined up, "and I gave him a few words I don't usually use," she says.
The solution: the photographers picked up their gear and moved in front of the squatter.
Schmitt started taking photo classes to enhance her sunset shots, and ended up getting smitten with all things photography. Sunsets, she says, "touch people's hearts," and shows them something they know is out there, but most are too busy walking along to notice. "They don't always take the time to stop and take a look, and when they see it in a photo, they know this is somewhere they'd love to be."
Mark Comon, the owner of Paul's, has been viewing the Pierhenge photos for years, but has skipped attending because he didn't want to deal with the crowds and he prefers to get more original shots. That said, he's a huge fan of Schmitt's result, and knows how important Pier shots are to local photographers. "People love the Pier. It's what sells and goes up on living room walls."
And even if you missed Saturday's Manhattan Beach Pierhenge, it's a good bet you might still be able to get the shot this week, depending upon how the sun is feeling. Otherwise, the next date is January 27, 2021.
If you're under the Pier then, be sure to say hi to Schmitt. She plans on being there. And on the 25th, 26th and 28th as well. And if you can't wait, remember that November has the best sunsets of any time of the year. Until December kicks in, right?
ER
comments so far. Comments posted to EasyReaderNews.com may be reprinted in the Easy Reader print edition, which is published each Thursday.