Top 5 innovative companies to learn from in 2020
The 2019 year was very productive in terms of introducing innovative technologies by leading companies.
The tribute should be paid to the outstanding companies that thanks to innovative technologies managed to get in the top list / hold their positions or even outperform competitors. According to BCG, the most innovative companies in 2019 were: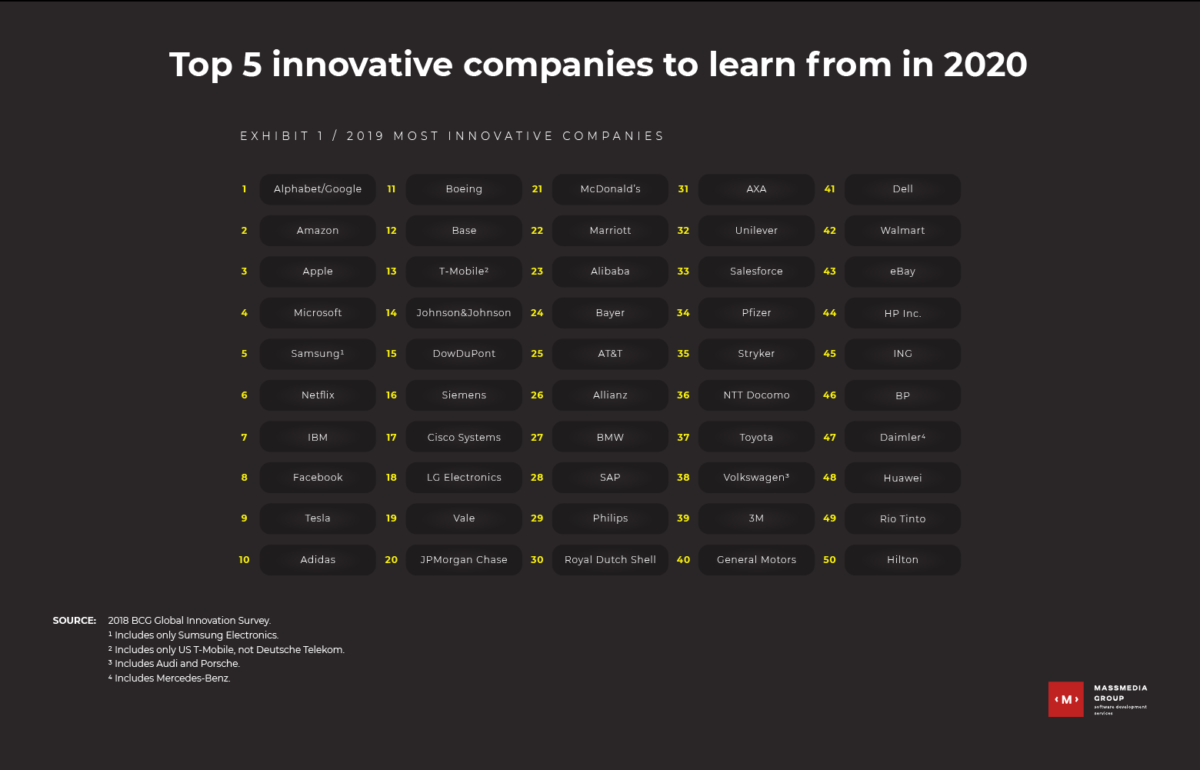 Of course, the experience of each top company is unique. What helped these companies to become the best in 2019? What secrets of success can be borrowed from them for your business in 2020? Let's look at the example of the five leaders.
Google

– this innovative company, perhaps, is the most popular nowadays. Need to find important information, check the latest news, download a funny meme or quickly find a cake recipe? The solution to all these issues is the same: to google. Of course, over the years of its existence, Google has gone far beyond the boundaries of a regular search engine thanks to its projects such as Gmail, YouTube, Google Ads, etc. All these projects together bring an enormous profit. Just think about these numbers – according to YCharts, Google is estimated at almost 1 trillion dollars! (actually, 937.97 billion)
Nevertheless, even as a huge corporation, Google manages to innovate with such enthusiasm and creativity that even green startups might be jealous of.
OK Google, how do you manage to do this?
Tip # 1 Invest in research – According to Inc., Google funds over 250 research projects annually. Also, Alphabet Inc. created a special unit – GV (formerly – Google Ventures) – to finance technology companies at different stages of development (seed, venture, growth). According to Crunchbase, as of December 2019, GV had already made 669 investments, including the development of such well-known projects as Nest, Slack, Walker and Company, and 23andMe.
What drives Google's appetite for research initiatives? It is important to understand the basic development strategy of Alphabet Inc (the parent company of Google). Its goal is the integration of its services and technologies into all aspects of the user's digital life, as well as providing a significant competitive advantage for its main source of income, which Google itself is.
The innovative company not only actively finances prominent projects in the field of AI, ML, cloud storage, logistics, healthcare, etc., but also acquires entire companies and startups (according to CBInsights report). The key point is quite simple – if you want to stay a few steps ahead of your competitors, you should invest in the search for the most advanced and innovative solutions.
Tip # 2 Encourage employees to innovate – Google's innovative philosophy sounds like: if you have a chance to bring benefit to the company, do it. That is how the famous "20 percent" rule was developed. Its essence was that each employee had the right to devote 20% of the working time (that is, one day a week to third-party projects that were not related to the main activity). That is how such projects as Gmail and AdSense were born, as well as hundreds of small projects, many of which were delivered to the Open Source.
Nevertheless, after a detailed analysis of employees' productivity, it was decided to cancel "20% rule". Firstly, for the most effective work, employees still needed to spend a full 100% of their time on the main projects. Secondly, let's be frank: for 20% of free time it is impossible to develop global projects in which the corporation is interested.
Therefore, there was a need to make Google's innovation more controlled. With this intention, a semi-secret Google X laboratory was created. Such step was quite successful: a drone-based cargo delivery system, Google contact lenses, a smart spoon for people with Parkinson's syndrome, a neural network and a self-driving car – that's just some examples of Google X projects that have already broken into the world of technology.
Tip # 3 Encourage collaboration – no matter where Google projects are located, the innovative company strives to maintain close feedback that helps make quick decisions. Moreover, Google is categorically against the use of pipelined approaches, so all researchers, engineers and product managers work on projects in close collaboration, choosing the best solution for each specific case.
Feedback and new ideas are designed for free exchange between teams, so scientists communicate directly with those who collect customer reviews, and vice versa. Such approach helps to create a culture in which innovations thrive, because they have already become part of everyday processes.
Amazon

– tops the list of the most popular shopping apps in the USA: in March 2019 alone, 145.2 million mobile users utilized the Amazon app! (Statista, 2019)
"Creating something innovative, we always put our user at the first place" – such words are written on the Amazon website, and probably this is, in a nutshell, the secret of the mind-blowing success of the innovative company. And now, more details:
Tip # 1 Stay customer-oriented – one of Amazon's primary goals is to become the planet's most customer-oriented company. This innovative company has developed several beneficial tools for clients to track packages and quickly return or exchange items ordered, making their online shopping easy and convenient. Amazon Customer Service has received many awards for such dedication to its mission.
Tip # 2 Introduce variety – on Amazon you can find everything from soup to the Artificial Christmas Tree. Literally. A site search shows more than 3,000 advertisements for vegetable soup and more than 2,000 ads for a virtual Christmas tree. Indeed, the variety of products on Amazon is impressive; today, the site presents products from 37 categories.
Thus, by diversifying its offerings, this innovative company is constantly expanding its customer base and maintains maximum compliance with current consumer demand.
Tip # 3 Do not give up until you see the result – the legendary founder of the corporation, Jeffrey Bezos, warned investors that it would be a long time before they saw the income. Back in 1997, he said Inc. Magazine that Amazon will be quite unprofitable for a very long time. Nevertheless, he continued to promote his innovative company, experimenting with new development strategies until 2003, when the first profit was received. The result is impressive: Amazon has grown from a small online bookstore into an industry giant.
Apple

– technical innovations, an ultra-successful minimalist product design, and, of course, the revolutionary approach of former CEO Steve Jobs (the most famous owner of a black turtleneck in human history) – this is what made Apple one of the most valuable brands in the world. This innovative company's success is undeniable, as revenue growth is unprecedented – from $ 8 billion in 2004 to over $ 265 billion in 2018, according to Statista. Here's how it worked out:
Tip # 1 Don't be afraid to change your business plan – one of the key ingredients to Apple's success is its dynamic, ever-changing business plan and business model. Initially, Apple was founded as a computer company. But over time, Jobs and his team felt the need to broaden this format and find an additional direction for development.
Starting with the release of Final Cut Pro, the innovative company went beyond desktop computers to experiment with MP3 players, mobile phones, tablets, watches, digital assistants and much more. Also, to reflect the expanded range of activities, the company was renamed from Apple Computer Inc. to Apple Inc.
Such experiments were accompanied by a large number of adjustments and changes in the company's development strategy, due to which Apple became the way we know it now.
Tip # 2 Strive to get closer to your users – entering the markets of Asia and Africa, Apple has opened new vacancies for developers of applications for the iPhone and on these continents. The innovative company hired employees from various fields, such as musicians, artists, historians, etc., to better understand the mentality and cultural features of its new target audience and take them into account in the development of its product.
Tip # 3 The best way to get ahead of your competitors – to cooperate with them – the ability to turn competitors into partners is an art that not everyone can master. But here, Apple succeeded.
"We must abandon the idea that for Apple to win, Microsoft must lose," Jobs said. In 1997, he entered into a partnership with Microsoft, under which the last one should support Microsoft Office on Mac computers. Such a step provided this innovative company with an investment of $150,000,000, and also helped stabilize the company's market position.
Also noteworthy is the more than 10-years collaboration between Apple and Samsung. This partnership is quite mutually beneficial. The fact is that only Samsung can satisfy the demand of the iPhone manufacturer for OLED displays, flash memory and chips.
In its turn, Samsung, which produces smartphones, which have become the main competitors of iPhone in the global market, earns more from the production of accessories for Apple phones than from the production of accessories for their own devices (such conclusion was reached by the experts of Counterpoint Technology, which prepared the study for The Wall Street Journal).
Microsoft –

the oldie but goodie Microsoft, which software has already become an integral part of our everyday life, continues to hold a leading position. In 2019, the company's revenue reached a record $125 billion (Statista, 2019). Discipline, employee motivation and global goals – these are the things that help Microsoft to innovate well.
Here are some working lessons from this corporation:
Tip #1 Become a "visionary" in your field – undoubtedly, Bill Gates is a new type of business leader. Over the years, he constantly proves that he can be called the visionary of the computer industry. Often, he has seen the future direction of technology better than anyone and has always been ready to lead the process of introducing something new. His deep understanding of technology and a unique way to synthesize data gives him a special ability to see future trends and manage Microsoft strategy effectively.
Tip #2 Select team members carefully – Microsoft's competitors are amazed at how scrupulously the corporation approaches staff recruitment. No patronage, ordinary personalities. Only the smartest and most advanced people are hired.
Attention to personnel, creation of excellent working conditions, as well as incentive systems are prerequisites for the success of any business. Bill Gates continues to practice this truth for many years.
Samsung

– is perhaps one of the most controversial innovative companies of our time. It is often accused of copying the ideas of its competitors (in particular, Apple). And of course, the exploding Galaxy Note 7 also pretty much poisoned its reputation. However, such mistakes are the exception rather than the rule. This corporation remains one of the key players that dictates the rules in the world of technology (otherwise how would it get on this list?)
Artificial intelligence, digital health, the Internet of Things, autonomous mobility, data center infrastructure, security, privacy – these are only several examples of Samsung's innovation areas. How does this corporation reinforce its technical strength? The tips below will tell you:
Tip #1 Create a powerful marketing strategy – even though Samsung is a technology company, its marketing strategy is something that all brands can learn from. Samsung could not have reached such a success they have today without its marketing strategy, which is one of the most effective in the world.
"Our mission is focused on ordinary users, not technology for the sake of technology. All the great technologies that we had should be translated into consumer language. We have conducted thorough researches to understand what consumers want and what they need. This is the foundation of our marketing," said Marc Mathieu, CMO Samsung Electronics America.
Tip #2 Pay special attention to visualization – this innovative companies places particular emphasis on the visual component of both its products and its advertising. And it really provides high user engagement.
Samsung marketers were not mistaken, armed with the principle that the truth is always simple. Based on this, all Samsung advertisements are aimed at telling stories of ordinary people who facilitate and improve their daily activities with the help of brand products. This helps to trigger an emotional response from the audience, which, in turn, greatly affects their buying decision.
***
What do these innovative companies have in common? In addition to innovative approaches, they are united by many years of work, more than a dozen mistakes and careful work on them. Therefore, if sometimes everything is not going so smooth, do not despair. Look for innovative ways to solve your problems, do not be afraid to introduce something new and be a pioneer. At this MassMedia Group Software Development Services is always happy to help you.
comments so far. Comments posted to EasyReaderNews.com may be reprinted in the Easy Reader print edition, which is published each Thursday.