TRAVEL: Half Moon Bay–Highway 1's hidden secret of Pumpkins, wide-open space & Instaworthy photo ops
The Southern California Beach Cities have big wide open beaches, but open fields and sizeable backyards are the tradeoff. They don't exist here.
So when visiting Half Moon Bay recently, just about 45 minutes south of San Francisco, I had to marvel as what a difference a coastal city could make.
Like Manhattan/Hermosa and Redondo Beach and their proximity to Los Angeles, Half Moon Bay is just out of town from the big city, but so different.
San Francisco has huge buildings and tons of people; The agricultural hamlet of Half Moon Bay is open spaces, giant fields of pumpkins, Christmas trees, artichokes and brussels sprouts and a really cute downtown and coast.
I brought the PhotowalksTV cameras to Half Moon Bay to meet up with fellow photographer Chris Warner-Carey and document the areas local photo beauty. I arrived on the eve of the 50th annual Art & Pumpkin Festival, which showcases the biggest pumpkins you've ever seen. (Like a massive 2,500 pound wonder as seen below.) The fair has come and gone, while pumpkin season and those giant pumpkin patches last through the end of October.
I encourage you to watch the
episode, which was filmed entirely on the iPhone 14 Pro Max, Insta360 X2 and DKI Mavic Air 2S cameras.
What to do in Half Moon Bay?
I have a few ideas on that. But first, the fog. Half Moon Bay gets a lot of the same fog that resides over San Francisco, which means fewer sunrises and sunsets to photograph, but portraits will be sublime, with nice even lighting. Plan your time accordingly. "You just learn to live with it," Warner-Carey says in the PhotowalksTV episode. "Know the patterns. It typically burns off by the afternoon."
Historic downtown
: This is one of the smaller downtowns we've come across on the California coast, with about four blocks worth of shops, bakeries, cafes and restaurants. You'll find everything from antiques and hardware shops to a book store and several small groceries. It's a lot of fun to walk through.
The Beach!
Poplar Beach is one of the easiest and most photo-worthy in HMB, located just just south of Half Moon Bay state beach, flanked by a long, paved walking trail that looks down at the ocean waves. On the morning we visited, some area equestrians were riding their horses on the sands.
Lighthouses
: There are two main attractions. The big one is the 115-foot
Pigeon Point Lighthouse
, one of the tallest lighthouses in America, which is p
erched on a cliff on the central California coast. It dates back to 1872 and looks to celebrate its 150th anniversary in 2022.
Beyond photographing the beautiful building, the setting is gorgeous as well, with rocky cliffs frequented by animal life. Pigeon Point is about 30 miles south of Half Moon Bay on Highway 1 in Pescadero.
The other lighthouse,
Point Montara
, is closer to San Francisco in Montara, which is just down Highway 1 from Pacifica, or about ten minutes north of HMB. This one was established in 1875 and is smaller than Pigeon Point. It also has an accompanying hostel next door.
Redwoods:
Fitzgerald Marine Preserve
Just north of Pillar Point Harbor, here's another cool beach that's home to an abundance of marine life including sea urchins, anemone, sponges, hermit crabs and sea stars. Along the way, the hike up the hill through the century old cypress and eucalyptus forests is half the fun of visiting, a major stop for engagement and portrait shoots from local photographers.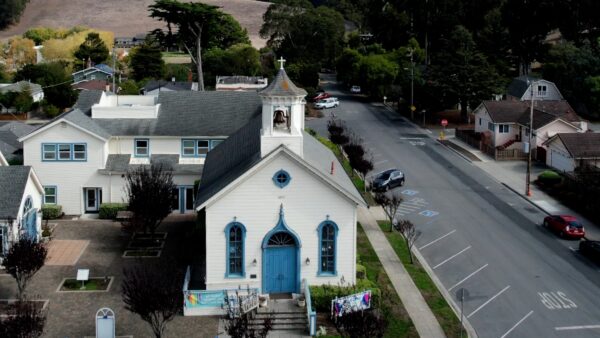 Back downtown, the Community United Methodist Church also dates back to the 1870s, 1872 in fact, and is a classic example of period architecture. With one modern adornment. In HMB, pumpkins are seemingly everywhere, since so many of them are grown locally. (Tourism officials call HMB the "Pumpkin Capital of the World.")
So isn't natural that even the stained glass at the church has images of pumpkins up there?
Speaking of pumpkins
comments so far. Comments posted to EasyReaderNews.com may be reprinted in the Easy Reader print edition, which is published each Thursday.