"We are not being heard" : a message from an infectious disease doctor who has worked an ICU throughout COVID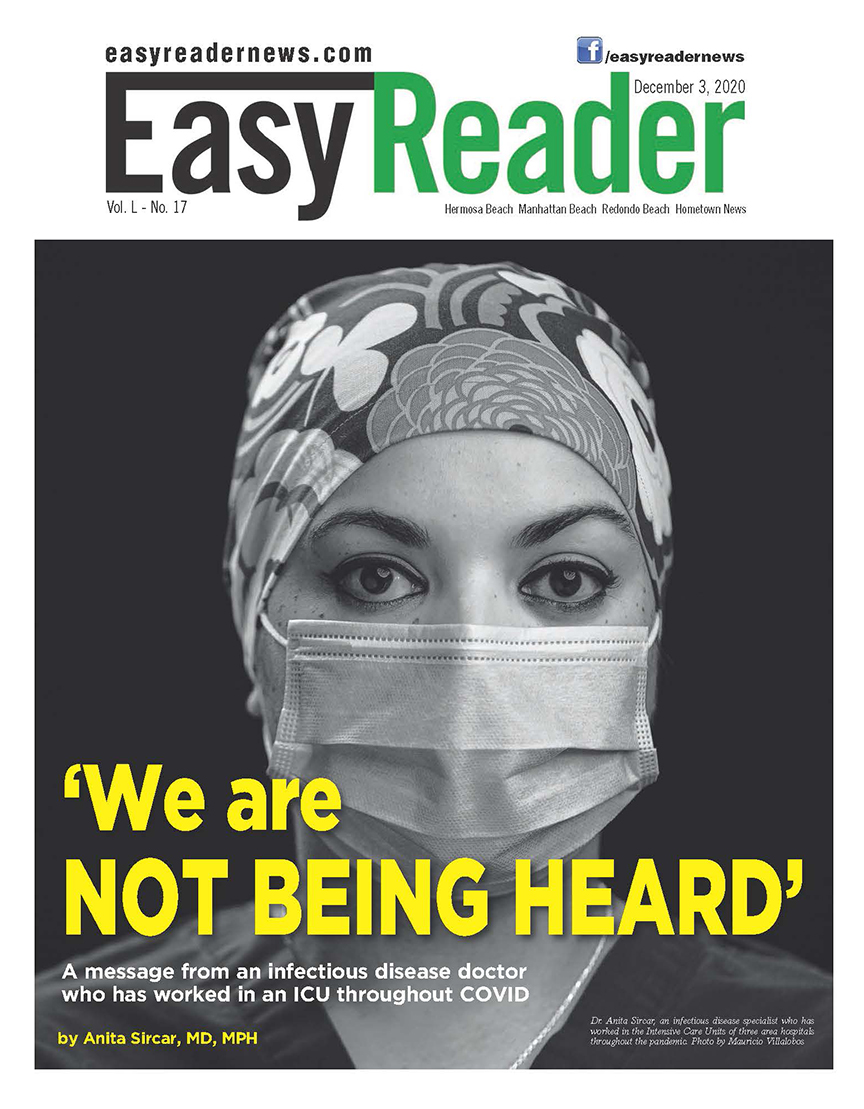 Editor's note: Dr. Sircar is an infectious disease specialist who spent the last two decades studying and treating viruses internationally, including work with the Center for Disease Control fighting Ebola in Africa. She returned to the South Bay to be with family just before the pandemic arrived. She works at three area hospitals and a clinic. At one point during the pandemic, she had worked 155 days straight. She wrote this just before Thanksgiving.
There has not been a single day since this pandemic started for almost 8 months straight that I have not seen a COVID patient. What was once an aberration of my daily caseload, has now, 8 months later, unfortunately become a routine part of my census.
For the duration of this pandemic I have tried to maintain a steadfast and even-tempered disposition even in the face of dire urgency. But today, for the first time since this pandemic began I am on the cusp of alarm by what I am seeing.
In LA County alone, there were over 3,600 new cases today with 51 deaths. Over 60,000 new cases in the last 7 days and hospitalizations are at their highest level since the start of this pandemic.
All of our curves are rising; CASES, HOSPITALIZATIONS, DEATHS. We are moving in the wrong direction. We are in crisis and we are not being heard.
While the rest of the US looks to this Thursday as a day of food and celebration, we in the COVID units look to it with fear and trepidation. While America eats turkey and pumpkin pie, we brace for the coming onslaught of what will befall us in the days to come.
We are admitting entire families at a time. Admitting patients faster than we can discharge them and for every one discharge, two or more admissions wait in the wings. We are at the brink of what is medically and humanly possible. We are outstretched, outrun. We are exhausted. And we are not being heard.
I have seen more deaths in the last 8 months of this pandemic than I have in my entire career as a physician. YOUNG DEATHS. Devastating, never-saw-it-coming, "they were fine just yesterday," "how could this have happened?" "they had no risk factors," "they were so young," "they just went to a birthday/ retirement/ Halloween / wedding party and they were fine," violent, catastrophic, heartbreaking deaths.
Deaths where husbands and wives die hours apart in the same room. Mothers and sons, one day apart without saying goodbye. Fathers and sons one room down, neither knowing the other was next door. And these are not just here-and-there, random, one-off, anomalies of deaths, but daily, persistent, consistent, unpredictable and unrelenting deaths that never end.
Sure, we can build new ICUs overnight, but we cannot build new ICU doctors, nurses, respiratory therapists, infectious disease specialists and every other personnel needed to manage those ICUs. Those years of rigorous training, studying and practice cannot be bought overnight. We cannot manufacture expertise. And without expertise, we cannot take care of patients. And this is where people go wrong. Just buy more ventilators. Just open more beds. But who will take care of you in them?
This Thanksgiving I, along with several of my colleagues, will be taking care of patients in the COVID units. People always ask what they can do to help the frontline and I always say the same thing, stay home. I have not been home or slept in my own bed for 8 months. I have not hugged my mom or shared a meal around my own kitchen table with my own family since this pandemic began. It is hard, but it is a small sacrifice I make to keep those I love safe.
Your sacrifice to spend the holidays alone this year to ensure all those you love are around your table next year, is a small sacrifice for you to make.
Getting tested before you travel or visit your family is a meaningless act with a false sense of security. It is a test that only counts for that one moment in time. The moment you step back out into the world, your risk of infection starts again. That same test could be positive the next day, or in the next two days or even a few hours later on that very same day. That's how little it means. Do not use a negative test today as a free pass to put those you love at risk tomorrow.
Until you have heard the wailing of a daughter who has lost a mother she inadvertently infected, or a pregnant wife who just lost her husband with 6 weeks to go before delivery, or a grandchild who accidentally infected their grandparent wailing outside a COVID isolation room where they cannot even touch their loved one's hand as they die, you do not know what loss looks like, you do not know what regret sounds like, you have not witnessed grief. That look of inconsolable regret, of a forgiveness that will never be found, is one that never leaves you.
To every COVID patient I treat who looks at me with fear in their eyes, I say the same thing, "I am doing everything I can to get you home."
So I ask all of you, on behalf of all of us who have worked day in and day out on this response, who have not seen and will not get to see our families for many more months to come, are you doing everything you can to help us get home?
This is how you help the frontline: Please stay home these holidays. Wear a mask. Don't travel. Don't attend large gatherings. Maintain social distancing. Zoom call or FaceTime your loved ones. Eat your turkey in front of your laptop. Do anything and everything you can to keep yourself and your loved ones safe and I promise you, you will have so many more reasons to be Thankful next year than you can ever imagine.
comments so far. Comments posted to EasyReaderNews.com may be reprinted in the Easy Reader print edition, which is published each Thursday.
Be an Easy Reader Free Press supporter!
Yes, we know Easy Reader and EasyReaderNews.com are free. But they are not free to produce. The advertiser model that traditionally supported newspapers is fading away. This is our way of transitioning to a future where newspapers are supported by their readers. Which is as it should be. We hope you'll support us. — Kevin Cody, Publisher