Added on February 4, 2017
Mark McDermott
Manhattan Beach , newsletter
Yogis plan meditation flash mob on Manhattan Beach pier Sunday morning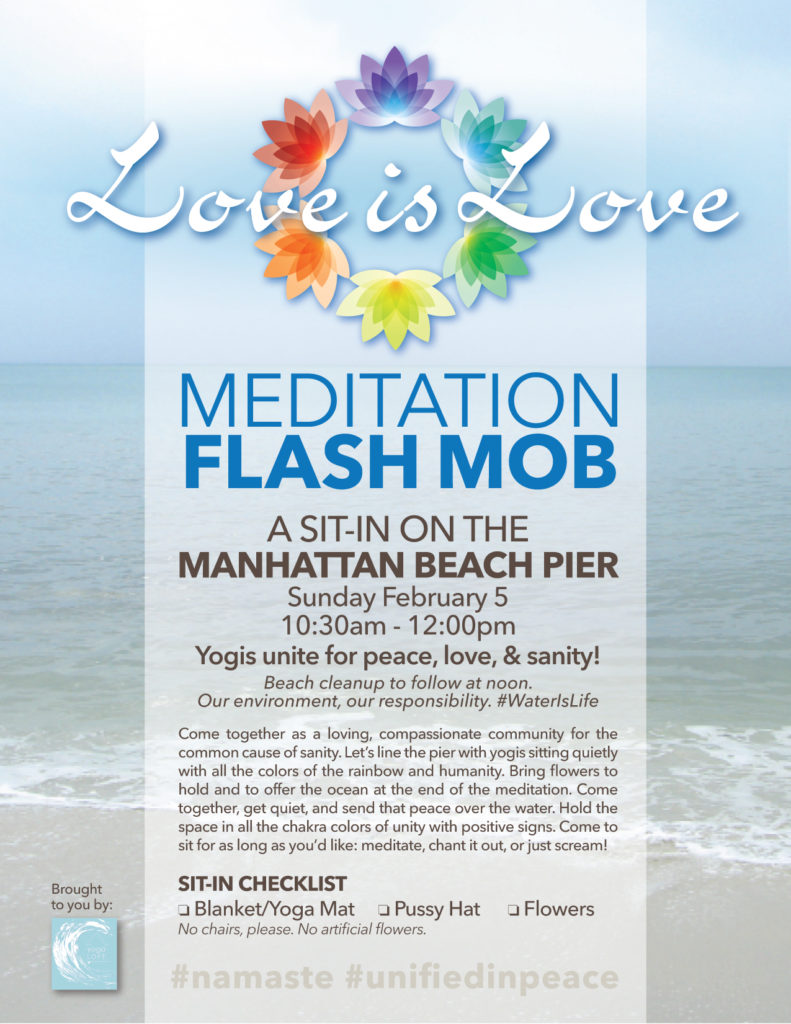 by Mark McDermott
The tumult of the election took its toll on nearly everyone, fraying many of the ties that bind American society. One poll in the months prior to Election Day, by Monmouth University, showed that seven percent of Americans had severed at least one friendship due to the election. Seventy percent agreed that the election had "brought out the worst in people."
And then Donald Trump took office, sending tumult into overdrive.
Suzy Nece, a Manhattan Beach-based yoga teacher and founder of Yoga Loft, has seen and felt the fraying, in everyone from her students to her nine-year-old daughter Izzy.
"Being an empath is a dirty job these days," she said.
So Nece had an idea — to bring people emphatically together on a beautiful Sunday morning at the Manhattan Beach pier just to sit down and take a few deep breaths. The "Love is Love Meditation Flash Mob" takes place tomorrow morning from 10:30 a.m. to noon, with a beach cleanup to follow.
"There is so much noise out there right now, so much fear," Nece said. "I went to the women's march and LAX and was blown away by how powerful it was to be surrounded by passionate people who are willing to stand up for what's right. I wanted to create a peaceful opportunity for my daughter to feel how much people care and how strong we are when we gather our energy. So this is a chance to slow down, get quiet and create a wave of consciousness, to literally sit on the pier in this 'sea of humanity' and show signs of positivity."
The idea is to let the power of community and positivity quietly take reign.
"'Love is love', 'love is my religion', 'water is life' — the issues are really all the same," Nece said. "We have to love, respect and protect all people and this precious earth that we have been gifted to leave our children. I honestly am sick about what is going on and the only way I know to feel better is to surround myself with loving, compassionate, conscious people who want to make a difference and aren't afraid to show their hearts."
The Yoga Loft has led such meditations before on the pier, but this one, Nece said, seems particularly essential.
"To spread some f****ing sanity," she said. "Plus us hippies love to wear flowers in our hair.
Comments:
comments so far. Comments posted to EasyReaderNews.com may be reprinted in the Easy Reader print edition, which is published each Thursday.