Added on April 4, 2017
Special Contributor
Beer Bros , newsletter
BEER BROS: Smog City Brewing Hosting Jesse Esphorst Jr. Fundraiser
Earlier that day on March 7, Jesse "J-Dog" Esphorst Jr. had just carried his team, the South High Spartans, to victory with a two-run homerun. The 16-year-old sophomore shortstop celebrated over dinner at his grandmother's house. At 10 p.m., on his way home, tragedy struck at the intersection of Crest Rd. and Crenshaw Blvd. With his father, Jesse Esphorst Sr. sitting shotgun, two motorists involved in an earlier hit-and-run collision crashed into Esphorst's van after running the red light. Jesse Jr. was killed while Jesse Sr. was taken into intensive care. Over 2,000 people attended Jesse Jr.'s March 26 funeral.
Erika Lieser, who grew up with Jesse's mom, felt that something had to be done to honor this young man who'd shone so brightly and whose star was dimmed too soon.
"Jesse was the epitome of humble, a gifted athlete who never let his amazing gifts and talents go to his head — a team player both on and off the field," Lieser said. "During his short life, he was a role model to both young and old and he represented our city and school well."
She contacted her next door neighbors, Laurie and Jonathan Porter, owners of Smog City Brewing Company.
"I immediately thought it would be a great place to host a community fundraiser," she said. "Our goal is to have an event that would be open to anyone and everyone in the community that wants to celebrate Jesse Jr. and help raise funds for the Esphorst family."
Built on the principal "support local, build community and always give back," the family-owned Torrance brewery has been active in many community-based nonprofits and fundraisers over the years.
"When we heard about this tragic accident, we felt compelled to continue our mission as a local business that brings community together. Running this business as a husband and wife team with a young kid, everything we do revolves around family. That is why the loss experienced by the Esphorst Family hits so close to home," Laurie Porter said. "We always believed that a great community is the foundation for a successful business. We feel very fortunate to be part of the South Bay community and will always seek to support local in anyway possible."
Other community members stepped up to the plate to handle the loose ends.
"I immediately asked Deanna Diederich — I grew up with her husband Brian — if she would be willing to help. Deanna's son Matt played baseball with Jesse and their younger son Danny, was friends with Jesse," Lieser said. "The thing I love about the South Bay is that our roots run deep here. Even if you don't see or talk to someone you know regularly, when something tragic like this happens, everyone comes together."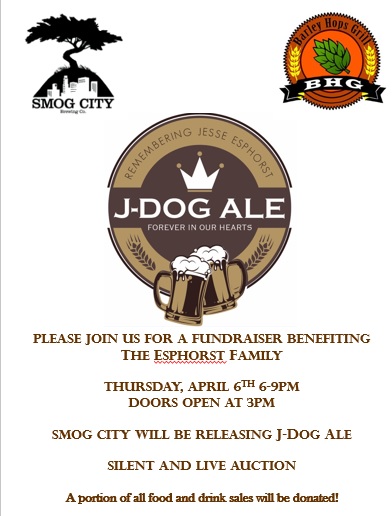 Smog City Brewing will be launching a new ale in Jesse's honor called "J-Dog Ale." Barley Hops Grill will be on premise grilling it up. A percentage of all food and drink sales will be donated to the family. A silent and live auction will be held in support of the Esphorst Family. Some of the auction items include: four box seats to a Dodgers game; an aerial tour of the South Bay; a 1/2 day fishing trip; an LA Kings autographed hockey stick; a Peyton Manning-signed Broncos jersey, and more.
"We have also created memorial pint glasses for purchase, while supplies last," Leiser said. "We hope the event is a celebration of Jesse's life where people can go to a place where family and friends can come together to raise a glass in his honor."
The Esphorst Family fundraiser takes place April 6 from 6 p.m. to 9 p.m. Doors open at 3 p.m. Smog City Brewing Company is located at 1901 Del Amo Blvd. B, Torrance. ER
Comments:
comments so far. Comments posted to EasyReaderNews.com may be reprinted in the Easy Reader print edition, which is published each Thursday.