Added on March 26, 2020
Judy Rae
Manhattan Beach , newsletter
Chevy's Camaro still owns the road in street swagger
By Jeff Mitchell
Even parked with its engine off the 2020 Chevrolet Camaro 3LT looks gnarly and fast.
Low-slung and quick, the Camaro is just plain fun to drive. It's the kind of sports car that will cause a teenager to challenge you to a race at a stoplight.
My tester came with the line's 3.6 liter inline 6 cylinder engine (of three engines available) that produces a 335 horsepower and 284 pound-feet of torque. That powerplant was mated to a smooth-shifting 10-speed automatic transmission,
(The Camaro ZL1, by comparison, produces a whopping 650 horsepower but it is also almost twice as expensive.)
On the road my tester handled extremely well — with just a small amount of body roll while on curves. I found the vehicle confidence-inspiring in how seemingly planted it was. Its suspension translated just the right amount of road information while in motion.
My 3LT came on handsome 18-inch steel alloy wheels. Those wheels were accompanied by an attention-getting growly exhaust note.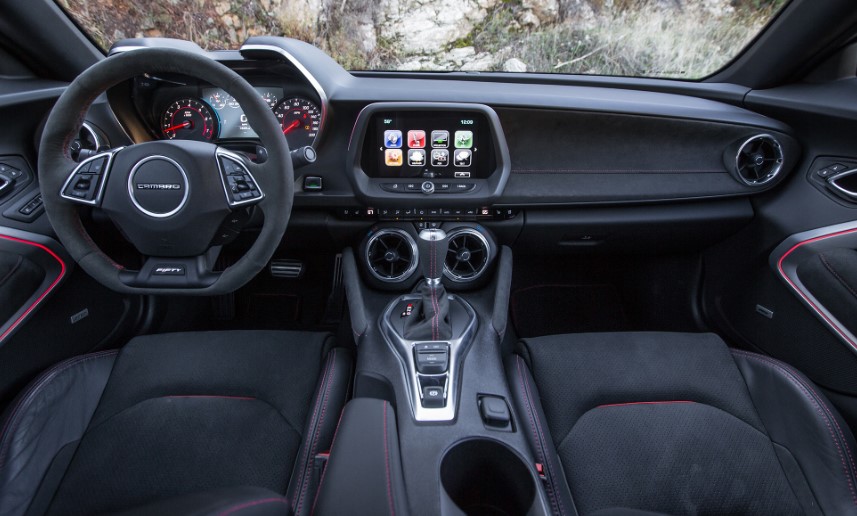 In the cabin you'll find leather upholstery and comfortable heated and ventilated front seats. The rear seats, frankly, are too small for most adults to sit comfortably for very long. Even the little ones will likely feel a tad cramped back there.
I should say that I found overall driver visibility a bit limited from all sides so I would definitely recommend adding the lane-departure and cross-traffic alarm warning system options.
Chevy's optional Convenience and Lighting package adds, among other things, rear parking sensors, a heads-up display, an improved gauge cluster, a heated steering wheel, a wireless charging system and safety features such as blind spot monitoring and rear cross-traffic alert and lane-departure warning.
All Camaros come with Chevy's Infotainment 3 system. My tester had an 8-inch touch screen, a great multiple speaker Bose audio system, a Wi-Fi hot spot, two USB ports, and Apple CarPlay and Android Auto.
Unfortunately, the Camaro won't impress in terms of cargo space. You get just 9.1 cubic feet of trunk space in the coupe models and 7.3 cubic feet of space in the convertibles.
Fuel economy for my tester was average for its class — 20 miles per gallon in the city and 30 mpg out on the highway.
The manufacturer's suggested retail price for my tester is $31,500. (Add another $6,000 or so and you can get the slick convertible version.)
The great Chevy Camaro was first introduced way back in 1967 and has been kicking butt ever since. In fact, the vehicle was such an instant hit that it served as the official pace car for the Indy 500 that year.
The great thing about the Camaro is that you can add all the extra toys you could possibly want, essentially customizing your vehicle to your heart's content.
The Camaro competes with our other domestic "go-fasts" — the Ford Mustang and the Dodge Challenger.
Final thoughts: The Camaro is an American sports coupe icon that has a well earned reputation amongst car enthusiasts. It's the kind of vehicle that a young couple can enjoy together while on long summer road trips. Get out and test drive one for size. I think you'll like it.
Jeff Mitchell is a Los Angeles-based automotive writer and reviewer. Contact him at j.edward.mitchell@gmail.com
Comments:
comments so far. Comments posted to EasyReaderNews.com may be reprinted in the Easy Reader print edition, which is published each Thursday.