Enhance Image Quality with One Single Click – VanceAI
VanceAI Image Enhancer empowers website builders on the web to enhance image quality to the full details of a picture. That will indirectly increase your page speed as a result.

For many of website builders, they are not unfamiliar with such a situation in which the images they upload don't appear until users leave. That obviously has a bad effect on users' experience. In most cases, the builders find it hard to balance size and resolution. Uploading high-quality pictures is good for users, though a high-quality image is usually accompanied by a large size. On the web, however, an image with a large size may slow down the page speed of your website. So, if want to increase the page speed and maintain the full details of your picture, perhaps you can use software to compress the size of your picture, after which you can enhance image quality and recreate full details with VanceAI Image Enhancer from VanceAI.
Part 1: Why high-quality photos are important on the web?
It is not an exaggeration to say that the quality of a photo is a key factor in achieving or destroying a website. High-quality photos are beneficial to forming a good first impression. But the importance of high-quality photos is often overlooked by the designers; they just want to speed up their websites and low-quality pictures with small sizes can satisfy their needs, so the importance is just ignored. Users' first impressions largely explain why high-quality photos are so important. That is because a user forms the first impression of the credibility of your website. Hence it is possible to grab the opportunity to increase the authority of your website with the help of high-quality photos instead of inferior ones that likely destroy their impressions.
Since high-quality photos make a contribution to the impression and the experience of the user, then you need to give priority to them. Normally, large images will slow up the page speed, but it cannot deny the importance of high-quality photos for the web, that is to say, it is not an absolute answer. All this further proves that the thought mentioned above seems feasible: high-quality photos with small sizes (of course, the process of compression is necessary) are helpful for forming a good impression on the web.
Part 2: What VanceAI Image Enhancer can do to enhance low-quality photos?
VanceAI Image Enhancer, a photo editing tool that VanceAI.com offers, can help users enhance the details of pictures and improve their quality to a higher level with just several clicks. That means website designers can take advantage of photo enhancer to enhance photo. Image enhancer still is able to enhance pictures' details even though their sizes are compressed. Next, the performance of AI photo enhancer will be shown in the following pictures.
Example :
For this one, photo enhancer not only offers you high-resolution words SEO SEARCH ENGINE, but gives you much more real and dimensional pictures like the lantern. Compared with the billboard in the After, the Before one looks vague. After being enhanced by image enhancer, the histogram on the screen is easily recognized. The color of the vertical rectangle has been enhanced so that users analyze data efficiently.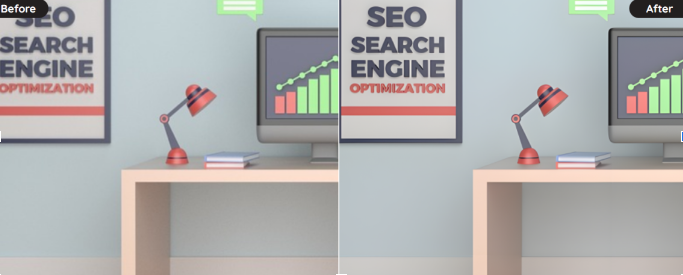 Part 3: How to enhance image quality with VanceAI Image Enhancer?
Having looked at the performance of photo enhancer through the above examples, you may better know what image enhancer can do for you. Hence you can rely on the tool to enhance your photos if you want to show high-quality photos while speeding up the page speed of your web. Now, let's begin with how to master the tool step by step.
Step 1: Come to the official homepage of AI photo enhancer.
Entering the homepage of photo enhancer is the first step when you intend to enhance photo quality. Other than enhancing the details of your photo, you can also find some other interesting and useful tools among AI Solutions on this page. Then clicking on Upload Image will help you submit the photo you want to enhance.
Step 2: Process your photo on VanceAI Workspace.
After you click on that button, you will come to VanceAI Enhancer Workspace where you need to choose AI Photo Enhancer. After that, the image can be dragged to the red box. Then just hit Start to Process.
Step 3: Download enhanced photo.
In this interface, it is better to check your credit balance before image enhancer deals with your photo. This page also shows you the three stages: Uploaded, Processing, and Processed. In the final stage, all of the enhanced photos show here. If you want any further editing requirements, you still can preview or edit the pictures before downloading or deleting.
Conclusion
The article shows the function of image enhancer for website designers at the beginning. Then it further explains why photos with high quality are good for your websites. Having a basic idea of the use of image enhancer, and the importance of image quality, you may be eager to try this magic tool. Considering all this, the examples enhanced by image enhancer are shown in the next part; moreover, illustrations and words are used so as to help you better enhance photo while using the service.
Additional Choices from VanceAI
VanceAI is usually regarded as an inclusive website boasting various AI solutions, among which VanceAI Image Sharpener and VanceAI Image Denoiser are also quite popular. The former is able to make the soft parts of your picture much sharper and crisper while stressing the details. The whole process hardly involves any installations or manual effort. The latter based on advanced Denoise AI algorithms, allows you to remove grain and denoise image online. Besides these, there are also other sophisticated services that possibly can satisfy your needs. Find more information about convenient and useful tools, go to VanceAI!
comments so far. Comments posted to EasyReaderNews.com may be reprinted in the Easy Reader print edition, which is published each Thursday.