Two local designers create art you can wear, weaved from the lives they have led
by Casey Parker 
 Love, death, decadence and a long road traveled back to its beginning are among the elements at play in the accessories created by two local designers.
Bill McCrea earned his childhood allowance cleaning his grandfather's hair salon, Mack's, in Manhattan Beach. Attending Catholic school with two younger brothers, McCrea never dreamed of following his family's footsteps and becoming a third generation hairdresser.
After art school, McCrea craved a tropical adventure and flew to Hawaii.  The luxurious Aloha spirit of the 1970s made it impossible to leave. Not having a house or a proper job didn't stop an independent flower child. McCrea built a tree house and got a job working as an assistant in a psychiatric hospital.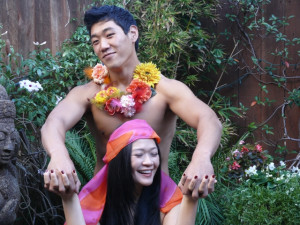 As the 1970s came to a close, McCrea left his island dream. A friend reminded him life was for the living and complacency leads to boring and dared him to leave paradise for the free-thinking, indulgent San Francisco. After enjoying the music, art, and nightlife the city had to offer, McCrea still had a little voice in his head reminding him hairdressing was a career that embraced his past and offered a way to live creatively.
So to the delight of McCrea's grandfather and father he returned to the South Bay in 1983 and attended beauty school. Today, he is the owner of Rumba Hair Studio in Redondo Beach.  
 On many runways today we see designers emulating the boho chic styles of 1970s. Since McCrea was there, the feathered flower hair accessories he makes celebrate the look. Beauty inspires confidence, McCrea says, and every women smiles when she sees herself in the mirror with a tropical bit of Janis Joplin elegantly placed upon her head.
"I believe in the transformative power of beauty," McCrea says.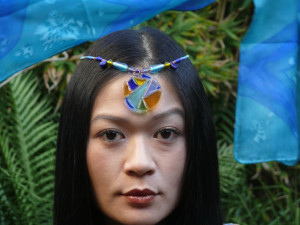 Gemma Del Rio was born into art. Her mother, Gemma Taccogna, was a renowned artist from Mexico City and moved little Gemma there when she was only nine months old. Latin culture's vibrant colors, warm sun, and her mother's love molded Del Rio into the artist she is today. Her fresh sense of design and color are highlighted in her line of hand painted silk scarves and fused glass jewelry. Most recently, her work was featured on Good Day LA. Debbie Reynolds' face glowed as if the painted peacock feathers on the scarf gave off light.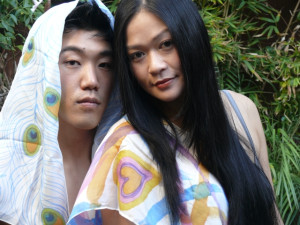 Del Rio's mother passed in 2007. Instead of wallowing in grief, Del Rio felt compelled to use what she'd learned from her mother and create inspired works of art. When one ties on one of her scarves or places on a piece of fused glass, one can almost feel the Latin sun and see the swirl of  traditional Mexican dance skirts that made such a strong impression on Gemma in her youth.
"It doesn't matter what you create," her mother told her long ago. "It's that you are living with dignity, you're living with principal, you are living with passion, with honor. And you have a visual statement of your bravery."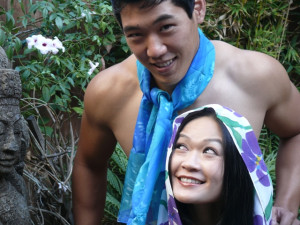 McCrea's floral creations are available at Rumba, 1830 S. Elena Ave. in Redondo Beach. Del Rio's scarves and jewelry are available at Annie's Boutique 722 Yarmouth Road, Palos Verdes Estates, or by contacting her directly at gdelrio53@hotmail.com.
]
comments so far. Comments posted to EasyReaderNews.com may be reprinted in the Easy Reader print edition, which is published each Thursday.