Letters to the Editor 6-11-20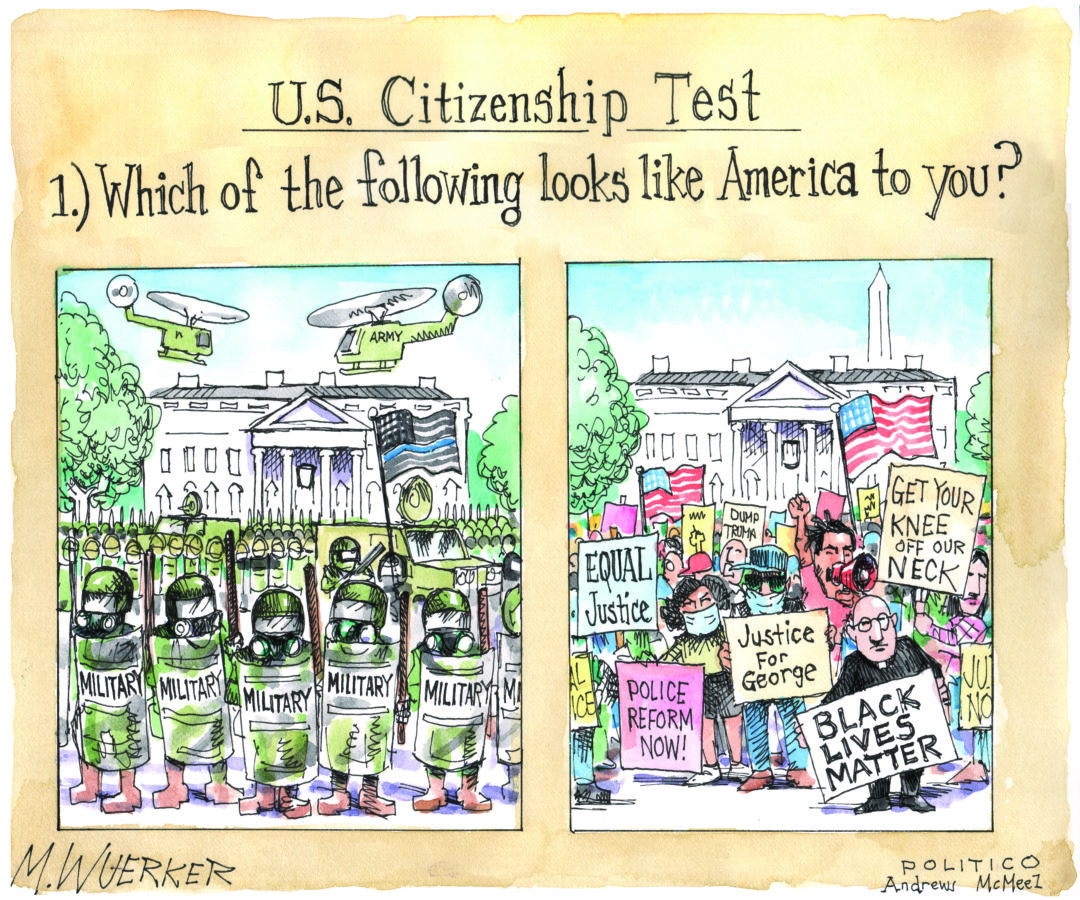 A mirror image
Dear ER:
I am a member of a black family living in the South Bay for more than 50 years. I applaud the article written by Mark McDermott and Ryan McDonald and the publishing space afforded to it in the Easy Reader ("No riot going on: Black Lives Matter comes to Manhattan Beach," ER June 4, 2020). The most important elements of the story were two sentences that made the event not only possible, but also acceptable were:
"…as they (Malachi McMahon and Jamal Williams, the protest organizers) walked through downtown (Manhattan Beach), they saw a familiar face….He (Derrick Abell, Manhattan Beach Police Chief who also helps coach freshman football at Mira Costa High School) didn't coach either McMahon or Williams, but as football guys, he (Abell) recognized them, and they (McMahon and Williams) recognized him."
Accepting diverse students at Mira Costa made the entire event possible. As a 71 year old who attended a very integrated Los Angeles High School, I have lived by a motto found in the book "Something to Live by" edited by Dorothea S Kopplin.
If I knew you, and you knew me
As each one knows himself,
Then we could look each other in the face
And see therein a truer grace.
Life has so many hidden woes,
So many thorns for every rose,
The why of things our hearts would see,
If I knew you and you knew me.
— Anonymous
Let's all work more diligently at knowing people from many different backgrounds.
Sheila Troupe
Redondo Beach
Point made
Dear ER:
Good job by these young leaders. As a Mira Costa High graduate during an era when protests were also on a national scale and now, in hindsight, widely accepted, I do hope the energy of this movement continues. It has our attention.
Greg Armer
EasyReaderNews,coim
False optics
Dear ER
Truth matters. Which is why I feel compelled to point out that the photo of an officer hugging one of the protesters is not a true representation of the overall dynamic between the protesters and the Manhattan Beach police that day ("No riot going on: Black Lives Matters comes to Manhattan Beach," ER June 4, 2020." A prominent black protester that day characterized it as "propaganda" and "visual rhetoric" to favor the police. Yes this was a positive day of shared solidarity, overall, but this photo seems opportunistic. The protesters at the end of the demonstration who confronted the Manhattan Beach officers from behind yellow tape wanted them to show their solidarity with them. They were asked to take a knee, and declined. They were asked to speak and did nothing.
Courtney Bree Chance,
EasyReaderNews.com
Teach it
Dear ER:
Recent events have me concerned as a grandfather. I am part of the "Flower Power" generation. I hate to think another generation will be subject to rioting and violence. Even more, I fear another generation will see these activities as an example of how to generate change. It has not worked in the past and I predict it will not work in the future. Change must start with the individual. My family and I had to deal with racism due to the fact we were not the typical looking family when we moved to Manhattan Beach. I will not go into details, but everything came out just fine. Malcolm X said, "You are either part of the solution or you are part of the problem." Robert F. Kennedy said. "That which unites us is, must be, stronger than which divides us. We concentrate on what unites us and secure the future for all our children; or we can concentrate on what divides us and fail our duty through argument, resentment and waste."
Those two quotes motivate me to suggest this as "part of a solution." All schools need to require "diversity training," at the elementary, middle school and high school levels.
Louie Pastor
Manhattan Beach
Time for face to face meetings
Dear ER:
It is past the time when the Hermosa Beach Council, School Board and commission meetings should be returned to the Council Chambers. Other California cities have resumed doing so with social distancing and other common sense measures. The present system of virtual meetings has become a de facto scam to take the press, and the people at the top of the City's organizational chart, the electorate, out of direct participation. City Hall and other government agencies need to be reopened. They are essential operations. Clearly civic meetings are no more dangerous to one's health than what's going on in just about every other activity now. Only the planning commission meetings have done live "virtual" meetings relatively well and with relatively good replays. The School Board meetings have been the worst for unknown reasons. Both live and replay. Seems like every department is trying to do this "Zoom" or "Go To Meeting" stuff on its own with no central expertise running things. It's nuts. To date there has not been a single replay due to technical issues with the video recording of the "Summer Streets" City Council hearing held May 12.Hermosa Beach officials need to get back to operating for the people instead of hiding behind their smartphones.
Howard Longacre
Hermosa Beach
Better screening
Dear ER,
Redondo Beach has a real opportunity to lead the nation by responding to calls to defund the police with calibrated, responsible change. Based on what I learned in the Redondo Beach Police Citizens Academy, RBPD includes a diverse, sharp group of officers dedicated to "[being] the community, and leading the way through law enforcement," But that will not be enough going forward. Police departments will have to identify officers with excessive fear or anger when presented with dangerous situations, and retrain or reassign these officers so they can do no harm to the public. RBPD has a FATS simulator (Firearms Training Simulator) that it uses to train its officers on the use of lethal weapons. During their FATS simulation, officers could have their vital signs analyzed – heart rate, and blood pressure, for example – to determine if their reactions were higher when they responded to a black suspect relative to their response to a white one. Officers who showed more anger or fear in response to different races could be put through retraining and taken off patrol until they can prove safe. Policing is tough work, and it just got tougher. RBPD can rise to this national crisis and lead the way. Redondo Beach Police Chief Keith Kauffman should seize this opportunity because black lives matter, as do blue ones.
Zein Obagi Jr
Redondo Beach
Pulling up the drawbridge
Dear ER:
This week I received a mass email from Laura Emdee, who represents me as the District 5 member of the Redondo City Council. It was a thorough review of the procedures taken by the city to maintain order — a necessary and commendable chore ("Protest portfolio: Thousands march from Manhattan Beach pier to Hermosa Beach pier," ER June 4, 2020). But there was not one word about the right to protest peacefully or the horrific murder of George Floyd in Minneapolis that unleashed the storm that prompted her message. Is the South Bay an island that has no connection to the world at large? Clearly these demonstrators knew otherwise. Couldn't Emdee at least pretend to care?
Ivan G. Goldman
EasyReaderNews.com
Better than burning money
Dear ER:
The press helped free us from England ("Easy Reader founder reflects on the purpose of community newspapers." ER May 14, 2020). It continues to protect us from tyranny by keeping government honest. Before tax money is used to subsidize tobacco, it should subsidize the printed media and investigative reporting. Though I would like to see editorial practices move a bit closer to 'center.' Perhaps that would increase subscribership and sponsors.
Steve Endom
EasyReaderNews.com
Good vibrations
Dear ER:
I have been taking lessons from Pat off and on for many years ("Not fade away: How Dietz Brothers Music kept its groove in the time of novel coronavirus," ER May 21, 2020). Sometimes it's more the vibe than the lesson. He and the entire staff are very cool people, I wouldn't go anywhere else for my musical needs. Super great family
Peff Eick
EasyReaderNews.com
comments so far. Comments posted to EasyReaderNews.com may be reprinted in the Easy Reader print edition, which is published each Thursday.