Added on July 5, 2019
Judy Rae
calendar , newsletter
Letters to the Editor 7-4-19
Death of a dolphin
Dear ER:
My son did a complete report on this and, one can't do anything about it. It's nature ["Algae poisoning suspected in dolphin death," ER June 28, 2019]. Description: Pseudo-nitzschia is a marine planktonic diatom genus containing some species capable of producing the neurotoxin domoic acid, which is responsible for the neurological disorder known as amnesic shellfish poisoning. Currently, 54 species are known, 26 of which have been shown to produce DA.
Suzanne Rampe-Hensley
Website comment
Cost of freedom
Dear ER:
The lawsuit CenterCal and Westport Capital lost can be summed up as follows:
From the beginning it was frivolous and malicious. Each of us defendants was falsely accused in a thinly-veiled SLAPP lawsuit designed solely to destroy us personally and financially just for how we voted. According to the judge, the Leadership Redondo alumni claiming they financed it (Chris Voisey and Arnette Travis) misled to the public for nearly two years. The lawsuit was actually bankrolled by CenterCal, and Westport Capital's principal Gregory Geiger, who is also Chairman of the Board of Directors at Torrance Memorial Medical Center.
To defend ourselves, our right to vote, and free speech we spent thousands of hours of personal time over the past two years. Beyond the emotional stress, each of us lost income, dealt with unjust interference with our businesses, were harassed and threatened at workplaces, experienced stress-related health issues, and were personally libeled.
We won our right to speak the truth for the residents of Redondo Beach at great personal cost. While we can now pay our legal defense team it comes nowhere close to what we actually lost. No one should go through what we did in a county based on voter freedom as the United States. To keep this from happening again each of us needs to not be afraid to speak out.
Wayne Craig
President, Rescue Our Waterfront
Redondo Beach
Punk birthplace?
Dear ER:
Punk began in Hermosa? Bold claim, when so many other locales also claim to be the birthplace of punk. Locales like London, NYC… ["Descendents bring South Bay punk to French heavy metal festival," ER June 21, 2019].
Al Smith
Facebook comment
Homeless correlation
Dear ER:
So, the city has authorized over $500,000 to address the homeless problem.The article is declaring success, but the result is a higher number of homeless in Redondo Beach ["A plan for the homeless residents of Redondo Beach," ER June 27, 2019]. Am I missing something?
Dixie Duncan
Facebook comment
Warehouse for homeless
Dear ER:
I don't like seeing the homeless around the South Bay, but I believe the strong should take care of the weak out of compassion ["A plan for the homeless residents of Redondo Beach," ER June 27, 2019]. I agree they don't need to live by the ocean because of the high property values. Isn't there a place a little inland where housing can be built? What about an industrial area? An empty warehouse would have plenty of room for housing.
Maureen Drew
Facebook comment
Section 8 casualty
Dear ER:
I am 78-years old and receive Sec 8 housing due to illness. I had to move from Redondo Beach to Torrance because Redondo Beach doesn't care ["A plan for the homeless," ER June 27, 2-19]. I was kicked out after 20 years in north Redondo Taura Rose
Facebook comment
Park population
Dear ER:
There are 49 homeless in or near Veterans Park in Redondo Beach. The homeless have taken over the park ["A plan for the homeless," ER June 27, 2-19].
Leza Bonelli
Facebook comment
A safe haven
Dear ER:
Compassion is one thing, but residents need to feel safe and secure and we should have the right to live in a clean environment where we can raise our children ["A plan for the homeless," ER June 27, 2-19]. My wife doesn't feel safe anymore and she is pleading with me to move up the hill. I like it here, but lately her point is quite valid. Hoping to see a solution that gets the numbers down to an acceptable level. I do not believe that giving out free food and housing will get the numbers down, I believe it will do the opposite. The more we give, the more will show up.
Brian Waldman
Facebook comment
Go north
Dear ER:
Please show them where Manhattan Beach is. They have much nicer things over there. ("A plan for the homeless," ER June 27, 2-19).
Roger Evans
Facebook comment
State overreach
Dear ER:
With all the hype on hundreds of political issues, there is one right under the noses of Californians that needs immediate attention on the part of freedom loving and pro-right activists. The bills SB276 and AB262 being considered by our Legislatures in Sacramento are both examples of government wanting to infringe upon our rights and to interfere with our private lives. (Editor's note: These bills would create standardized, statewide medical exemption requests for student vaccinations exemptions. Under current law, the exemptions are at the discretion of family physicians.)
Both bills would allow public health officers to direct medical treatment of California citizens and override the doctor/patient relationship. We do not need a government agency to direct our health needs. We do not need a government agency having access to our medical records in order to make health decisions for us and/or use information against us.
Patients should be furious that this is even being considered. Doctors should be outraged that after working hard to get through medical school and earning a license as practicing physicians, the government wants to tell them how to practice medicine.
I urge you (hopefully in mass) to contact your state representatives and tell them not to pass these bills. We should urge them never to entertain this type of horrific legislation ever again. If the bills do pass, I urge mass and peaceful demonstrations and immediate action to get those responsible out of office and replaced by individuals who understand our U.S. Constitution and well as our state Constitution.
Louie Pastor
Manhattan Beach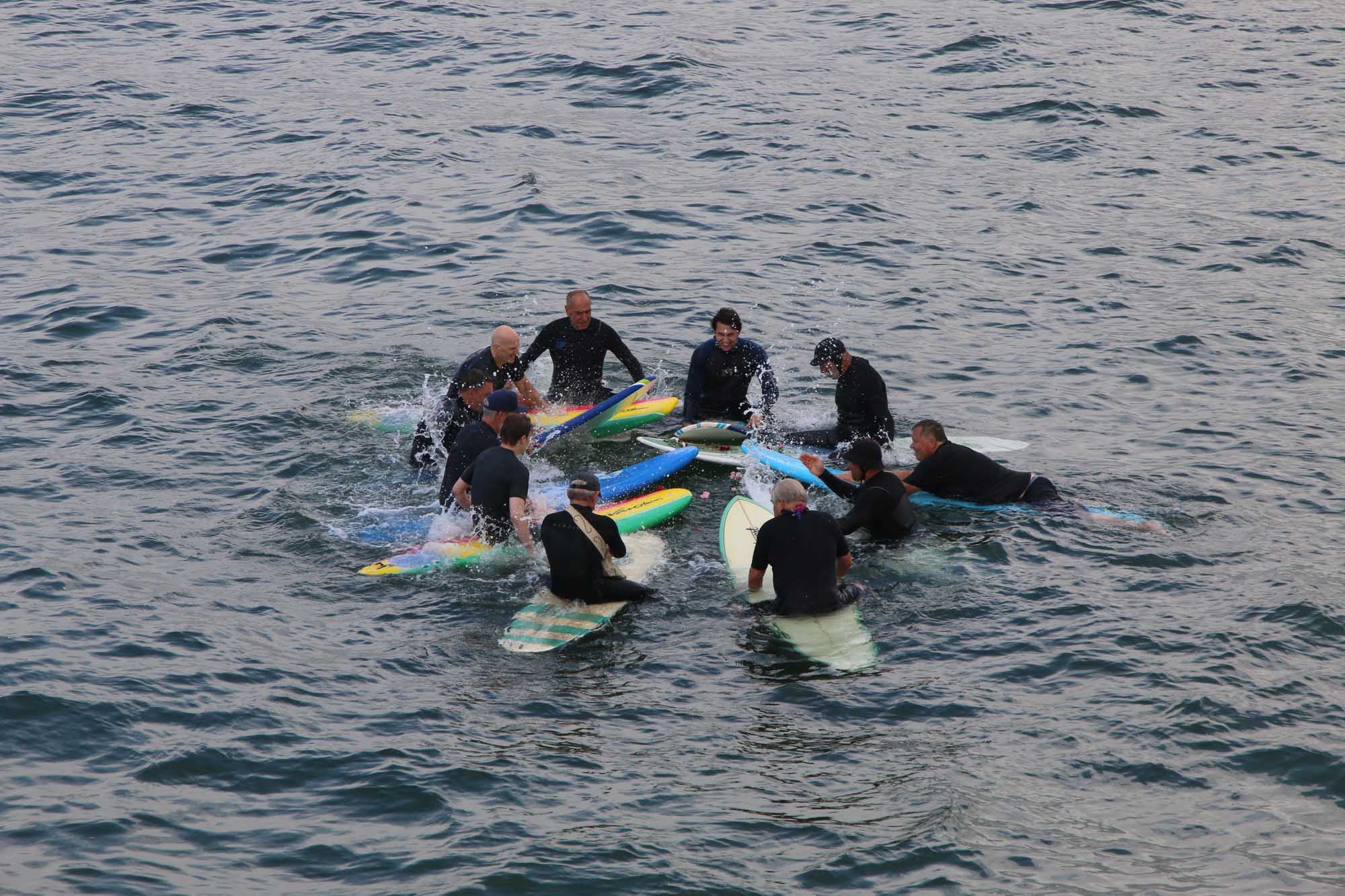 Friends and family gathered at the Hermosa Beach Pier two Saturdays ago for a paddleout for longtime Hermosa surfer Lester Dietz. Dietz spent his recent years in Klamath, and succumbed to cancer. His brother Dave illustrated the bag (below) he used to carry his brothers ashes out to sea. Photos by Kevin Cody
Comments:
comments so far. Comments posted to EasyReaderNews.com may be reprinted in the Easy Reader print edition, which is published each Thursday.