T.B. Joshua is one of the most well-known religious leaders of today. Temitope Balogun Joshua is 55 years old, he was born in Nigeria and is considered a contemporary Nigerian prophet. T.B. Joshua is a pastor, televangelist, and runs several Christian organizations. It is believed that he is a prophet and can predict certain events, especially in the personal lives of people if they address him for a prediction. Joshua is very well-known in Africa and also Latin America. His YouTube channel has tons of subscribers and is stated to be the most popular Christian channel on the platform, which is a rarity.
Despite the fact that T.B.Joshua may seem a dubious person, he is a great pastor and really talented speaker. His TV shows and readings of Bible are widely watched by African and Latin American population. In case you want to find out some of his most well-known quotes, you can read those here and check whether you also agree with him.
But this person is not just a pastor, but also a philanthropist. He was called one of the 50 most influential people in Africa by the local magazines, and this is a serious statement. Jet T.B.Joshua earned this title, due to a lot of humanitarian activities he supports. Although he is claimed to be the third richest pastor in Africa, this pastor has already spent $20 million on charity. His organizations support communities, grant scholarships, provide relief in disaster even to foreign communities, finance education for locals, and helps migrants and deportees.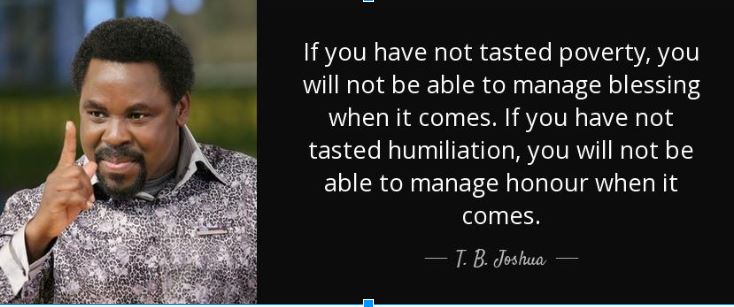 So, T.B.Joshua has done a lot to be well-known, to be rich, and to be one of the most influential people in Africa. His preaching supports people throughout the world. His quotes become popular and are added on websites that provide libraries of quotes. However, he is still a bit controversial.
He is disliked by many respected people in Africa, including other pastors, religious organizations, and even locals. A well-known "witch-doctor" in Ghana even reported Joshua to the Vatican for his prophecies, while the state of Cameroon blacklisted the pastor at all. There were also rumors that three people in London died because of HIV after they stopped taking their medications due to advice by their pastors, allegedly connected to Joshua. Other rumors stated that T.B.Joshua has bought a private jet for himself.
So, the personality of T.B.Joshua is not clear, and no one can openly tell what stands behind his fame and influence. His preaching impresses common people, but states and religious organizations are opposed against him. It is not clear whether he actually deserved to be quoted as a respected pastor, and whether his quotes should be cited in any writings. Perhaps in several years, we will quote him as one of the major fraudsters in modern Africa.
comments so far. Comments posted to EasyReaderNews.com may be reprinted in the Easy Reader print edition, which is published each Thursday.