Decade in review: Surfing's long, cold winter
An economic undertow challenges local surfboard makers and the aloha spirit
The local surf industry's assimilation by the global economy, and its accompanying economic undertow; and the pressure on domestic board shapers to abandon their hand tools for milling machines to fend off foreign imports has not left South Bay surfers with warm feelings for the first decade of the new millennium.
During the best of times, the tradition-bound surfing world rarely welcomes change. In the 1930s, Tom Blake's skags were dismissed as dangerous. Even the neoprene wetsuit introduced by the Meistrell brothers in the early 1950s met with resistance. The late 1960s' transition from longboards to shortboards is remembered as a revolution and some surfers still believe surf leashes bastardized the sport.
But at least in the South Bay, the stern, new efficiencies forced on a sport founded on the aloha spirit were tempered, just as the decade mercifully ended, by a newly organized group of surfers committed to passing on the aloha spirit to the next generation.
For surfers, the past decade's tipping point came midway, on December 5, 2005, by way of fax.
Bing Surfboards shaper Matt Calvani called it the surf industry's 9/11. "We're bombed back to 1958," he said.
Becker Surf co-founder Dave Hollander called it Black Monday.
The fax, from Gordon "Grubby" Clark began, "Effective immediately, Clark Foam is ceasing production and sales of surfboard blanks." Clark supplied 80 to 90 percent of the foam blanks used in the manufacturer of surfboards, worldwide.
In his rambling, seven-page fax, the 72-year-old Clark blamed the closure of his 45 year-old company on litigation and government regulation over the toxic chemicals used in manufacturing polyurethane surfboard blanks.
Fears that a shortage of blanks would topple the domestic surfboard industry proved unfounded. Within a few months, Clark's monopoly was replaced by dozens of start up foam manufactures, including Blair Foam, founded by two South Bay surfers, Jeff Stoner and Beau Brown. Stoner named the company after his dad Rick Blair Stoner, founder of Rick Surfboards, the precursor to Becker Surf. Brown owned a skateboard wheel manufacturing company.
Nonetheless, Clark's closure unleashed a sea change in the surfing industry, washing away resistance to molded, overseas surfboards, and machine-shaped domestic boards.
The industrial revolution
Shops that had traditionally stocked only their own shapers' boards began carrying boards from rival brands, including the long derided, molded Surftechs made in Thailand. In 2006, Channel Islands shaper Al Merrick lent his legendary name to a low priced line of boards that were manufactured in Thailand by Australia's Global Industries for sale in California.
This year, Global Industries began manufacturing a finless, epoxy board, modeled after a traditional Hawaiian alaia recreated by Palos Verdes Tom Wegener, who now lives in New Zealand.
The lower prices and increased selection enjoyed by surfers came at the expense of local board makers. At the start of the decade, Hermosa's tiny manufacturing zone on Cypress Street was home to surfboard manufacturers Becker, Jacobs, Bing/Calvani, Wayne Miyata, Zippi and Wegener, as well as Shoreline Glassing. At the close of the decade, only Becker was left, though ET shaper Pat Ryan is in the process of returning to the area after having spent the better part of the decade in Gardena. Aqua Tech Glassing, which does ding repairs, took over Shoreline Glassing's space. Mike Collins' Shoreline had glassed the majority of South Bay shop and garage boards since the 1970s.
At the start of the decade, a shaper could set up a viable business in his garage with two saw horses and a $100 Skil hand planer. Clark Foam provided delivery-on-demand of over 100 different blank models. With Clark's closure, $100,000 shaping machines became almost a necessity for volume surfboard production.
In response to criticism that shaping machines undermined the shaper's craft, ET shaper Pat Ryan argued in a 2004 Easy Reader interview, that his boards are defined by his designs, not his tools. And more to the point, he said, the machine can execute what's in his mind more precisely than he can himself.
The machine shapes shortboard blanks in 15 minutes. For a shaper to achieve the same result, he must draw the template on the blank, cut the outline with a saw, thin the blank with a planer, sculpt the shape with a power sander, refine it with a sanding block, then shape the rails with a screen.
Ryan recalled that in 1970, when he was a 17-year-old Mira Costa senior doing ding repairs, he earned a prized slot as a shaper for Greg Noll, and later Eddie Talbot. Young shapers were in demand because veteran shapers failed to adapt to the shortboard revolution.
Go west, young man
Clark Foam's closure also accelerated the surf industry's globalization by forcing boardmakers to import foam blanks from South Africa, Australia, and China – wherever they could get them.
By the end of the decade, globalization's reach into the local market had expanded from the shaping bay to the sales counter. Locally, the encroachment culminated with Australia-based Billabong, a billion dollar a year conglomerate, acquiring Hermosa's Becker Surf, founded in 1980 by local surfers Phil Becker, Dave Hollander and Steve Mangiagli. Hollander and Mangiagli retained ownership of the Becker Surfboard manufacturing plant.
Previous to Becker's sale last May, and the Hermosa Beach opening two month's later of Huntington Beach-based Jack's surf, local surf shops were owned by local surfers. In spite of the occasional family feud, competition among the shops was generally civil. That changed when Jack's opened, and a Facebook page titled Keep Jack's Out of the South Bay drew hundreds of ugly posts.
Shaping machines and globalization hasn't been all bad for the surf industry. Shaping machines have not brought down surfboard prices, but have held prices in check. And the machines enable surfers to order an exact replica of a favorite board.
Globalization has provided local surfers greater career opportunities than local shops can. Former surf shop employees like Jani Lange, Charlie Nineger, Jax McCartney and Matt Walls found their services in hot demand from companies like Volcom, Quiksilver, Billabong, and Redondo-based Body Glove. Hurley's acquisition by Nike in 2002 inspired the launch of a thousand clothing start-ups with visions of instant wealth. "We're just going global instead of staying local," Bob Hurley said at the time of the acquisition.
The global economy also opened up opportunities for local, competitive surfers for whom the competitive circuit can cost more than it pays. Former Palos Verdes High stars Alex Gray and Holly Beck have made their living starring in videos, such as the "Drop Zone" series, produced by Body Glove and marketed internationally.
Along with the surf stars, the global economy has created careers for surf video makers, such as Greg Browning, who videoed the "Drop Zone" series and found international distribution for his "Drive Thru" series (California, Central America, Japan, Europe, South Africa, Australia, Caribbean Islands). One of Browning's markets is Fuel TV, an online and pay per view cable company founded by Mira Costa Grads Matt Muir, Jeff Cutler, Jim Lindberg, Ryan Kresser and Manhattan Beach resident Terry Davis.
Return of the prodigal son
Another positive development in surfing over the past decade has been the sport's embracement by civic leaders who once generally shunned the sport, but now recognize its tax generating potential. In 2003, Ralphs Shopping Center owner Roger Bacon spearheaded the establishment of the Hermosa Beach Surfer's Walk of Fame on the Hermosa Pier. In 2005, the surfing statue of lifeguard Tim Kelly was reinstalled on Schumacher Plaza at the head of the Hermosa pier. Kelly was a popular Junior Lifeguard instructor who was killed in 1964 at age 24, in a car accident. The original, fiberglass sculpture had deteriorated and been stored in the city yard when the pier was remodeled. Local lifeguards commissioned former Hermosa pro surfer and sculptor Chris Barela to recast the statue in bronze.
Just last month, with leadership from Body Glove co-founder Bob Meistrell, the bust of surfing pioneer George Freeth was reinstalled on the Redondo pier. The statue was recast by Kelly O, daughter of the original bust's sculptor Terry O'Donnell, from her father's original molds, found in the Redondo Historical Society museum. The original bust was stolen, presumably for its scrap metal value, in 2008.
Also, this year, Hermosa's public works director Rick Morgan secured funding and city approval for a statue of Dewey Weber to be placed at the entrance to the city, at Pier Avenue and Pacific Coast Highway. The statue will be modeled after a photograph by pioneer Hermosa surf photographer Leroy Grannis, whose images of surfing's golden years were recently republished in two expensive coffee table books by the prestigious German publisher Taschen.
In Manhattan Beach, this year, surfer-attorney Scott Valor and restaurant owner Mike Zislis disclosed plans to install a plaque commemorating the location of the world's first surfboard shop. The shop was opened by Dale Velzy in 1950 on the site of Zislis' new restaurant up from the Manhattan pier.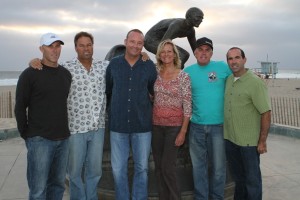 Aloha spirit
South Bay surfing's most positive development over the past decade may well prove to harken back to the pre World War II surf clubs, a time also notable for a depressed economy.
The idea originated with surf photographer Mike Balzer three years ago during a paddleout for former Mira Costa classmate Andy Lehman. Balzer's son Shane was 9 and his daughter Malia was 6. They weren't enthusiastic about dad teaching them to surf because they wanted to play with their friends and their friends didn't surf.
"When I learned to surf in the '60s every street had its crew. I surfed between 22nd Street and 25th Street in Hermosa, down the street from my house. The older guys – Phil Becker, Mike Fair, Johnny Croteau, Clem Camau – they looked out for us. We learned about the ocean through them," Balzer said.
But by the early 1960s, surf clubs, such as the 17th Street Seals, had largely disappeared, and with them the mentoring program for young kids. The Bay Cities Surf Club, founded in 1963, held its last Hermosa Beach Aloha Days contest in 2004. Mira Costa grad Matt Warshaw, in his Encyclopedia of Surfing, attributes the decline of surf clubs to the influence of the counter culture and its disdain for bylaws and competition.
Balzer mentioned the club idea to former Mira Costa schoolmates Tom Horton and Derek Levy during a lunch at El Gringo. Over 50 South Bay surfers showed up at the formation meeting at the Hortons' Hermosa home last November, many of them parents with kids in tow.
"We're thinking the adult members can mentor the kids who want to be pro surfers, shapers, lifeguards or surf photographers. We want to hold surf contests and beach days where our kids can meet other local kids who surf," Balzer told the group.
To carry the aloha spirit into the next decade, the club has scheduled monthly surf contests in 2011. It also recently announced a South Bay big wave riding contests, inspired by the XXL Big Wave Contest that is sponsored by Billabong, the Australian surf company that bought Becker Surf.
comments so far. Comments posted to EasyReaderNews.com may be reprinted in the Easy Reader print edition, which is published each Thursday.