11 Reasons we Love Palos Verdes
But if you were to come visit me from out of town, and ask me to take you to the most breathtaking place to visit in all of L.A., I'd easily throw you in the car and haul you to the
Palos Verdes Peninsula
, our own little Hawaii in Southern California.
You have views from everywhere, it's quiet, it's remote, it's woodsy, hiking trails abound, there's no better spot for biking, and did I mention those views?
As a photographer, I always consider it a privilege to take a client up to PV for portraits.
And on the latest episode of
#PhotowalksTV
,
I join forces with noted PV photographer
Ute Reckhorn
to explore the area, photographing her daughter Clara and friend Leia in 5 of PV's best spots:
Malaga Cove, Frog Creek Trail, Bluff Side Trail, Point Vincente
and the top of the hill at the corner of Paseo Del Sol and Via Del Monte.
We didn't have time to catch all of PV's highlights in the video. But in blog form, I have all the room in the world, so here's my top 11 reasons to love PV, starting just south of Malaga Cove. Using Google Maps as a guide, we'll begin there, and continue towards San Pedro at the other side of the hill, before climbing back up to the top for a finale.
Note: We will be in Palos Verdes Estates for the first four on the list, then shift to Rancho Palos Verdes when we cross Hawthorne. But for many of us, it's all just PV, right?
Frog Creek Trail
Immediately to the left of Malaga Cove Plaza is a trail that takes you into a woodsy, secluded area that gave us lots of room for great portraits of Leia and Clara. Just walk straight from the Plaza. You can't miss it.
Malaga Cove Plaza
The European like plaza might resemble a little square in Italy and it should. The centerpiece of the plaza is the
statue of King Neptune
that was imported from Italy in 1930. The columns and bricks add to the nostalgia, and as I found out when doing wedding photos up there a few years ago, it makes a wonderful backdrop save in the case of rain. (Remember those days?) The Plaza has several businesses, including the beloved Malaga Cove Ranch Market, which sells supermarket food plus homemade sandwiches, pizzas and the like, the Yellow Vase restaurant, and several banks and real estate firms.
Malaga Cove Library
Just up from the Plaza, a block away, is the stunning five-level library, a noted historic landmark, also built in 1930 in the Mediterranean revival style, and offering five levels and an art gallery below. Many wedding and portrait photographers take advantage of the huge lawn out front, and the beautiful surroundings for group shots by the library. 2400 Via Campesina, PV Estates.
Neighborhood Church
A former private mansion from the 1920s with over 15,000 square feet of living space and 32 rooms, the home was designed by Italian architect Armand Monaco (see a pattern here?) "built to model a Mediterranean villa with ceiling murals, carved balustrades, wrought iron gates and decorations," per the Church, the Estate featured sweeping views of the Pacific Ocean from PV to Malibu. By the 1930s, the original owner ran into financial trouble and sold it, and by 1951 it turned into the church that is today. This is a great place to visit, both inside and out, especially the exterior, for the views of the stunning grounds.

Bluff Cove
One of
those great PV finds
, an off the beaten path hike at the side of the road that will take you down the hill to a secluded, rocky beach, beloved by surfers. To get there, go straight down the hill by the library, past the stop sign and turn towards the water, then turn left. You'll pass the Neighborhood Church. Head up the hill for about half a mile, and park when you see the cars pulled over on the side of the road.
Starbucks/Subway on Hawthorne
Go back up the road and turn right on PV Drive West. At the intersection of Hawthorne are the greatest Starbucks and Subway restaurants in the world. Here's my criteria: they both have outdoor decks with that amazing PV ocean view. (31202 Palos Verdes Dr. West, Rancho Palos Verdes)
Point Vicente
Here's where you'll find the stately Point Vicente lighthouse, rarely open to the public (only one day a month), but just try to visit and not get a picture of it. Look directly across from Point Vicente and you'll see Catalina Island. There's also wonderful picnic grounds and the
Interpretive Center,
which offers information about the history of the area. (31501 Palos Verdes Dr W, Rancho Palos Verdes.)
Terranea
A big, beautiful, ritzy resort by the sea, which happens to have public access to the ocean trails. Walking the resort is free too. 100 Terranea Way, Rancho PV.
Wayfarers Chapel
Across the street is the "glass church" designed by Frank Lloyd Wright's son Lloyd, completed in 1951. A must-see! 5755 Palos Verdes Dr S, Rancho Palos Verdes.
Portuguese Bend Reserve Hike
Turn back towards Malaga Cove, and turn right and up the hill at Hawthorne to the very top, taking a right at Crenshaw and continuing it comes to a dead end. Here you'll
have an ocean view hike t
hat will get you higher than a drone, with rolling hills, steep canyons and rock outcrops, per PV.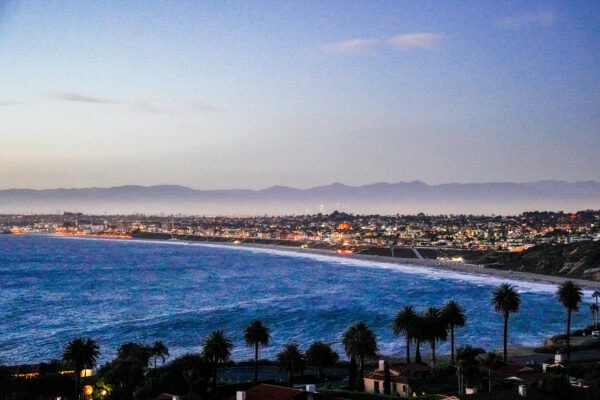 Via Del Monte view
Type "Paseo Del Sol and Via Del Monte" into your GPS, and take a short 10 minute, windy, hilly drive to another amazing overview, this one looking down at Torrance, Redondo Beach, Hermosa, Manhattan and El Segundo, as well as Century City and even Hollywood. On a clear day, you can see the Hollywood Sign and Griffith Observatory from up here. Is there a better sunset spot in Los Angeles? I don't think so.
comments so far. Comments posted to EasyReaderNews.com may be reprinted in the Easy Reader print edition, which is published each Thursday.