South Bay Community Calendar 10-5-16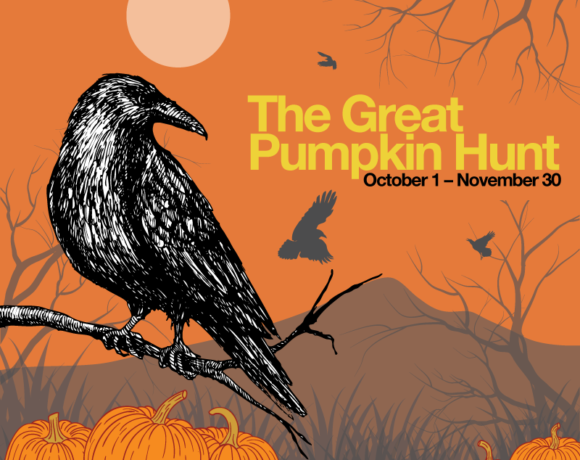 Friday, October 6
The Great Pumpkin Hunt
After a sneaky squirrel and ravenous rabbit ate last year's prized pumpkin, the birds of South Coast Botanic Garden (ravens, owls, hummingbirds and hawks) have teamed up to save this year's patch. They've hidden pumpkins in a secret location. Can you help find the pumpkin patch? A map and clues will lead you to the pumpkin patch. Family-friendly, imaginative, adventurous, and will require some hiking through nature trails. Through Nov. 30. Members free. For nonmembers, event is included with general Garden admission: Adults $9, Seniors (62 and over) $6, Students (with ID) $6, children (5 – 12 yrs) $4, and children 4 and under are free. 9 a.m. – 4:30 p.m. 26300 Crenshaw Blvd., Palos Verdes Estates. Advance tickets are strongly encouraged and can be purchased at southcoastbotanicgarden.org/event/greatpumpkinhunt/. For additional information call (310) 544-1948.
Saturday, October 7
Bike along Ballona Creek
Take a casual bike ride along Ballona Creek with Heal the Bay. Learn about the local watershed and its connection to the Ballona Wetlands. Event begins promptly at 9 a.m. Syd Kronenthal Park, 3459 McManus Ave., Culver City. Meet by the basketball courts. Bikes leave at 9:20 a.m. and will make 5 stops along the creek. Duration approximately 4 hours. Closed-toed shoes and helmet required. Reusable water bottle, sunscreen, hat, and snack are recommended. Contact Alys Arenas at aarenas@healthebay.org or (310) 451-1500 x148.
MB Hometown Fair
With a hometown feel and a place for everyone, the Manhattan Beach Hometown Fair has had the privilege of celebrating the South Bay community for 45 years. A parade kicks off the weekend, 3 stages where over 30 local groups perform, food and game booths, blocks of arts and craft exhibitors and free entertainment for kids. Sat. & Sun. 10 a.m. – 6 p.m. Valley Drive and Veterans Park, Joslyn Center, Live Oak Park and Dorsey Field, Manhattan Beach. For information visit mbfair.org.
Bargains Galore
Elegant trinkets, treasures, household goodies, furniture, tools, books, clothing, collectables, sporting goods, art, toys, and great stuff. 8 a.m. – 2 p.m. Woman's Club of Redondo Beach, 400 S. Broadway, Redondo Beach. For information call Susan (650) 714-5704. Proceeds benefit the Woman's Club of Redondo Beach.
El Segundo's 100th
"Celebrate! A Fireworks Spectacular" is a 15-minute fireworks and light show that tells El Segundo's 100 year history. A concert in the park begins at 3 p.m. followed at 7:30 p.m. by the firework show. El Segundo High School and Library Park (Main St. between Mariposa and Palm). Parking is always free throughout the city. Sponsored by Chevron, the City of El Segundo, Continental Development Corporation and Mattel.
Sunday, October 8
Blood drive
Red Cross urges donors of all blood types to help maintain a diverse supply for patients in need. 9:30 a.m. – 3:30 p.m. Manhattan Beach Fire Station 1, 400 15th St., Manhattan Beach. For more information, visit redcross.org.
Taste of the Pier
The Redondo Pier and King Harbor Associations present the annual Taste of The Pier, showcasing over 50 restaurants and shops along the Redondo Beach waterfront. Live entertainment. Noon – 4 p.m. Free and open to the public. Tasting tickets are $1 each to sample bites and beverages. 100 Fisherman's Wharf, Redondo Beach. For information visit redondopier.com/event/8th-annual-taste-of-the-pier-waterfront/.
Succulent Society Meeting
Many succulent gardeners know "Spurge", "Crown-of-Thorns" and "Sticks-on-Fire" but do not know that they, and many cactus-looking plants, are members of the large and diverse Euphorbia genus. Tom Glavich's presentation will show Euphorbias from around the world and include display hints, cultivation practices, and methods of propagation. 1 p.m. South Coast Botanic Garden, 26300 Crenshaw Blvd., Palos Verdes Peninsula. For more information southcoastcss.org.
Monday, October 9
Saintpaulias
Leonard Re will share his expertise in the care and culture of African Violets (Saintpaulias). Door prize, plant raffle, tasty refreshments and friendly faces. Open to the public. 10 a.m. South Coast Botanic Garden, 26300 Crenshaw Blvd., Palos Verdes Peninsula. Walk up the ramp to the side door for the meeting. If you would like to tour the Botanic Garden later, there is an entrance fee for non-members. Adults $9, students/seniors $6. (310) 542-3016 or visit southcoastbotanicgarden.org.
Tuesday, October 10
Advance Care Planning for Smarties
A 5-part series to help you gain a better understanding of the people, process and paperwork involved in successful advance care planning. Presenters Edward Long, JD and Ellen Gorbunoff, RN (board members of Caring House) have years of practical experience with both successful and failed advance care planning. Join one or all 5 sessions. No RSVP necessary. 1 – 2:30 p.m. Peninsula Center Library Community Room, 701 Silver Spur Rd., Rolling Hills Estates. Free and open to the public. For questions contact Deb Ripley at dripley@pvld.org or (310) 377-9584 x.217
Monthly networking
Hermosa Beach Chamber of Commerce monthly networking luncheon. Come meet Chamber staff, colleagues and new contacts, all while enjoying a delicious meal. Bring your business cards, friends, and an appetite. 11:30 a.m. Casa Vincenzo, 439 Pier Ave., Hermosa Beach. $20 guests/$15 chamber members. RSVP to (310) 376-0951 or info@HBChamber.net.
Get social
Join Beach Cities Health District's Blue Zones Project monthly social hour. Studies show that for people who have a healthy relationship with alcohol, enjoying a glass of wine rich in artery scrubbing flavonoids can benefit your health. 5 – 6 p.m. Sloopy's Cafe, 3416 Highland Ave., Manhattan Beach. The first glass of wine is $5, plus discounted appetizers. For more information, visit bchd.org/socialhour.
comments so far. Comments posted to EasyReaderNews.com may be reprinted in the Easy Reader print edition, which is published each Thursday.