Circus Vargas returns to the South Bay
Razzle-dazzle under the big top
The circus wagons are back in town
photos and story by Bondo Wyszpolski
Circus Vargas wanders the globe, or at least our little corner of it, pounding in stakes and pulling up stakes as it visits town after town, year after year. This is the company's 50th anniversary, and they're paying homage not only to its own longevity but to our nostalgic memories of the circus as a lot more rustic, seedier, and even slightly dangerous, with lions and tigers, horses and elephants. Who can forget "The Greatest Show on Earth!" with the Ringling Bros. and Barnum & Bailey?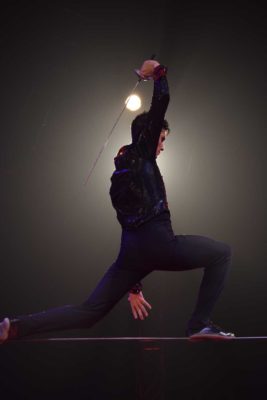 Most of that's gone now, consigned to yellowing souvenir programs, but the thrills do remain, from the trapeze artists to the daredevil motorcyclists. And if Circus Vargas is a shabbier version of Cirque du Soleil, well, it's also more intimate and more in the spirit of the traveling circus of yore.
Words alone can never describe the sights and sounds and smells of being under the tent, in the stands, and enjoying the show. So here are a few pictures of Circus Vargas currently in Torrance at the Del Amo Fashion Center. Performances: Thursday at 7 p.m.; Friday at 4 and 7 p.m.; Saturday at 1, 4, and 7:30 p.m.; Sunday at 12:30 and 4 p.m.; and Monday at 6:30 p.m. For tickets, go to the box office, call (877) 468-3861, or visit circusvargas.com. ER
comments so far. Comments posted to EasyReaderNews.com may be reprinted in the Easy Reader print edition, which is published each Thursday.