Cyclists, motorists urged to share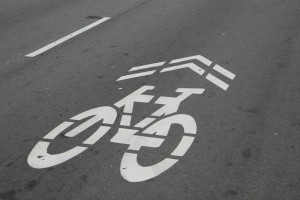 Workers have been wrapping up a project to place signs along Hermosa Avenue, and paint arrow-like markers on the roadway itself, to encourage bicyclists to use a full lane going each way, if they need the space for safety.
Hermosa Avenue, which runs through the downtown area as it reaches Pier Avenue, is four lanes across. Officials said if a cyclist takes the full lane nearest the curb, motorists should pass using the lane nearest the median.
The signs and the pavement markings – called "sharrows" – reinforce practices that are already backed by law, said Hermosa Beach Public Works Director Rick Morgan. The state vehicle code allows a cyclist to take a full traffic lane on a roadway with vehicle parking at the curb, he said. If Hermosa Avenue had no parking, state law would direct cyclists to remain as close to the curb as safety allows.
"We put up the signs and sharrows to recommend that cyclists should take the middle of the lane when they have to do so for safety," Morgan said, adding that cyclists can be injured if they are too close to parked cars when the drivers open their car doors.
"The cyclists have always had the right to take the full lane if they feel unsafe, and this empowers them to do that," Morgan said.
The City Council approved the Hermosa Avenue sharrows as a pilot program which, if successful, might be duplicated on other roadways, Morgan said.
The sharrows and signs run almost the full length of Hermosa Avenue, from Herondo north to about 25th Street, where cyclists are encouraged to use bike lanes that lead to the bike path in Manhattan Beach.
Sharrows have long been seen on roadways in San Francisco and Portland, Ore., but Hermosa is one of the first cities in Los Angeles County to use them, Morgan said.
"Our green city wants to encourage cycling," he said.
Hermosa was the first area city to sign a "cool cities" pledge to reduce greenhouse gas pollution, and has appointed a Green Task Force to study matters such as water conservation.
Morgan said he has heard few comments from residents on the signs and sharrows.
Hermosa Beach Police Chief Greg Savelli said the department received a small number of inquiries from people who were unfamiliar with sharrow lanes, some of them commenting that packs of bicyclists slow down traffic at times by using a full lane of the avenue. In addition, one person contended that sharrow lanes were illegal, and Savelli said he and Morgan sent the person information on the current laws that apply.
"The intent is to improve safety by showing how [cyclists and motorists] are supposed to comingle," he said.
The sharrow system is bound to be discussed about mid-May when Kim MacMullan, a public works commissioner, holds her second annual bicycle safety workshop. The first workshop at Hermosa Valley Park in May 2009 featured safety and protocol education by the Police Department, and a demonstration of techniques to maintain bicycle equipment.
 In addition, the Police Department has begun putting together a bicycle safety brochure for residents. ER
comments so far. Comments posted to EasyReaderNews.com may be reprinted in the Easy Reader print edition, which is published each Thursday.
Be an Easy Reader Free Press supporter!
Yes, we know Easy Reader and EasyReaderNews.com are free. But they are not free to produce. The advertiser model that traditionally supported newspapers is fading away. This is our way of transitioning to a future where newspapers are supported by their readers. Which is as it should be. We hope you'll support us. — Kevin Cody, Publisher