By Jefferson Graham
Who needs a summer vacation when you live in the South Bay?
These staycation mornings of late have been pretty epic too, with a great run of low tide, making the early A.M. more inviting than usual. I'll take walking on hard sand over soft sand any day, you?
Let's put it this way: there are very few people out there and we have the beach to mostly ourselves. No one's fighting about mask wearing, as there are so few people out that there's little need for wearing one. There are serious perks to waking up really early and getting out before the throngs.
I'm a Manhattan Beach based writer/photographer and videomaker, and spend most morning walking the sand, from the Pier to El Porto and back. It's been fun catching the morning local surfers against the water, Pier and Strand on my iPhone 11 Pro. (I leave the pro gear at home, because, who wants to be weighed down at 6 a.m.?)
And speaking of surfers, let's face it—beach shots just look way better with a surfer in them, don't you think?
The basic photography rule: something in the foreground makes the background look way more interesting. Witness below and above. Which one really catches your eye?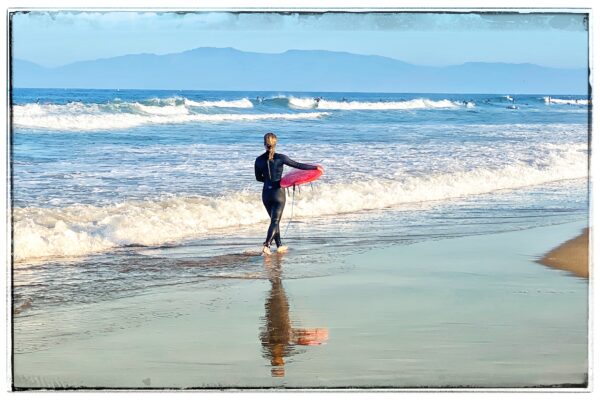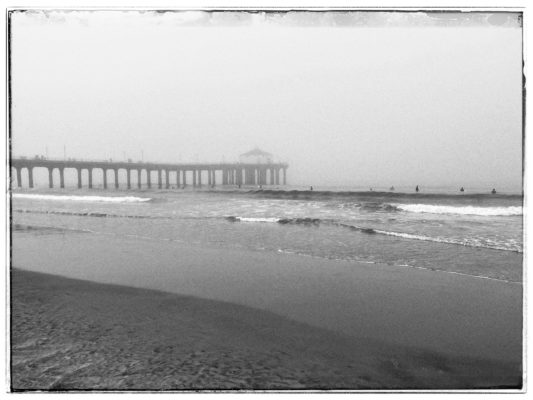 The same goes for an early morning shot on the Strand, the ocean and those glorious reflections as well. Take a good look at any promo brochure for a beach town, and you'll see the surf shot prominently displayed. Even for those who don't surf, it just screams, the beach, right?
All photos, as noted, were taken on the iPhone 11 Pro and processed in the Snapseed app, my all-time favorite smartphone app for photography. You can see more of the morning photos on my website.
The August gallery has just started forming as well. Take a look.
Meanwhile, if you're out tomorrow morning, look for the tall guy by the waves and say hi! ER
comments so far. Comments posted to EasyReaderNews.com may be reprinted in the Easy Reader print edition, which is published each Thursday.