Making, preserving surf history – The South Bay Boardriders Club introduces new generations to surfing, while preserving its history
by Tom Horton
President
South Bay Boardriders Club
At the recent Hermosa Friends Foundation Quick Pitch competition, at The Lighthouse Cafe, Hermosa Beach Kiwanis president Rick Koenig said to me, "I had no idea The South Bay Boardriders Club did so much more than just host surf contests."
Since SBBC's founding in 2009, the club's more than 200 families have added dozens of activities consistent with the club's mission statement, which reads in part, "Celebrating the rich history of the South Bay surfing culture…"
SBBC's newest, most ambitious project is producing a documentary about the South Bay's historic contributions to surfing. The project took on a sense of urgency with the loss, in the space of just a few years, of legendary South Bay board builders Hap Jacobs, Greg Noll, Phil Becker, Mike Eaton, and Mike Doyle; and of Body Glove wetsuit pioneers Bob and Bill Meistrell.
SBBC is collaborating with videographer Greg Browning, producer of the "The Drive Thru" surf series; Encyclopedia of Surfing founder Matt Warshaw; Bud Tody, producer of "The Life of Endless Summer;" "The Life of Kai" producers The Marcs; and Peter Hamblin, director of the 2019 documentary, "Riss," about four-time world champion Melissa Moore. The documentary will be a feature film effort with a feature film budget of $700,000.
SBBC is currently soliciting support for the documentary from South Bay residents and businesses.
A second SBBC recognition of the South Bay's surfing history is the Catalina Classic Commemorative Statue. The life size bronzes of three paddlers will be donated by the club to the City of Manhattan Beach, and placed near the foot of the Manhattan Beach pier. Sculptor Chris Barela, a Hermosa Beach native, and former pro surfer, has been commissioned to complete the 17-foot tall sculpture.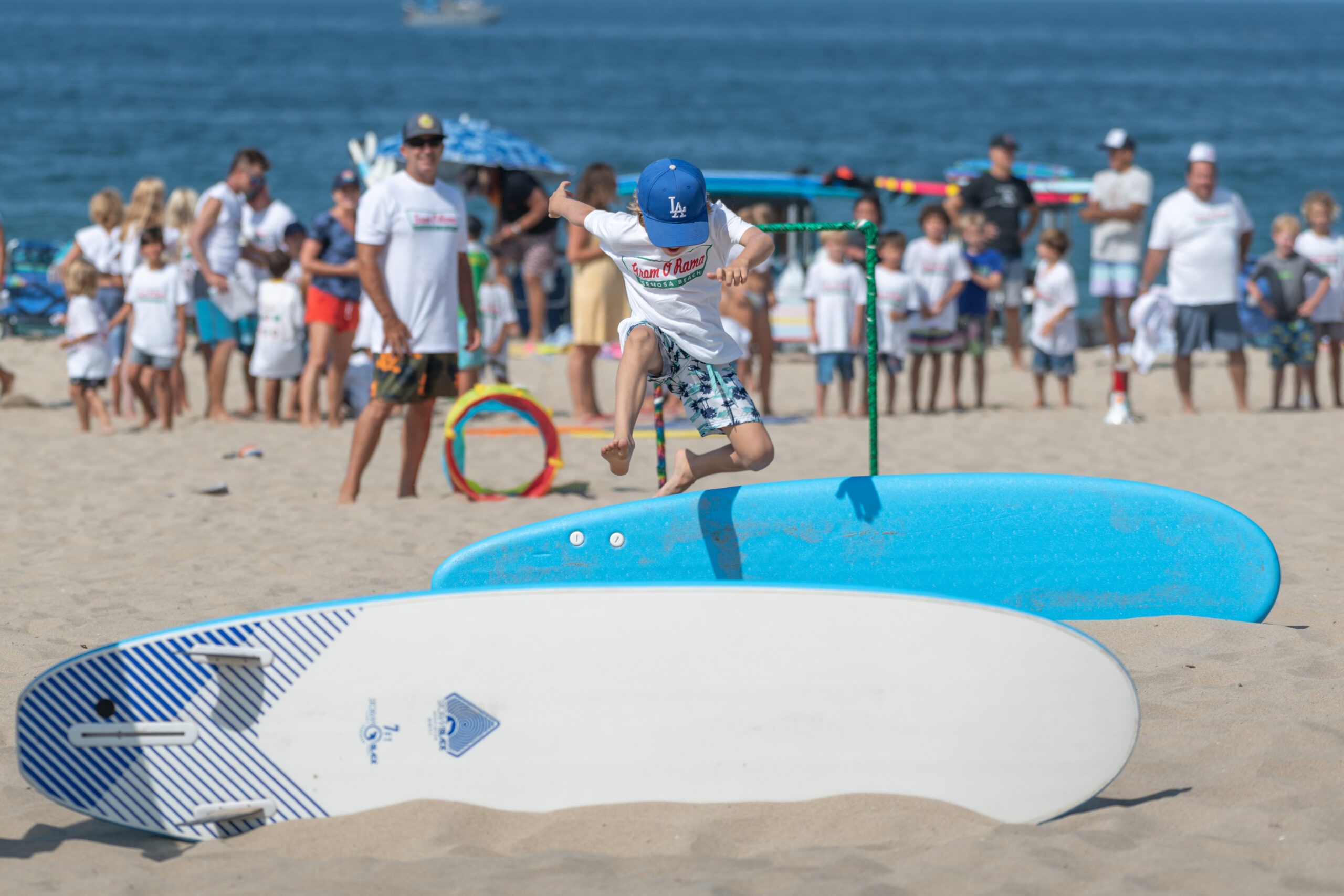 Annual SBBC activities include Grom O Rama, a day of beach games for kids; the 15 mile South Bay Paddle, and the Velzy Stevens International Surf Festival paddleboard races; Surfing Santa photos in support of the Beach Cities Toy Drive; Storm Water Rapid Response Teams, who collect storm drain debris; PS I Love You, and Boys to Men Mentorship fundraisers; and wetsuit donations.
SBBC's "Introduction to Ocean Fun Series" includes Scuba diving at Dive N' Surf, Outrigger Canoe paddling with the Lanakila Outrigger Canoe Club, sailing with the King Harbor Sailing Youth Foundation, and deep sea fishing with captains Matt Meistell and Dave Schaefer.
On Friday, April 22, SBBC will co-host with the Hermosa Historical Society, the Surfer Walk of Fame kick-off party at the Hermosa Beach Community Center. The evening will include the club's awards presentations for the past winter's Best Ride, Best Wipeout and Hardest Charging. Grom. The club will also present its annual high school surfer scholarships. The Howard Eddy Award, for unselfish service to the South Bay surf community, will be presented by B2 Insurance's Keith and Derek Brewer, and Matt Walls and Greg Browning. Eddy was a retired Panasonic camera employee who let the four keep their boards at his 16th Street, Hermosa walk street when they were groms, and videotaped their surfing when videotape cameras were rare.
The following morning, Saturday, April 23, preceding the Surfer Walk of Fame Inductions, SBBC and Waterman's Grill will host the Subaru Pacific South Bay Surf Series contest at the Hermosa Beach pier.
All families and individuals are invited to participate in SBBC events. Membership is not required. But persons wishing to join SBBC, or to volunteer time or money to its programs can learn more at SouthBayBoardriders.com. For questions, email Tom@SouthBayBoardRiders.com. HBSWOF
comments so far. Comments posted to EasyReaderNews.com may be reprinted in the Easy Reader print edition, which is published each Thursday.