Old Mothers: Don Preston, Bunk Gardner
Mothers
then, grandmothers now
The Don & Bunk Show comes to Torrance, and why you must go!
by Bondo Wyszpolski
Imagine getting all excited about a couple of "grandmothers" in their mid-80s playing an afternoon gig on Saturday, and in a library of all places (the Katy Geissert Civic Center Library). The Don & Bunk Show starts at 2 p.m. and by 4 p.m. they'll have packed up and be ready to go home.
Not very promising so far? Okay, let's work this up a bit.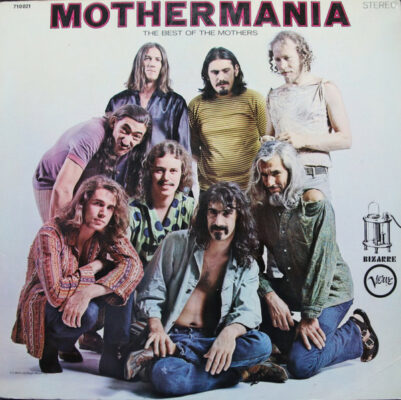 Don Preston and Bunk Gardner were an integral part of the original Mothers of Invention, the group that Frank Zappa pushed through three incarnations. While both musicians came onboard after the group's debut LP, "Freak Out!" (1966), they remained key to the lineup that gave us "We're Only in it For the Money" (1968), "Cruising with Ruben and the Jets" (1968), "Mothermania" (1969), "Uncle Meat" (1969), plus Zappa's debut solo album, "Lumpy Gravy" (1967), and a few more recordings as well.
Most of the original Mothers now have both feet in the grave: Zappa himself in 1993, Jimmy Carl Black in 2008, and Ray Collins in 2012. Roy Estrada is still living but sitting in jail, probably for life. Elliot Ingber, who was on "Freak Out!" spent only a year or so with the band, but went on to join forces with Captain Beefheart.
Anyway, the point of all this is that Don Preston and Bunk Gardner represent a good portion of the living history of one of the most original and bizarre avant-garde rock and roll ensembles of all time. And, sure, they're slowing down a little, but speaking with both of them over the phone a few days ago you'd hardly know it. And next spring (hot off their Torrance engagement!) they're headed off to Europe, with dates scheduled in some places where they've never performed, such as Turkey and Greece.
The early days
If you scratch around into who's played with who, we find that Don Preston has appeared in groups or on records with an astonishing number of musicians of all stripes. A few names, like Gil Evans, Tommy Flanagan, John Lennon, Robby Krieger, Carla Bley, the Residents, Flo & Eddie, and the Jefferson Airplane will have to suffice. He was Meredith Monk's music director until 1974, and (along with Bunk Gardner) has been with the loosely-knit Grandmothers (comprised of Mothers of Invention alumni, and there were many!) for some 35 years.
About two months ago, Preston found himself in the Los Angeles Times as an example of an older person with a limited income given an eviction notice by a landlord wanting to renovate, and then charging more, which would be well beyond the means of Preston and his wife. They'd been there 12 years, and no one needs to be told how stressful it is to pick up and then try to settle in elsewhere. And, because Bunk Gardner informed me that the Prestons were in the process of moving I wasn't sure I'd reach anyone. But Preston not only picked up the phone, he seemed relaxed and was generous with his time (as was Gardner, by the way). Preston's daughter and his wife's daughter had put a blurb on Facebook, he said, and were contacted by someone with a condo in Diamond Bar: a fan, yes, but also a person willing and able to help out a living treasure in the domain of American music.
And so, at press time, Preston said he was very pleased with the new home and couldn't wait to set up his equipment. A vast improvement over the last place, he said. Is he still composing? I asked. Oh, yes, he replied. Perhaps we will be treated to a recent piece or two this Saturday. The concert draws mainly, but not exclusively, from Preston's compositions plus those Zappa wrote for the Mothers.
Preston's father was a resident composer for the Detroit Philharmonic. Preston himself started on piano at about age five and his influences growing up included Stravinsky's music in "Fantasia" at one end and Erroll Garner, Stan Kenton, Woody Herman, etc., on the other. While serving overseas in Trieste, Italy, Herbie Mann asked him to audition for the 98th Army Band.
There was a musician in his barracks named Buzz Gardner, who later introduced Preston to his brother, John Leon Gardner, better known as Bunk.
Skip ahead a few years and we're now in California. Preston had a combo and, briefly, Zappa was a member of it. Jump ahead again, and it's Zappa with his own group and he's asking Preston to audition. But Preston didn't get the job because he didn't play rock, although with Zappa it was never rock in any conventional sense. However, after Preston played some gigs with various rock musicians he again auditioned for Zappa's outfit and this time he was hired. It must have been early 1967, give or take a couple of months, and Preston says he had no expectations. This was also the time when Bunk Gardner joined the group.
From all accounts, the audition process was grueling, and it didn't end there. Rehearsing was a full-time job, eight hours a day, seven days a week, even holidays, Preston says. There was six months of this before recording (and presuming performing) the material on the next album. According to Gardner there were days where it went on much longer.
Perhaps we could say that with Frank Zappa music was always a work in progress, in the sense that he was not only at home in uncharted waters (which he then charted), but was constantly in search of sounds that hadn't ever been heard or recorded. Gardner says that it was always a challenge, and for him a challenge unequaled before or since. "Every day was a new experience," and being in the group was truly a commitment.
For all that, it seems to have been fun for the first couple of years. Ray Collins, the lead vocalist on much of the material from "Freak Out!" through "Uncle Meat," apparently had a great sense of humor (praised often in Preston's interviews), despite quitting and rejoining the band on at least two or three occasions. Preston himself says he felt called upon to bring weirdness into the group. Well, the band's stage antics are legendary, perhaps heightened during their 1967 residency at the Garrick Theatre in New York.
Gardner says that Zappa was a workaholic. While he was famously against drugs, he apparently wasn't against stimulants: Black coffee and cigarettes kept Zappa going, and this must have led to his early demise at the age of 52. This, plus he was "always in litigation," suing someone or being sued.

In the meantime, the musical cohesiveness of the Mothers of Invention, and the heights to which the group aspired and attained, are embedded forever in vinyl and in the formats that have emerged since. It's sometimes forgotten just how momentous, how explosive on every front, popular music was from 1966 through 1968. We can read about the friendly competition between, let's say, Brian Wilson with "Pet Sounds" and Lennon-McCartney with "Sgt. Pepper," most of their music accessible enough to climb into the Top 40; but at the same time, swimming under the radar for most people but no less potent, there would be records like the Mothers' "We're Only in it for the Money," which was a parody of "Sgt. Pepper." "Why? Because it sold a lot of albums," Preston has said. For the cover, the group wore dresses instead of band uniforms; and one could see, looking over Zappa or Jimmy Carl Black in a dress, why innocent teenage record buyers would keep their fingers away from the cage. The band's name was spelled out in vegetables, and the cast of background figures was rather darker than those on the Beatles album. But legal issues came to the fore and what should have been the cover photo had to be relegated to the inside. The envelope was pushed every which way, wasn't it?
Maybe there was some professional jealousy involved as well when it came to "Sgt. Pepper" and its endless accolades. Zappa wanted big sales, Preston has said, but he also wanted to keep playing atonal music and didn't seem to understand or accept that the two don't mix. Besides, they weren't what anyone might call a "pretty" group. Young girls weren't about to plaster their bedroom walls with posters of the band, at least a couple of whom were in their late 30s… old timers in the pop universe.
The good times began to crumble as Zappa became even more of a perfectionist (or control freak), getting quite angry when matters weren't right with his music, because he was the primary composer and de facto leader of the group despite its apparent democratic nature.
You'll need to go to other sources for clarification, but Zappa started distancing himself from the rest of the group, even going so far as to stay in a different hotel when they toured, as if wary that too much fraternizing with them might lead to someone usurping his leadership.
Preston concedes that Zappa was a good leader, but a taskmaster can be tolerated for only so long and the final couple of months were very difficult, Preston says. "It wound up in the toilet."
The end, and its aftermath
One day Zappa called in everyone for a meeting and announced that he was dissolving the group. It seems that the initial reaction was one of shock. As Preston has said elsewhere, the breakup was for the wrong reasons: "Financially it was wrong; it was wrong for us to accept that. We didn't have to, because we were all equal partners. But we thought we had to, so we did."
Gardner told me he was disappointed in how it ended, but not surprised. The band members, he says, had hoped the group would continue. In Preston's words, "We were like family… That was a real hard blow." Presumably there was a great deal of anger as well: After the split, Preston says, Bunk wouldn't talk with Zappa, and vocalist Ray Collins distanced himself from anything having to do with Zappa (and I think that included the Grandmothers).
Preston, well, not so much, because he was interested in where Zappa was going musically, and he mentions how even some of the later albums with the original lineup, like "Uncle Meat," were more classical sounding. Zappa was, if anything, always inventive and headed into new territory.
Despite the album title, "We're Only in it for the Money," the reason given for disbanding the group was financial. One can deduce from the above that there were other factors, because Zappa would go on to form two more variations of the Mothers, and in the end he seems to have done well for himself and his family, although perhaps at the expense of others.

Later on, when Preston was in New York performing with Gil Evans, Zappa's new group was playing in another part of the building and they reconnected. Preston was asked to sit in. Afterwards, he was approached by former Turtles Mark Volman and Howard Kaylan, now in Zappa's second Mothers band and enjoying a personal renaissance as Flo and Eddie. They said the group's current keyboardist wasn't up to snuff and would Preston consider joining them? He said sure, and then remained with the group until 1974. If we consider all of this cross-pollination, the singers who gave us "Happy Together" reaching out to the fellow who'd worked and played with dancer-vocalist-composer Meredith Monk, it's enough to make us smile and shake our heads.
Meanwhile, Bunk Gardner played in various outfits, did two albums with Geronimo Black (Jimmy Carl Black's band), a couple of solo albums, etc., and of course has helped keep the Mothers of Invention legacy alive with the Grandmothers. He and Preston, who first met in 1960, have remained good friends throughout all the years, and although they clearly enjoy playing they're also performing for the money. Sadly, it's not always a lot.
Gardner points out that while they may have been famous (or infamous), financially the rewards were minimal. And so you go on tour. But when you tour, and traveling itself isn't always cheap, one has to play constantly, almost every night, because when there's a day off it's essentially lost revenue. And few bands, as we know, can play arenas and stadiums night after night.
Gardner also commented at length on the rising cost of living in Los Angeles, which of course was a big factor recently for Preston. To supplement his income Gardner has worked as a chef in a couple of restaurants down in Laguna Beach, but he's also giving lessons to young and aspiring musicians, although few are liable to have the sort of life-changing career that Gardner had during the later 1960s.
Another topic he spoke about at length brings us to the present, and it's that as one ages the physical limitations become more evident. "It doesn't get any easier," he says. "I can't play what I used to," and so "to play at the level that you want to" one has to expend more energy. But Gardner does keep up as best he can, routinely swimming at the YMCA.
At the gym, he notes, only a handful of the people working out are musicians: It's the lifestyle, and musicians aren't notorious for watching their health. Rock and jazz bios are filled with artists who expired well before reaching middle age, and we hardly need to include Zappa as one prime example.
Fortunately, we have two surviving and healthy former members of a legendary band who continue to play music and to enjoy doing so. And we are fortunate to still be able to hear and enjoy their music as well. This is living history, vital and inspiring.
The Don and Bunk Show, with Don Preston on keyboards and Bunk Gardner on sax and flute, along with drummer Chris Garcia, takes place on Saturday at 2 p.m. in the Katy Geissert Civic Center Library, 3301 Torrance Blvd., Torrance. Free; presented by the Friends of the Torrance Library, with special thanks to Ted Kane. Sure, Don and Bunk will sign Mothers and Grandmothers memorabilia for you, but they'll have their own CDs and even T-shirts for sale, so bring a few crisp bills along as well, okay? (310) 781-7599 or go to torranceca.gov. ER
comments so far. Comments posted to EasyReaderNews.com may be reprinted in the Easy Reader print edition, which is published each Thursday.