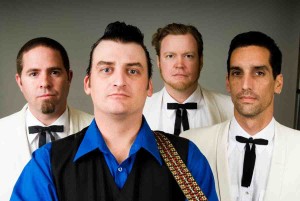 Cash'd Out follow the Man in Black's trail
It's the kind of story Johnny Cash would have liked. It's about a guitar, an underdog, and a beat-down dream. And it begins at a campfire in Mexico.
Douglas Benson had gone to San Felipe on a trip with some buddies. Somebody brought along a tape called "Hello, I'm Johnny Cash." They listened to it for four days straight, drinking whiskey and singing along. His buddies were shocked at the voice that came out of Benson.
"Hey man," one said. "You kind of sound like Johnny Cash."
"From that time on, every time I'd be kind of singing along with a tape or of standing in line somewhere singing under my breath, somebody'd say, 'You kind of sound like…'" Benson recalled.
Johnny Cash. Only he didn't just kind of sound like the Man in Black – the timbre of his voice was damned near identical, and he had that same kind of hangdog look, dead-on sincerity, and world-weary rasp. His similarities startled people. At the time, Benson didn't quite know what to make of it; he'd always loved Cash's music, but he wasn't a musician. He didn't play guitar and he'd never sang much in public.
Benson had a job installing fiber optics networks that took him on the road a lot, and every so often he'd find a bar and sing karaoke, just for the hell of it. One night he found himself in El Paso, Texas.  He was bored in his hotel room so he jumped in a cab and just told the cabbie to take him to a bar. The cab dropped him off at a random bar and Benson walked in to find a roomful of Marines. They were having a party, and they had karaoke. He looked through the book and found "The Ballad of Ira Hayes," Cash's song about the sad plight of the Native American soldier who raised the flag at Iwo Jima and later died in the streets a drunk.
"So I went up there and sang Ira Hayes, and this guy with stripes up and down his arm in his dress blue uniform came up and bought me a beer and said, 'Hey man, thank you so much for doing that song. It really meant a lot.'"
Little things like that meant something to Benson. A little while later, he posted an ad in the San Diego Reader, asking for musicians who wanted to start a Johnny Cash tribute band. He met with a band, but they scoffed at him. They told him he wasn't good enough. Shortly thereafter, he was laid off by the fiber optics network.
Benson went to the wilderness. He took a job at a camp, and took along a guitar his parents had given him for Christmas. For three months, he dove into that guitar, and he dove into Johnny Cash. The kids at summer camp may have expected "Kumbaya."  What they got was "I Got Stripes."
Benson came down from the woods and posted another ad. This time, he lied. The ad said he already had a Johnny Cash tribute band and needed a guitar player that sounded like Luther Perkins.
"That was my whole thing," Benson recalled. "I needed to find a guy who could play like Luther."
Kevin Manuel responded to the ad. When he heard Benson sing, he called his buddy Sean Glithero, who played stand-up bass. Glithero was wary. He didn't really want any part of a cover band. But he came to the rehearsal because, well, a gig is a gig. But when Benson started singing, everything changed.
"It's a funny thing, because I see it happen with our fans sometimes, or people who've never seen us play before in a new town," Glithero said. "They are anxious about him coming out on the stage. What is this guy going to be like? Did we pay money for some guy who is who is going to be some chump, some cheesy impersonator? These are stories people tell us all the time after shows. 'A friend dragged me here and I'm thinking I'm going to hear someone murder Johnny Cash songs.' But then he comes out on stage and looks at you, and he starts talking and you are like, 'Oh shit! Oh shit!' Then the songs start up and we do that old school boogie woogie sound…and it just sounds so wicked and then he goes in with his voice, and people just go, 'Holy shit!' and let go and have a good time."
"That was what it was like for me, too. I got there and had my bass and was all ready for it, then he walked in and I was like, 'Oh shit.' And then he started singing, and I was like, 'Holy crap!'"
This was in 2004. Benson was 34 years old, and he had in his first band. They called themselves Cash'd Out and they took off fast. People reacted strongly everywhere they went. Within a year, they'd all quit their day jobs. And then one day an even more unexpected thing happened: the phone rang, and on the other end of the line was one of Johnny Cash's best friends, Bill Miller. He'd heard about the band and wanted to meet them.
They met at the Galaxy Theater in Orange County. Miller came to sound check, and he and the band immediately hit it off. That night, before the show, he handed Benson a beat-up Guild guitar. It was Johnny Cash's guitar – insured for a few hundred thousand dollars, with scratches from Johnny's belt buckle up and down its back – and he wanted Benson to play it.
Miller enjoyed the show so much that he essentially endorsed the band – they became the only band linked to Johnny Cash's website, and he invited them to play at a birthday party for the Man in Black at the Johnny Cash Museum at the Fender Center in Corona. Johnny's longtime manager, Lou Robin, was in attendance, as was Luther Perkin's widow, Margie, and Johnny's son, John Carter Cash.
Before the show, the band was touring the museum with Robin and Miller. Robin is a somewhat crotchety elderly man by now – he began managing Cash more than  a half century ago, after all – and he started complaining that some people were singing Johnny Cash songs that were better off left alone.
Benson coughed. "Ah, Mr. Robin," he said. "I don't think I can sing tonight. I've got laryngitis."
Robin looked at him out of the corner of his eye.
"Now you sound like Johnny Cash," the old man said.
The band – which plays mostly Sun Records era Cash, circa 1955 – played a rousing set that night. Afterwards, still nervous as hell, Benson had to ask.
"Mr. Robin," he said. "What did you think?"
"I closed my eyes," Robin said. "And it was like going back in time."
Benson felt like crying. Glithero almost fell down.
"It's like, did he really just fucking say that?" Glithero said. "That is just…I mean, it gives you chills. You are goddamned amazed that you are doing something that someone would say that about."
Benson had one more question. "I said a stupid thing," he recalled. "'Really? Even with all the mistakes?' And he put his hand on my shoulder and looked me straight in the eye and said, 'Johnny Cash did that all the time. Don't worry about it.'"
Johnny's daughter, Cindy Cash, showed up at a show in Hollywood one night and gave Benson a little vile with a lock of her father's hair in it. They have, in a sense, been adopted by the Cash family, and by the varied world of Johnny Cash fans – one that ranges from punk rockers to old timers to country two-steppers.
"We always wanted not only to sound like Johnny Cash, but go about it a certain way – the way he handled the world and was so open to everyone and he just loved people," Glithero said. "You know, we've followed that lead, and it's just turned into a great experience for us. We've had a ton of fun and met a ton of cool people. We go to cities and people invite us over for dinner and show us old albums and tell us stories and introduce us to their farm animal, all kinds of crazy stuff."
Cash'd Out has somehow managed to transcend being a tribute band. They play many of the finest venues in the country – clubs where tribute bands rarely tread – and have developed a finely honed, theatrical stage show. People sometimes forget that Johnny Cash, as a young man, was a manically entertaining live performer and storyteller. His music, of course, speaks for itself – it is a large and astonishingly rich body of work. Cash'd Out is deep into it, and seeing them live is probably as close as you can get to witnessing Johnny Cash back when he was at his rock-a-billy finest.
"Some people are impressionists," Bill Miller told the audience when he introduced the band at the Fender Center. "This band leaves an impression."
Benson sometimes wonders is all this has really happened. It's a long way from a karaoke bar in El Paso.
"It's like a dream, man," he said. "It's something I never would have fathomed would have happened, or even had a spark of an idea might happen. I mean, we played one show with W.S. Holland [Cash's drummer]…I kept looking back at him and shaking my head. All these people from Johnny's family…It's pretty much all because of him, and the Lord, of course. It's just crazy, dude."
Glithero recalled one night when Benson pulled him aside and pointed to the band that was opening up for Cash'd Out. It was the musicians who five years ago had told him to give it up.
"That was a little bit of satisfaction," he said.
"We do it right and mind our P's and Q's, but Johnny laid out a path for us to follow," Glithero added. "Which is like, you be cool to people, have a good perspective, and play these songs like this, and you will go far. That is just what we do."
Cash'd out play Saint Rocke Saturday night. See saintrocke.com for ticket info and www.cashdout.com for more info on the band.
comments so far. Comments posted to EasyReaderNews.com may be reprinted in the Easy Reader print edition, which is published each Thursday.