Best Furniture Store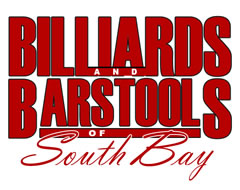 Billiards and Bar Stools of South Bay – South Bay residents like to eat, drink, make merry and play pool in their homes, and voted Billiards and Barstools of South Bay to tie for best furniture store. Billiards and Barstools prides itself in the largest selection of game room furniture in the South Bay with customer service to match. The store offers top brand pool and game tables, furniture and custom bars and barstools, not to mention the South Bay's largest selection of two-piece pool cues. Billiards and Barstools has a team of Brunwswick-certified technicians who specialize in providing repairs and services for slate pool tables, such as table disassembly and reassembly, table relocation and moving, felt and rail recovery, re-leveling, rubber cushion replacement, pocket replacement or rebuilds and table storage.
Billiards and Bar Stools of South Bay: 15700 Hawthorne Blvd., Lawndale. 310-676-4886. www.billiardsandbarstools.net
Tied with: Maison Luxe
comments so far. Comments posted to EasyReaderNews.com may be reprinted in the Easy Reader print edition, which is published each Thursday.