Added on October 21, 2019
Kevin Cody
El Segundo , newsletter
ES people – Paint it Pink, tat the hats
by Kevin Cody
Los Angeles County Superintendent Janice Hahn said she could see the pink El Segundo lifeguard tower from a mile away, in Manhattan Beach, where she had been attending an earlier event.
Lifeguard Tower 60, at the foot of Grand Avenue was painted pink Sunday morning, Oct. 6, by volunteers as part of Breast Cancer Awareness Month. The atmosphere among the more than 100 volunteers was celebratory. Cancer survivors and their supporters were greeted a pink balloon arch, pink inflated chairs and El Segundo High cheerleaders waving pink pom poms.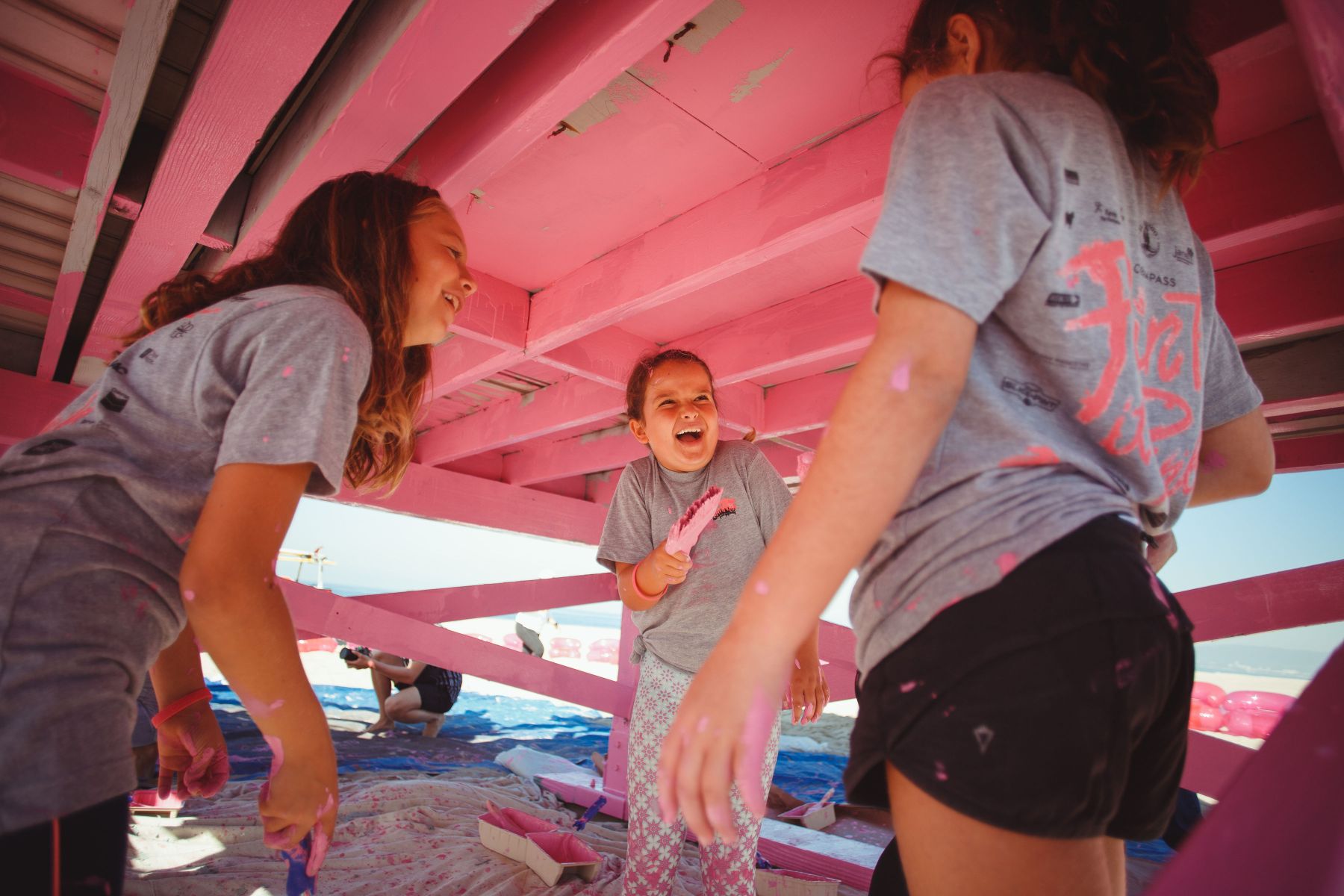 El Segundo Mayor Drew Boyles thanked Supervisor Hahn for getting County approval to paint the tower and credited Realtor Alex Abad for organizing the fundraiser. Supporters paid to paint the blue tower pink. Proceeds went to the City of Hope, one of the nation's leading cancer research facilities.
City of Hope oncologist Dr. James R. Waisman explained why fundraisers like Paint it Pink are important. Waisman lived in Manhattan Beach and practiced in Torrance before moving to Pasadena to work at City of Hope.
Immense progress, he said, has been made in the treatment of cancer since the 2011publication of "The Emperor of All Maladies," a Pulitzer Prize winning book about cancer.
As evidence, Waisman cited City of Hope's development of a drug treatment that has "transformed outcomes and is used around the world."
"Funding to develop that drug came from philanthropic efforts like this one. Government would not have gotten it done because a young [medical] investigator who needs funds for clinical trials can't get funding from the National Institute of Health," Wisman said.
Abad said Paint the Tower Pink raised over $30,000. Tower 60 will remain pink until the end of October. Abad hopes to make the fundraiser an annual event.
This year's Paint the Tower Pink will end Nov. 3 with an exhibit of pink Tower 60 paintings and photographs. The art will include 30 Tower 60 trucker caps painted by prominent tattoo artists. The tatted hat art is being organized by Black Sheep tattoo artist JP, who specializes in nipple tattoos for breast cancer survivors.
Comments:
comments so far. Comments posted to EasyReaderNews.com may be reprinted in the Easy Reader print edition, which is published each Thursday.
by Kevin Cody
Kevin is the publisher of Easy Reader and Beach. Share your news tips. 310 372-4611 ext. 110 or kevin[at]easyreadernews[dot]com